Filter Muskelmasse & styrke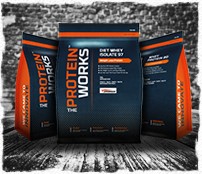 Her hos THE PROTEIN WORKS™ har vi et udvalg af tilskud, som er helliget til at opbygge masse og styrke. Og i et bud på at lave markedets bedste formler til vægtforøgelse, har vi indkøbt de ypperste ingredienser og sammensat forskellige kalorierige formler, vi har udviklet til at hjælpe sportsfolk med at blive større og virkelig tilføje masse.
At få større muskler og opbygge muskelmasse kræver, at du indtager flere kalorier, end du kan forbrænde samtidig med en tung, styrkebaseret træningsrutine. Derfor har vi hos TPW™ udviklet et sortiment af tilskud, som indeholder de kalorier, du behøver for at få større muskler. Det indeholder herudover ingredienser som kreatin monohydrat, som er videnskabeligt dokumenteret til at hjælpe med at øge dine musklers styrke i træningssalen.
Og de THE PROTEIN WORKS™-tilskud, du ser i denne sektion er ideelle til styrkeatleter, som ønsker at øge muskelmasse og kraft og få et sportstrænet udseende. Men er ligeledes beregnet til dig, som ønsker at få større muskler og er helt perfekte til dig, som ønsker at vokse hurtigt.
Mange formler til vægtforøgelse, der findes på markedet er fyldt med forskellige sukkerarter, fyldstoffer og fortykningsmidler. Men du kan være sikker på, at alle formler til vægtforøgelse fra THE PROTEIN WORKS™ er blevet udviklet med omhu i følge den absolut højeste standard. Vi er faktisk så sikre på vores formler til vægtforøgelse, at vi giver dig en udførlig oversigt over næringsindholdet i hver af dem. Du kan få vist dette med et klik på Proteininfo-ikonet på de enkelte produktsider for at se de forskellige ingredienser, den pågældende formel består af. Ingen andre sportsernæringsfirmaer giver deres kunder så mange detaljer, men alligevel garanterer vi her hos TPW™, at vi holder vores løfte om at give dig REN sportsernæring.
Whey Protein 360 Extreme elevates your protein shake experience to a whole new level. Setting a new gold standard in protein shake taste and efficacy, you won't find a better shake in sports nutrition today. Made with a multi-phased protein system sourced from premium grade protein, Whey Protein 360 Extreme also includes Digezyme® to aid digestion and macronutrient absorption.

Whey Protein 360 is a premium protein shake that breaks new ground in protein formulation and flavour. It has been specifically designed to work with almost any fitness or body goal as its high in protein and low in sugar. Whey Protein 360 is ultra pure, natural and made with the very finest protein sources. Looking for more? Then check out our

Whey Protein 360 Extreme

, our most innovative protein shake to date!

Creatine Extreme takes the world's most popular strength supplement creatine to the absolute cutting-edge of sports nutrition. Delivering a massive 7g of creatine per serving, Creatine Extreme incorporates a unique, multi-functional five Creatine Super Blend.

Pre-Works™ represents a new zenith in preworkout science, incorporating in excess of a staggering 27g of active ingredients per serving. A scientifically driven ground-breaking formulation, it is designed for anyone looking to supercharge their workout and achieve optimal results. It is densely packed with over 20 of the most researched single extract ingredients on the market today and comes in a range of insane tasting flavours. It is a favourite at TPW™ Towers for anyone in need of a serious boost.

Genesis Pre Workout™ is a high potency formula that challenges current pre workout sports nutrition boundaries and thinking. The formula is based solely on cutting-edge ingredients and incorporates the very latest manufacturing techniques.

100% Micellar Casein is considered the perfect shake for those who need a slow releasing protein to take before bed for those needing a slow sustained release of aminos to the muscles during sleep. 100% Micellar Casein has a smooth silky texture and can be added to shakes, smoothies, oats and home baking!

TPW™ Creatine Monohydrate is simply the finest quality creatine on the market today. Made from 100% pure creatine, nothing has been added or taken away during the production process. It is 100% '200 mesh', meaning it has an ultra small particle size to ensure fast absorption by the body.

BCAA Ultra 5:1:1 is engineered using the finest branched chain amino acids on the market today. Whilst most BCAA supplements on the market contain Leucine, Isoleucine and Valine in a 2:1:1 ratio, the ground-breaking BCAA Ultra 5:1:1 is formulated with a far higher ratio of Leucine.

TPW™ 100% Whey is a premium protein blend based upon our two best-selling whey proteins, whey protein concentrate & whey protein isolate. Formulated with 100% of the highest grade whey proteins on the market today, TPW™ 100% WHEY is ideal for supporting lean muscle growth.

Winner of the coveted "Best Protein Award", Whey Protein 80 is the gold standard in premium protein shakes, made simply with 100% pure whey protein concentrate. A single serving contains an amazing 82% protein in its natural state, plus a complete amino acid profile to help build muscle - protein contributes to muscle mass growth. Whey Protein 80 is available in a range of mouth-watering flavours, meaning you can satisfy your sweet tooth cravings and get a high quality protein boost at the same time. It is also low in fat and calories.

Whey Protein 360 is a premium protein shake that breaks new ground in protein formulation and flavour. It has been specifically designed to work with almost any fitness or body goal as its high in protein and low in sugar. Whey Protein 360 is ultra pure, natural and made with the very finest protein sources. We guarantee you won't find a better tasting protein shake on the planet.

Put simply Vegan Omega 3:6:9 Ahiflower® Oil has changed the way people supplement with healthy omega fatty acids. So incredibly pure, it's an amazing addition to our vegan range and anyone's diet.

Zinc and Magnesium has been formulated using premium grade ingredients. This renowned supplement is a potent performance blend of two minerals that are considered essential to the health and optimal functioning of the muscles and body as a whole.

We call it The Craving Killer! A deft name for something that's so super healthy yet awesomely powerful at helping a sweet tooth stay on the right side of the tracks. Our Cacao Almond Nut Butter is an indulgent, chocolatey beast made with only 100% natural ingredients. A true nutty pleasure with the unique ability to be both indulgent and healthy, it has a rich and luxurious taste and texture & is a perfect source of good fats, fibre and superhero type energy! It's been a journey in the making as we've sourced natural ingredients from around the globe to bring a new wave of nut butter greatness to our TPW™ Tribe.

Creatine Mono Creapure® is the genuine finest grade creatine monohydrate produced by Alzchem®. It is widely recognised as the purest and highest quality micronized creatine on the market today. Its micronized particles offer several benefits, not least faster absorption & digestion by the body.

Red-Cell™ is ideal for anyone on a calorie-controlled diet looking to improve their body goals. Featuring ground-breaking dual release technology which includes a potent thermogenic core encased in premium CLA (Conjugated Linoleic Acid). This unique supplement contains Green Coffee Extract, Caffeine, Vitamin B6, Cayenne Extract and much more. Its dual phasing formula is ideal as a pre-workout or as part of a weight loss programme.

Grab a spoon, resistance is futile. Rawtella is the nuttiest of creations since we first opened our Nuttery in 2013. Whether you're spreading it on pancakes, bagels, wonuts or cronuts, Rawtella is the nut based sensation your tastebuds deserves. Made from the finest of hazelnuts and finished with a splash of coconut oil and cocoa powder, Rawtella is the 100% natural fan favourite for our Vegan Tribe.

Peanut Butter from The Protein Works™ is ultra pure, made simply from 100% natural roasted peanuts. Unlike standard brands ours contains absolutely no added sugar or salt.

Protein Porridge from THE PROTEIN WORKS™ is a ground-breaking innovation that re-defines the classic porridge. Each Protein Porridge serving is packed with over 22g of premium grade multi-sourced protein to provide a tapered release.