Why you love it...
"Hands down the best protein powder I've ever tried. Mixes well and tastes even better!" - Matt*
Why we love it...
Winner of the coveted "Best Protein Award", Whey Protein 80 is the gold standard in premium protein shakes, made simply with 100% pure whey protein concentrate.

A single serving contains an amazing 82% protein in its natural state, plus a complete amino acid profile to help build muscle - protein contributes to muscle mass growth.

Whey Protein 80 is available in a range of mouth-watering flavours, meaning you can satisfy your sweet tooth cravings and get a high quality protein boost at the same time. It is also low in fat and calories.
NOW 15% OFF! - *SPECIAL OFFER!*
CODE: SALE15
*Code Valid on Orders Over £15 After Discounts
EXTRA 20% OFF WITH CODE: EXTRA
Frequently Bought With...
Performance Supplement
Amino Acid Powder
Protein Shake
Top Picks
What is Whey Protein 80?
Winner of the highly coveted 'Best Protein Award' in the industry leading FSN Awards, Whey Protein 80 is unrivalled in terms of quality and taste. This unique protein shakes has been developed without compromise using only the finest whey protein concentrate, delivering a massive 82% protein content - that's 20.6g of protein, 1.5g of carbohydrates and 101 calories per 25g serving. It's not by accident, it's known within TPW Towers as 'the mother of all proteins'.
Most protein shakes on the market today are produced by a faceless third party manufacturer, we are different. At TPW, we manufacture all our own protein shakes ourselves right here in the UK in our state-of-the-art production facility. This means we spend a lot of time perfecting every aspect of the product from taste to texture. The range of flavours available in Whey Protein 80 is designed to keep things fresh in your supplement cupboard. Our advice is find your absolute favourite and always have that at hand, but then mix it up with one or two quirky flavours. With so many to choose from, you should always have that "protein o'clock" feeling!
By the way, if you're still not convinced on Whey Protein 80, we recommend checking out Whey Protein 360, our best-selling protein shake which offers a multi-phased release system.
What are the benefits of whey protein 80?
The whey protein is processed at low temperatures to protect the protein fractions and ensure the protein remains in its un-denatured state. The result is a premium grade whey protein that is ideal for protein shakes as it delivers the highest possible nutritional value. Whey Protein 80 is high in BCAAs and low in fat and cholesterol, making it a healthy protein shake to consume any time of day. Amino acids are the building blocks of our muscles and naturally occur in protein and protein has been shown to contribute to the growth and maintenance of muscle mass.
Below are a few of the reasons why TPW Whey Protein 80 is award-winning...
Smooth Texture - our protein shakes are very similar to your favourite milkshake, smooth and moorish, say no more
Insane Flavours - it's what we're famous for in the sports nutrition world, our unique in-house Flavoury means we have the best tasting protein shakes, bar none
Zero After-taste - poorly formulated protein powder can leave a bad after-taste, through painstaking work by our team of nutritionists, you'll be smiling, not grimacing after every sip
Instant Mixability - low quality whey protein never mixes well, it's a red flag straight away, Whey Protein 80 just needs a light shake and you're 100% mixed
No Grittiness - let's face it, nobody wants a gritty shake and due to the purity of TPW ingredients, we guarantee 100% zero grit in your Whey Protein 80
Subtle Sweetness - most shakes are just too sweet after the first few sips, we keep things subtle so you can enjoy your shake time after time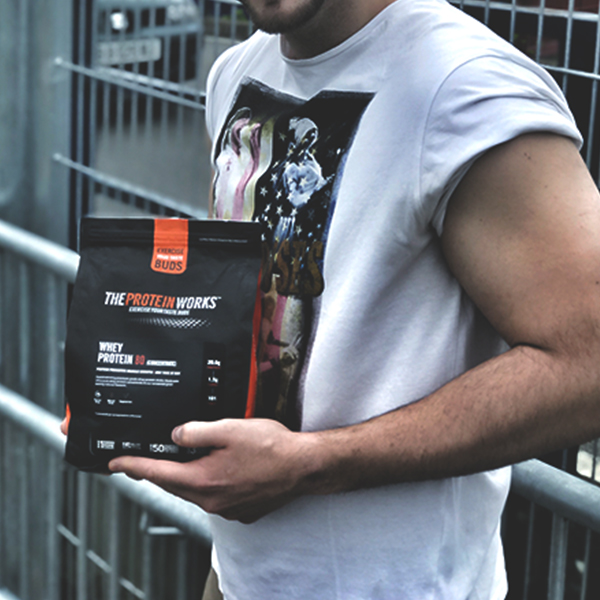 How Natural is Whey Protein 80?
Whey Protein 80 is as natural a food source as you could imagine and has been a staple part of elite athletes diets' for years. Harnessing the power of nature, our whey protein comes from the milk of open-air pasturing grass-fed cows. This provides the very finest protein as research has shown that grass-fed milk contains more linoleic acids and higher omega-3 fatty acids than milk from cows confined to indoor rearing.
TPW Whey Protein 80 provides the reassurance of being pure and natural...
Ultra Pure Recipe - Whey Protein 80 is made with only the finest whey protein concentrate
Sourced From Milk - whey protein is sourced from sweet cheese which is ultimately sourced from milk
Grass-Fed Cows - for optimal quality, our whey comes from field pastured, grass-fed cows
Zero Aspartame - we NEVER use aspartame in any of our products due to the negative research around it
Simply Mix with Milk or Water - it's entirely your choice, but all you need add is milk or water to create an amazing shake
When should I use whey protein 80 Powder?
Whey protein shakes can be consumed pretty much any time of day, although for optimal results we recommend consuming within one hour of your workout. This is known as the "golden hour" when your body and muscles are starting to repair. Recovery in any sport is key to performance. The incredible properties of Whey Protein 80 mean it can be taken at any time that works for you to boost your protein intake and prevent you diving for the chocolate box!
We often get asked 'If I haven't taken my protein shake after working out, will I lose my gains?' and the answer to that is no. Yes, your body does need an increase in protein and it will help you recover and gain quicker in the long run, but as long as you maintain your protein levels throughout the day consuming 3-5 servings your body will be able to store and use the protein when needed and help you achieve your dream physique.
Who is whey protein 80 Powder Suitable for?
Whey Protein 80 is suitable for everyone, for those wanting to build muscle mass or simply want a sweet drink or snack that packs a punch and is low in calories, low in lactose, low in sugar and low in cholesterol. It's therefore perfect for individuals on a calorie controlled diet. We'd always recommend using it in conjunction with a varied and balanced diet and a regular exercise routine.
WHAT'S THE BEST FLAVOUR WHEY PROTEIN SHAKE?
Whey Protein 80 is made from the finest premium grade whey protein personally selected by us for its ultra-pure properties. It is manufactured at our state-of-the-art facility right here in the UK with our widely acclaimed flavours to create the finest quality whey protein shake. As we produce all our protein formulas ourselves, each whey protein offers the ultimate in freshness.
What is the optimal amount of protein to consume?
For the physically active, it's advised to have 1.6 - 2.0g of protein per kg of body weight. ie. someone who weighs 80kg would need to aim to have 128g - 160g of protein per day. Splitting this up throughout the day is the best way to optimize your protein intake.
How is Whey Protein Concentrate Made?
Produced in-house at our own state of the art facility in the UK, it offers unparalleled levels of protein purity and has been independently tested for the ultimate peace of mind. We don't make big claims about our products, we prefer to let customer ratings, reviews and feedback do the talking for us. We also offer an unprecedented LIFETIME GUARANTEE on every product you buy from The Protein Works™. Whey Protein 80 protein shake is supplied in a re-sealable foil pouch to ensure freshness and a FREE scoop is included in every product. Why not couple your Whey Protein 80 with BCAA or Creatine Monohydrate for that extra boost to your health and fitness regime?
* Disclaimer: Customer reviews are independent and based on personal experience. Individual results may vary. Products designed to be taken in conjunction with a balanced diet and training plan. Nutritional Information per serving based on unflavoured
Efter at jeg er begyndt med protein shakes i min kost, har jeg nydt den med chokolade og cremet banan smag og jeg er ret vild med firmaet, så jeg har lige bestilt en masse produkter igen. Leveringen var også meget hurtig
God til mine makroer. Silkeblød Chokolade smager som en sund milkshake.. Den smager virkelig godt og så er den billig da du ikke behøver købe en 20kgs pose..
Bedstsmagende protein derude
Jeg købte en masse produkter fra The protein works bl.a. BCAA 5:1:1, Whey protein isolat 90 og pre-works. Jeg modtog også det her protein i Silkeblød Chokolade smagen som en gratis ekstrating, fordi det var min første bestilling hos dem og det er virkelig det protein med bedst smag, jeg nogensinde har prøvet og det er flere niveauer over MyProtein, Maximuscle og Matrix.Jeg kan ikke kommentere på resultater endnu, da jeg kun har brugt det i en uge, men jeg føler klart forbedringer efter mine sessions i denne uge. Godt produkt og god service! :)
Hurtig levering, produkter som beskrevet
Hurtig og god levering. Produkterne var som de var beskrevet. God service.
Jeg gav det her protein en chance efter at have været hos en konkurrent længe og fandt ud af, at jeg var ved at være træt af de samme smagsvarianter. Chocolate honeycomb var lidt af et skud i tågen, men det viste sig at være et ret godt køb. Det smager meget lækkert. Jeg overvejer lidt at blande det med noget is og lave en kalorierig og tyk shake ud af det; det kan være jeg giver det et skud næste gang jeg bulker. Det blandes rigtig godt og har en god konsistens. Jeg er ikke helt sikker på om det her er pga. det Aminogen der er i, men det giver mig også mindre luft i maven end andre brands. Så for at opsummere, så er prisen god, smagen er god og ingen prutter... Jeg bestiller her igen i fremtiden
Portionsstørrelse: 25 g (1 stor 70 ml skefuld) af Valleprotein 80
Vi anbefaler 3-5 portioner om dagen af Valleprotein 80, alt efter netop dit behov. For at få de bedste resultater anbefales det generelt dagligt at tage 1 g protein for hvert pund kropsvægt.
Hæld 150-225 ml vand eller mælk i din TPW™ Master Blender. Tilsæt 1 stor 70 ml skefuld (25 g) af Valleprotein 80, bland grundigt og drik det.
Jo mindre væske, desto tykkere bliver din shake, så tilpas den til netop din smag.
Typisk daglig brug af Valleprotein 80:
1 portion når du vågner
1 portion 30-45 min. før træning
1 portion umiddelbart efter træning
1 portion mellem måltiderne
1 portion før sengetid
Sp. Hvornår skal jeg indtage Valleprotein 80?
Sv. Det kommer an på din livsstil og dine mål, men vi anbefaler de følgende optimale tidspunkter for at indtage Valleprotein 80: Lige efter du vågner. 30 minutter før træning og umiddelbart efter træning. Før sengetid. På ethvert andet tidspunkt i dagens løb, hvor du har brug for ekstra protein.
Sp. Hvor meget Valleprotein 80 skal jeg indtage?
Sv. Det anbefales, at du tager 2-5 portioner om dagen, alt efter dine personlige behov. En portion er 25 g (en skefuld) valleproteinkoncentrat. Det anbefales, at du tager 1 g protein pr. halve kilo kropsvægt, så tilpas det ud fra det.
Sp. Hvad er Aminogen®, og hvorfor findes det i Valleprotein 80?
Sv. Aminogen® er et revolutionerende system, som er plantebaseret og allergenfrit, og det demonstrerer endnu en gang vores dedikation til at udvikle de mest avancerede sportsernæringsformler, der findes på markedet i dag!
Sp. Er alle valleproteinkoncentrater ens, uanset hvilket mærke det er?
Sv. Vi mener, at du som kunde ikke blot har ret til at kræve det bedste, men også til at vide, at du får det bedste. Man må sige, at ikke alle proteiner er skabt lige! Vi går vi ind for gennemskuelighed og åbenhed i alle vores produkter, og derfor sørger vi for følgende informationer på alle vores proteinprodukter: 1. Produktprofil - et komplet overblik over produktets baggrund, herunder vores godkendelse, produktionsstedet, og om der medfølger tilfredshedsgaranti 2. Proteininfo - en komplet gennemgang af de typer og mængder protein, som er indeholdt i produktet 3. Produkttest - et opdateret certifikat med uafhængig bekræftelse af proteinindholdet. Køber du ikke fra TPW™, anbefaler vi, at du kræver at få disse informationer fra din nuværende leverandør. Så enkelt er det!
Sp. Hvordan kan jeg se, om jeg anvender protein af god kvalitet?
Sv. En god indikator er det proteinniveau, som er angivet på mærkaten. Se efter valleproteinkoncentrat med mindst 80 %. Ren valleproteinkoncentrat uden tilsat smag skal være ensartet med en neutral smag af mejeriprodukt. Det skal være nemt at blande op og ikke skumme meget. I sidste ende mærkes det naturligvis ud fra de resultater, der opnås ved at tage produktet.
Sp. Indeholder smagstilsat Valleprotein 80 kunstige smagsstoffer og farve?
Sv. Vi foretrækker at holde tingene rene, så du skal ikke være bange for at finde kunstige farve- eller smagsstoffer i nogen som helst af TPW™'s produkter. Det her er ikke kun markedsføringssnak - det er et løfte!
Sp. Er Valleprotein 80 egnet til vegetarer og veganere?
Sv. Valleprotein 80 er velegnet til vegetarer, men ikke til veganere.
Sp. Kan jeg indtage Valleprotein 80 sammen med andre kosttilskud?
Sv. Ja, uden problemer. Vi anbefaler, at du altid læser instruktionerne på produkterne, hvis du planlægger at indtage en kombination af flere kosttilskud. Valleprotein 80 indtages normalt med kreatin, ren fin havre, BCAA og glutamin.
Sp. Kan jeg tage for meget protein?
Sv. Hvis du ikke forbrænder de kalorier, der følger med det ekstra protein, kan det medføre øget kropsfedt. Der er ikke bemærket nogen bivirkninger.
Sp. Hvordan laver jeg den perfekte valleprotein-shake med Valleprotein 80?
Sv. Du skal være opmærksom på et par ting, når du skal tilberede den perfekte proteinshake. For det første skal du bruge et kvalitetsprotein såsom vores Valleprotein 80. Du har også brug for en ordentlig blender i stedet for en shaker. Vi anbefaler TPW™'s Master Blender. Derefter skal du hælde den ønskede mængde væske i blenderen. Husk på, at mælk giver en mere cremet shake, mens du med vand undgår det ekstra fedt, der følger med mælk. Tilsæt derefter en skefuld protein til væsken, skru låget på, og ryst godt. Det er ikke særlig indviklet, men overhold grundprincipperne, og du kan tilberede velsmagende shakes i mange år.
Sp. Hvordan ved jeg, hvor meget Valleprotein 80 der er i en proteinblanding eller formel, hvis det ikke står på produktmærkaten sammen med de øvrige proteinkilder?
Sv. Sandheden er, at det kan du ikke! Visse skruppelløse mærker angiver ikke de typer og mængder protein, der findes i deres produkter. Forskellige typer protein har forskellige priser, og de kan variere meget i kvalitet. Ved at "konstruere" produkter og bruge forskellige typer protein og råvarer af lavere kvalitet er det muligt at opnå og deklarere et højt proteinindhold på mærkaten. Hvis et proteinprodukt angiver et højt proteinindhold, men er utrolig billigt, bør du stille spørgsmålstegn ved varedeklarationen. Vi er et af de få mærker i Storbritannien, som producerer sine produkter i sin egen produktionsfacilitet, så vi ved det meste om proteiner og sportskosttilskud. Desuden angiver vi, hvor meget af hvert enkelt protein, der findes i TPW™-produkter. Ingen snyd og fiksfakserier - TPW™ tilbyder fuld transparens omkring, hvad du får.
Sp. Hvilke bivirkninger, om nogen, kan jeg opleve ved at indtage Valleprotein 80?
Sv. Vi har ikke hørt om nogen ubehagelige bivirkninger ved at indtage Valleprotein 80, bortset fra muligheden for luft i maven! Hvis du ikke er allergisk over for mælkeproteiner, eller skal være varsom med mælkeprodukter af medicinske årsager, bør du ikke opleve problemer. Hvis du er allergisk over for mælkeproteiner, skal du tale med din læge, før du indtager valleprotein.
Sp. Er der nogen fødevarer, som indeholder valleproteinkoncentrat?
Sv. Nej, der er ingen typer fødevarer, som indeholder valleproteinkoncentrat. Der er mange fødevarer, som indeholder høje niveauer af protein, f.eks. rødt kød, kylling, kalkun, fisk, æg og ost.
Sp. Hvilke virkninger kan jeg forvente ved at indtage Valleprotein 80 sammen med min træningsplan?
Sv. Resultaterne vil variere afhængig af din kost, træning og kropstype.
Sp. Hvem kan med fordel indtage Valleprotein 80?
Sv. Bodybuildere and styrkeatleter/udholdenhedsatleter/personer på slankekur/personer, der lige er begyndt med vægttræning/personer, der deltager i holdsport