Whey Protein 80 (Koncentrat)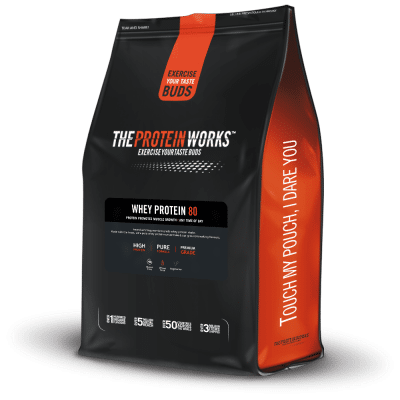 Whey Protein 80 (Koncentrat)
Valleprotein 80 er vores prisbelønnede valleproteinkoncentrat af fineste kvalitet. TPW™'s valleprotein er kendt for sin enestående renhed, og det vandt den eftertragtede pris som "bedste protein" ved de brancheførende FSN-produktprisuddelinger. Det indeholder ingen fortykningsmidler eller fyldstoffer og fås i et bredt udvalg af eksklusive, naturlige smagsstoffer. Valleprotein 80 er udenatureret og har den højeste biologiske værdi (BV) for noget kendt protein.
Valleprotein 80 er fremstillet af valleproteinkoncentrat af den fineste kvalitet med mere end 80 % proteinindhold. Det er mikrofiltreret og ikke varmebehandlet, hvilket giver et ultrarent protein. Valleprotein 80 er også formuleret med den banebrydende patenterede enzymteknologi AMINOGEN®, hvilket gør det til noget særligt inden for valleproteinformler.
Bedste protein ifølge FSN-prisuddelingen
20 g førsteklasses protein pr. portion
Indholder AMINOGEN® enzymsystem
"Hands down the best protein powder I've ever tried. Mixes well and tastes even better!" - Matt*

Winner of the coveted "Best Protein Award", Whey Protein 80 is the gold standard in premium protein shakes, made simply with 100% pure whey protein concentrate.

Its five star rating comes from its ultra smooth texture, insane range of flavours and instant mixing. You're guaranteed zero after-taste, zero grittiness and the closest thing to a real milkshake.

A single serving contains up to a massive 82% protein and is low in sugar, low in calories, low in fat and low in cholesterol. Its the ultimate protein shake to boost your protein intake any time of day.