Vegan Protein Pancake Essentials Bundle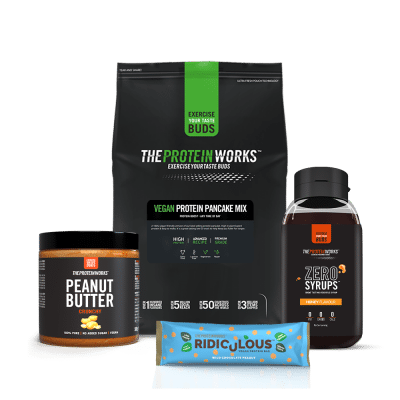 Vegan Protein Pancake Essentials Bundle
"OMG yes! So easy to make and an absolute plant based treat to eat!" Keira

This Vegan Protein Pancake Essentials Bundle contains everything you need to create your perfect Protein Pancake stack. Ideal for Pancake Day, breakfast, or whether you're just looking for a high protein healthy snack.

+ High Protein
+ Guilt-Free Snacking Option
+ 6 Servings of Vegan Protein Pancake Mix
+ 1kg of Peanut Butter
+ 600ml Zero Syrups
+ 1x Ridiculous Vegan Protein Bar Single
"OMG yes! So easy to make and an absolute plant based treat to eat!" Keira


This Vegan Protein Pancake Essentials Bundle contains everything you need to create your perfect Protein Pancake stack. Ideal for Pancake Day, breakfast, or whether you're just looking for a high protein healthy snack.

+ High Protein
+ Guilt-Free Snacking Option
+ 6 Servings of Vegan Protein Pancake Mix
+ 1kg of Peanut Butter
+ 600ml Zero Syrups
+ 1x Ridiculous Vegan Protein Bar Single
Læs mere
There are no nutritional values for this product
Ingredienser
Banana
Allergens - See below ingredients in ORANGE

WHEAT

Flour (Calcium Carbonate, Iron, Niacin, Thiamin)
Protein Blend (Brown Rice Protein,

SOYA

Protein Isolate)
Raising Agents (Sodium Acid Pyrophosphate, Sodium Bicarbonate)
Flaxseed
Flavouring
Salt
Sweetener (Sucralose)
Simply Smooth
100% Natural Roasted

Peanuts

.
Chocolate Caramelicious
Protein Blend (

SOY

Protein Isolate, Pea Protein)
,
Chocolate Coating (20%) (Cocoa Butter,

SOY

Flour, Xylitol, Cocoa Mass, Sunflower Lecithin, Natural Vanilla Flavouring)
,
Chicory Root Fibre

SOY

Protein Nuggets (

SOY

Protein Isolate)
Caramel Layer (13%) (Maltitol, Cacao Butter, Vegetable Glycerine,

PEANUT

Paste, Sunflower Lecithin, Water, Natural Flavouring, Gum Acacia, Himalayan Salt, )

CASHEW

Paste (7%)

PEANUT

Nibs (4%)
Sunflower Lecithin
Coconut Oil
Vegetable Glycerine
Gum Acacia
Natural Flavouring
Green Tea Extract
Stevia
To create the perfect TPW™ Protein Pancake simply follow these directions:
1.Add two heaped grey scoops (80g) to 180ml of plant-based milk, almond milk adds a great taste.
2.Mix thoroughly together and leave to rest for 3 minutes; a few lumps in the batter are expected, don't worry.
3.Heat a light coating of oil over a moderate heat, coconut oil works best.
4. Pour 2 large tbsp. of the mixture into the pan. One serving makes 4 pancakes. Cooking for 2 ½ minutes, then carefully flip and cook for a further 2 minutes until golden brown.
Fully Tracked Delivery
Expected delivery from 4 to 6 working days
Courier Partner: FedEx Tracked Delivery
| | |
| --- | --- |
| 0 - 549.99kr | 59kr |
| 550kr+ | FREE! |
Q. What is TPW™ Vegan Protein Pancake Mix made from?
A. The main ingredients in a TPW™ Vegan Protein Pancake Mix are our innovative Quad Protein Blend.
Q. When is the best time to eat a TPW™ Vegan Protein Pancake Mix?
A. They're best taken for breakfast or as a snack.
Q. What are main reasons for eating TPW™ Vegan Protein Pancake Mix?
A. Vegan Protein Pancakes are ideal for anyone looking to increase their protein intake.
Q. Are all vegan protein pancake products the same no matter what brand you use?
A. As with so many things in life, if you don't ask the right questions, you won't get the right answers! The quality of ingredient can vary significantly and therefore the potency will do too. In addition, just because a product may be called pure it doesn't mean that it necessarily is. We recommend you read the ingredients and nutritionals on the label to better understand exactly what you are buying. We can assure you that our products are 100% pure.
Q. What if any side effects will I get from taking TPW™ Vegan Protein Pancake Mix?
A. We haven't heard of any nasty side effects from taking TPW™ Vegan Protein Pancake Mix.
Q. Can I use TPW™ Vegan Protein Pancake Mix with any other supplements?
A. Yes most definitely. TPW™ Vegan Protein Pancake Mix can literally go with any other supplement.