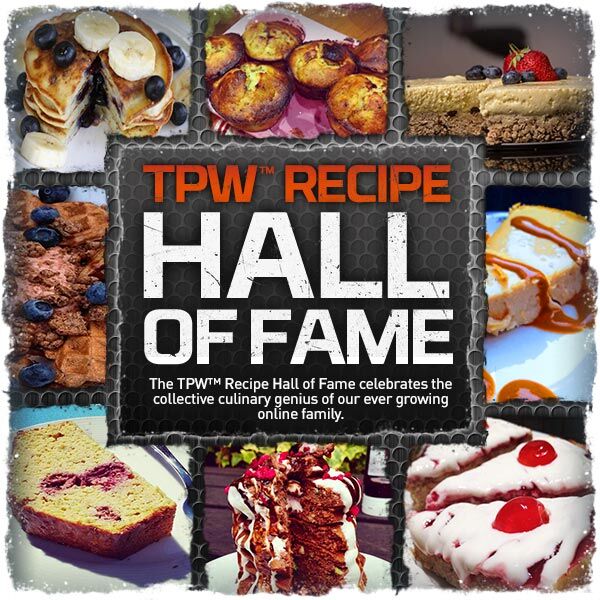 TPW™-Opskriftssamling
Enhver ved, at TPW™-fællesskabet har nogle fantastiske kost- og ernæringsgenier, som ligger højt på ranglisten. Derfor har vi skabt TPW™ Recipe Hall of Fame for at hylde hver eneste proteinpandekage, post-workout-muffin og hjemmelavede mesterværk, som pryder vores stødt voksende fællesskab. Har du brug for noget inspiration i køkkennet, kan dette sted meget vel blive dit yndlingssted på THE PROTEIN WORKS™.

"en Næringsrig Kulinarisk Kreation, Der Smager Lige Så Godt, Som Den Ser Ud"
En Tpw™-Opskrift



Pandekagekonkurrence!
Frem for alt ønsker vi hos TPW™ Towers at involvere alle. Så findes der en bedre start end en pandekagekonkurrence! Du tager bare et billede af din kreation og viser den stolt frem på Twitter, Instagram and Facebook med hashtagget #TPWRecipe. Derved sikres dit VIP-bidrag, vi hylder dit mesterværk over for hele verdenen, og du får chancen for at vinde et 50 DKK TPW™-GAVEKORT, du kan bruge på præcis det, dit hjerte (og dit køkken) begærer.
Deltag I #tpwrecipe Competition
2. Offentliggør din opskrift og brug hashtagget #TPWRecipe
3. Vi får besked om, hvor fantastisk du er, vi hylder det, og du deltager automatisk i konkurrencen,

#tpwrecipe Hall Of Fame

Vilkår Og Betingelser
Som ved enhver anden konkurrence vil der være nogle vilkår og betingelser, som skal sikre, at vi gør det fair for alle. Så tag dig venligst tid til at gennemlæse nedenstående.
Et bidrag defineres som et indlæg på de sociale medier, hvori hashtagget #TPWRecipe anvendes

Du skal være over 18 år for at deltage.

Konkurrencen slutter kl. 12 middag onsdag d. 18. februar 2015. Alle bidrag, der modtages efter denne dato, vil være ugyldige.

Vinderne udvælges af vores TPW™ Ninjas på lageret ud fra alle kvalificerede bidrag på Facebook, Twitter og Instagram

Vinderen får direkte besked af TPW™-teamet. Vinderens personoplysninger vil blive vist på alle tre ovennævnte sociale medier.

Vinderen skal være villig til, at hans/hendes personoplysninger anvendes i TPW™-markedsføringsaktiviteter, efter behov.

Vinderen vil modtage et TPW™-gavekort til en værdi af 50 DKK.

Vinderbeslutningen er endelig og indiskutabel.

Præmien kan ikke ombyttes eller refunderes og har intet kontantalternativ.

TPW™-medarbejdere, leverandører og repræsentanter må ikke deltagage i konkurrencen.

Ved at deltage i konkurrencen, giver du automatisk din accept til at modtage kampagner og kommunikation fra THE PROTEIN WORKS™