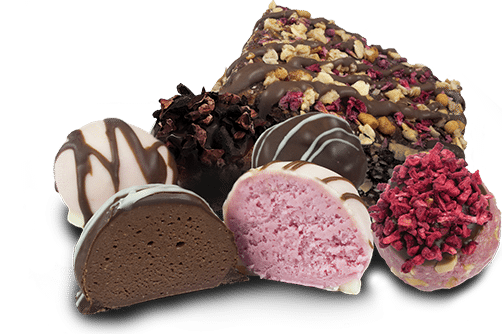 TPW Proteinbageri
I 2014 begyndte vi at se nøje på sportsernæringsmarkedet og lytte mere end nogensinde før til vores kunder. Det stod os klart, at der manglede et eller andet, noget var ikke helt rigtigt. Markedet for proteinshakes har gennemgået en i rivende udvikling de seneste år, men produkternes integritet og kvalitet kan i nogle tilfælde betvivles.
Blot at smide noget proteinpulver i en almindelig snack, og så skrive "højt proteinindhold", mener vi er forkert. Og selvom denne tilgang er meget udbredt, har det aldrig været vores måde at gøre tingene på hos TPW™. Kort sagt, synes vi, det var tid til noget radikal tænkning, og projektet TPW™ Protein Bakery kom til verden.
Hårdt Arbejde Skaber Resultater
Vi brugte hele år 2014 på at eksperimentere med en række teknologier, ingredienser og teknikker. Vores slutmål var at skabe fuldstændigt unikke proteinrige mellemmåltider. Produkter, som var tro imod gode bageprincipper og selvfølgelig havde den lækre smag, vi alle sammen forbinder med hjemmebag. Produkter med protein som grundsten, og ikke som noget, der blev tilsat bagefter.
Og ærligt talt, vi har haft mange sene aftener og opslidende anstrengelser på vejen, men set i bakspejlet, ville vi ikke have gjort det anderledes. At innovere i et sådant tempo og flytte grænser er det, vi elsker at gøre hos TPW™.
Vores heureka!-øjeblik kom i august i år, da vi endelig knækkede koden med vores stærkt beskyttede revolutionerende proteinfusioneringsteknologi. Det var katalysatoren til, at vi besluttede at investere og bygge TPW Protein Bakery, et banebrydende specialbygget in-house proteinbageri, som udvikler og bager fuldstændigt unikke proteinsnacks, du simpelthen ikke finder nogen andre steder. Og det bedste af det hele: du har eksklusiv adgang til alt det, vi bager!
Det Ultimative Inden For Frisk Bagt
Vi er overbeviste om, at vores kunder ikke vil have en almindelig sending af de tusinder af produkter, der findes derude. Fra dag et har vi været fast besluttede på at være anderledes. Vi tror på, at fordelene ved frisk bagte håndværksprodukter vejer langt tungere end masseproducerede produkter, der kommer fra fabrikkernes bånd og fås overalt.
Produkter fra TPW™ Protein Bakery bages stort set dagligt for at tilbyde dig det ultimative inden for friske protein snaks. Vores forpligtelse til kun at anvende proteiner af højeste kvalitet, ikke billigere alternativer uden valle, og kun de fineste ingredienser, betyder, at vi kan garantere, at du både vil elske smagen og sætte pris på næringsindholdet.
Vi har lige så meget passion for traditionelle teknikker, som vi har for revolutionerende teknologier. Ved at bringe håndværksfærdigheder sammen med den allernyeste videnskabelige forskning og de allernyeste metoder, har vi skabt noget helt unikt. Hver ingrediens testes for renhed og funktion, før vores team af levnedsmiddeleksperter kombinerer deres viden og evner for at skabe produkter med en utrolig smag, konsistens og frem for alt ernæringsmæssig værdi.
Nu er det op til dig at fortælle os, hvad du virkelige mener!
Utrolig Værdi For Pengene
I de næste dage, uger og måneder får du nemlig eksklusiv adgang til alle de nylancerede protein snacks fra vores bageri. De er alle sammen lavet med vores naturlige smagsstoffer og med TPW™'s blåstempling for kvalitet. Vi har anvendt alle de samme kerneprincipper, som ligger i hjertet af alle vores produkter: uovertruffen kvalitet, revolutionerende nytænkning og utrolig værdi for pengene.
Hvis du endnu ikke er tilmeldt vores notifikationer om prælancering af ny produkter, synes vi, du skal tilmelde dig i en fart. Da antallet af produkter vil være begrænset og efterspørgslen høj, vil VIP-kunder være de første i køen, hver gang vi lancerer et nyt produkt fra vores bageri.
Jeg ønsker at få besked om nye produktlanceringer fra TPW™ inden alle andre.