Epicenter For Innovationer Inden For Sportsernæring
Her hos TPW™, er vi ekstremt passionerede omkring det, vi laver. Vores DNA bygger på modet til at udfordre normen og tilbyde dig produkter, der redefinerer den nuværende måde at tænke sportsernæring på. Vi er ikke kommet for at imiterer som så mange andre, vi er kommet for at innovere.
Med over 25 banebrydende innovationer igennem vores første 12 måneder på markedet, troede vi, at vi gjorde det okay - men vi er blot ved at varme op. I alt fra vores anerkendte naturlige aromaer til Storbritanniens første helt naturllige havrebarer på valleproteinisolat, tror vi på, at ingredienser af den bedste kvalitet, giver de bedste resultater.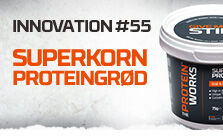 #55 - Superkorn Proteingrød
Superkorn Proteingrød kan prale af en imponerende række af næringsstoffer, som er designet til, at gøre din morgenmad lige så episk, som du er. Den unikke formel løfter proteingrød til et helt nyt niveau men en unik blanding af historiske kornsorter, hvid hampe protein og solsikke protein. Superkorn Proteingrød har utrolig højt indhold af protein, fibre og sunde omega 3 fedtsyrer. Superkorn Protein kommer i praktiske beholdere og er derfor den ultimative morgenmad eller snack på farten.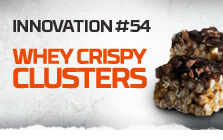 #54 - Whey Crispy Clusters
Whey Crispy Clusters are delicious high protein treats, fresh from the TPW™ Protein Bakery. Containing premium whey protein isolate, and covered with raw Indonesian chocolate and organic Peruvian cacao nibs, they are the ideal protein-packed snack. Bite sized and perfect for sharing, Whey Crispy Clusters contain our signature natural flavours and come packed in a special TPW "stay fresh" pot, ensuring they keep their awesome taste for as long as possible.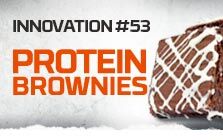 #53 - Protein Brownies
Protein Brownies er hvad der opstår, når de fineste traditionelle bagemetoder møder ny banebrydende ernæringsforskning i en protein supernova! Den unikke blanding af 3 proteiner er nybagt og friskpakket, og findes eksklusivt hos TPW™ Proteinbageriet, hvor den forbliver en hemmelighed bevogtet af TPW™ bageriets ninjaer. Vores Protein Brownie er et ernæringsmæssigt vidunder med fantastisk smag. De har et lavt sukkerindhold, men højt indhold af kvalitetsprotein og -fibre, og er derfor den ideelle snack, når lækkersulten melder sig. Kort sagt så har ernæringsforbedrede performance snacks aldrig smagt så godt.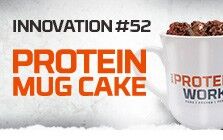 #52 - Protein Mug Cake Mix
Protein Mug Cake Mix fra THE PROTEIN WORKS™ er en lækker svampet kageblanding, som nemt og enkelt kan piskes sammen på få sekunder. Endnu en banebrydende innovation fra TPW™ teamet. Denne tilfredsstillende kage har et højt indhold af protein og fibre, og indeholder mindre end 2 gr. fedt pr. portion. Protein Mug Cake Mix er fremstillet af naturlige smagsstoffer og en blanding af kvalitets proteiner for at opnå en fremragende ernæringsprofil. Kagen kræver ingen særlige madlavningsevner, følg blot den simple instruktion. Vi giver dig endda et utal af muligheder for at peppe din kage op og skabe den ultimative dessert uden dårlig samvittighed.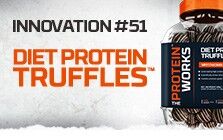 #51 - Diet Protein Truffles™
Diet Protein Truffles™ er måske den største diætinspirerede kreation, der nogensinde har forladt TPW™-bageriet. Ja, vi ved, at det er en dristig udtalelse, men blot et enkelt blik på den fantastiske smag, næringsprofilen og den uovertrufne ingrediensliste gør det tydeligt. Disse proteinholdige guldkorn er frisklavede i hånden og videnskabeligt formulerede, med vores prisvindende førsteklasses valleprotein efter en nøje formuleret intern opskrift. Dette omfatter udtræk af proteinblandingen med mikroindkapslet CLA, acetyl L-carnitin, krompikolinat og fedtreduceret kakaopulver for at skabe en utrolig velsmagende snack, som du kan spise når som helst på dagen.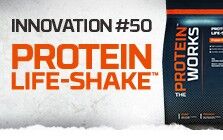 #50 - Protein Life-Shake™
Protein Life-Shake™ fra TPW™ er din bedste daglige, sunde shake. Den indeholder essentielle næringsstoffer til at kickstarte dagen, og kombinerer vores prisbelønnede valleprotein med mange vitaminer, mineraler og hele 300 millioner bakterier pr. portion. Dernæst tætpakker den alt i én velsmagende, forfriskende drik. Hvis du kun skal have én shake om dagen, så lad det være Protein Life-Shake™ - den kan indtages når som helst og hvor som helst.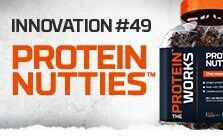 #49 - Protein Nutties™
Protein Nutties™ er en unik nøddeholdig proteinsnack, direkte fra TPW™ proteinbageriet lige her i Storbritannien. De er fremstillet af 100 % naturligt nøddesmør og de fineste valleproteiner. Protein Nutties™ er fyldt med sunde mono- og umættede fedtsyrer og de er udviklet til at passe ind i næsten enhver kost og hjælpe dig med at øge dit proteinindtag. Disse velsmagende proteinbomber er videnskabeligt formuleret af teamet hos TPW™ med naturlige ingredienser. Protein Nutties™ indeholder lige fra økologisk jomfru kokosolie til økologiske rå kakaonibs og er den ultimative proteinsnack til at spise når som helst på dagen, når sulten sætter ind.