Tilbehør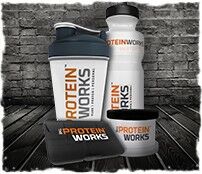 Vores mål hos THE PROTEIN WORKS™ er at hjælpe dig med ethvert aspekt af din kost og din træning. Kort sagt, vi forpligter os ikke kun til at give dig de allerbedste proteinshakes inden for sportsernæring. Men vi ønsker også efter at tilbyde træningstøj, beholdere til kapsler og selvfølgelig fitnessindustriens mest robuste og smarte proteinshakere. Derfor finder du et flot udvalg af THE PROTEIN WORKS™-mærket træningsudstyr og træningsredskaber - alt sammen udviklet for at gøre din kost og træning mere praktisk. Hvert eneste stykke udstyr er fremstillet ud fra vores høje standarder med materialer af højeste kvalitet og kun de allerbedste fremstillingsprocesser.
Netop dette TPW™-udvalg af træningsudstyr vil hele tiden vokse fordi vi samarbejder med en række sportsfolk samt styrke- og konditioneringstrænere om at udvikle det nyeste udstyr og træningsredskaber. Men hvis du har en idé, du tror, vil lette din træning eller ernæring, vil vi rigtig gerne høre fra dig - så hold dig ikke tilbage og kontakt os eller tal til os på Twitter eller Facebook.
Vi har en grundlæggende tro hos TPW™ på, at nytænkning ikke bør begrænses til kreatin eller kasein. Derfor er dette udvalg særligt vigtigt for os. Vi mener nemlig, at det repræsenterer det næste niveau inden for sportsernæring. Vores bestseller, den revolutionerende valleprotein, var kun begyndelsen.
Read more