Tabletter Og Flydende Tilskud
THE PROTEIN WORKS™ forstår, at proteinshakes ligesom sportstabletter er den mest praktiske måde for sportsudøvere at lægge visse afgørende næringsstoffer ind i deres kost. Vi har derfor taget et udvalg af essentielle vitaminer, mineraler, aminosyrer og individuelle ekstrakter og lavet dem om til tabletform. På den måde er det nemmere for dig at understøtte dit store ernæringsmæssige behov, både under, før og efter træning.
Vores sortiment af tabletter omfatter en lang liste af det allerbedste inden for sportsernæring, men du kan være sikker på, at vi altid arbejder på at udvide det nuværende sortiment. Det er for at sikre, at vi hele tiden lever op til vores løfte om at tilbyde PERSONLIG ernæring til alle, fordi vi ved, at der ikke findes to personer med de samme ernæringsmæssige behov - så jo bredere udvalg, desto flere valgmuligheder har du.
I vores sortiment af sportstabletter har vi også medtaget fedttabstabletter, som indeholder heftigt undersøgte ingredienser. Kreatintabletter er baseret på kreatin, som øger den fysiske præstation i successive peaks under kortvarig, højintensiv sportsudøvelse. Multivitaminer, aminosyrer og fiskeolier af den højeste kvalitet forsyner kroppen med sunde fedtsyrer med et højt indhold af EPA og DHA.
Desuden arbejder vi på TPW™ hele tiden på at blive bedre, både hvad angår vores sportsernæringsprodukter og vores kundeservice. Blandt andet derfor har vi givet vores tabletserie et slankt, ergonomisk design, som udover at se flot ud også passer smukt ind i ethvert skab ved siden af din TPW™ proteinshaker. Det indebærer også, at dine tilskud kan komme gennem postsprækken, hvilket sikrer mindre besvær i forbindelse med levering. Og så betyder det, at du får dine tabletter og valleprotein fuldstændig problemfrit.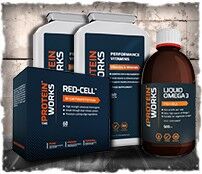 Read more