Filter Restitutionsprotein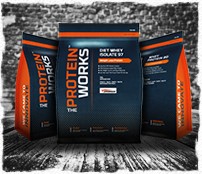 Sektionen for restitutionsprotein hos THE PROTEIN WORKS™ er ikke overraskende en af de mest populære. Det skyldes, at protein som et makronæringsstof, traditionelt er forbundet med restitution, reparation og genvækst af kroppen. Et kerneområde der behøver ernæringsmæssig støtte, særligt for atleter eller andre der fører en aktiv livsstil. Protein er i sig selv generelt anset for at være et restitutionsmiddel, men denne sektion er lavet for formler, der er videnskabeligt udviklet præcist til dette formål.
Det bedste eksempel på dette er vores produkt med det meget sigende navn, Restitutionsprotein, der indeholder proteiner og kulhydrater i lige præcis det perfekte forhold, der anses for at være nødvendigt for optimal restitution ifølge den ofte citerede sportsernærings bibel "The Complete Guide to Sports Nutrition". Det er endvidere blevet forbedret med aminosyrer og ekstrakter, der har været genstand for forskning i tusinder af studier omhandlende fremme af restitution.
Hele THE PROTEIN WORKS™ sortimentet udvikler og udvider sig konstant. Det samme gælder hjemmesidens sektion for Restitutionsprotein. Derfor opfordrer vi altid folk med gode ideer til at gå på de sociale medier (Twitter, Facebook, Google Plus eller Instagram) og dele dem med os. Uanset sportsbaggrund, hvadenten det er styrketræning eller udholdenhed, så vil vi gerne høre dine ideer. Som vi altid siger, så er døren til TPW™ laboratoriet altid åben.
TPW™ Recovery Protein is a scientifically designed formula that provides the body with the nutrients needed immediately after training to help the muscles recover and rebuild.

TPW™ 100% Whey Extreme is unrivalled in terms of protein, vitamin and amino density. Along with our exclusive TPW protein blend, iBCAA and premium flavours, we have also infused 100% Whey Extreme with a nutrient packed vitamin blend, containing over 13 vitamins and mineral in every shake! With this incredible nutritional profile and epic taste, TPW 100% Whey Extreme has broken new ground in ultra pure, lean protein shakes.

Whey Protein 360 is a premium protein shake that breaks new ground in protein formulation and flavour. It has been specifically designed to work with almost any fitness or body goal as its high in protein and low in sugar. Whey Protein 360 is ultra pure, natural and made with the very finest protein sources. Looking for more? Then check out our

Whey Protein 360 Extreme

, our most innovative protein shake to date!

Extreme isn't just a label, it's a philosophy. Nine months in the making and we're proud to say, this is way more than a shake, it's a new wave of vegan nutrition,created to be among the world's most nutrient-dense, vitamin-packed vegan protein shakes. We have sourced the very best vegan-friendly protein powder from every corner of the globe & fused them with over 20 different vitamins and minerals. Low in fat and packing more than 25g of protein per serving, Vegan Extreme is revolutionising plant-based protein shakes.