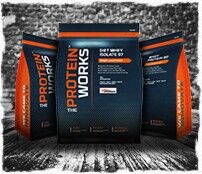 Sektionen for Protein til Natten på THE PROTEIN WORKS™ hjemmesiden er blevet skabt til de proteinformler, der er videnskabeligt udviklet til indtagelse før sengetid. De er typisk langsomt optagelige, så de langsomt men stabilt frigiver protein og aminosyrer til kroppen under din søvn. Dette anses for at være den aller vigtigste kvalitet ved proteinpulver til natten, da det er denne egenskab, der sikrer at de 7-9 timer du sover, ikke foregår i komplet faste. I stedet får dine krop vitale aminosyrer og protein, der bidrager til muskelvækst.
En af grundende til, at sektionen for Protein til Natten er så populær som den er på hjemmesiden, er fordi, søvn for atleter og enhver der træner, anses som helt vitalt. Det er det fordi, at det er i denne periode, at kroppen reparerer og genopbygger. Immunforsvaret styrkes, neurotransmitterne genopfyldes, og der foregår et væld af biologiske reaktioner inde i kroppen. Det er derfor vitalt, at dine nattetilskud understøtter disse.
Det er værd at bemærke, at Protein til Natten tenderer til at have en tykkere tekstur end den mere gængse valleprotein. Det er fordi, at de indeholder kasein (det langsomt optagelige protein), som gør hele shaken en del tykkere. De er hverken bedre eller dårligere end valleprotein, de er blot anderledes, og det er værd at have i baghovedet, når man du blander din TPW™ Protein til Natten.
Read more