Filter Protein til diæt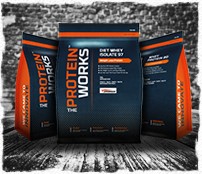 Sektionen med Protein til Diæt på THE PROTEIN WORKS™ hjemmeside er ikke overraskende en af de mest populære. Det skyldes vores bredt anerkendte naturlige aromaer og farver, hvilket betyder, at det at være på diæt, ikke længere er en hård opgave. Nej, nu er god smag tilbage på menuen med færre kalorier, kulhydrat og fedt. Alt sammen takket være Diet Vallekompleks, Diet Avanceret Vallekompleks og Diet Vallekompleks Extreme.
Hvert TPW™ Protein til Diæt findes i en række fantastiske smagsvarianter fra Chocolate Silk til Vanilla Creme, og er beriget med videnskabeligt opbakkede ingredienser. Disse inkluderer den særlige fedtsyre CLA, kvalitets grøn te ekstrakt såvel som en ernæringsmæssig avanceret profil af makronæringsstoffer. Hver diæt shakes episke smag ligger på et niveau kun matchet af deres fantastiske ernæringsmæssige indhold.
En sidste ting at have i baghovedet, er, at de fleste Proteinformler til Diæt er tykkere i teksturen sammenlignet med vores Rent Diet Valleisolat 97. Dette er fordi, at de kvalitets produkter, der udgør valleproteinisolat, er blevet beriget med flere ingredienser, der mere intensivt understøtter diæt. Mange folk kan rigtig godt lide dette, men det er en god ide at have in mente, når du blander din Protein shake til Diæt.
Diet Meal Replacement is a high protein, nutrient dense, meal replacement shake specifically designed to contribute to weight loss. Our team of TPW Gurus have fused the latest sports science research with our tastebud tingling flavours into an insane tasting protein shake. Delivering 25g of protein with our bespoke multivitamin blend and a host of diet heroes to give you the upper hand in your weight loss journey.

Diet Whey Complex Extreme is low calorie, low fat and low sugar protein shake packed full of 100% natural flavours. It is the ultimate in weight loss shakes, with a whopping 22g of protein in every shake, it is perfect for anyone wanting to add a delicious and nutritious diet shake into their routine.

Diet Whey Complex is a unique formulation of the finest quality ingredients designed to promote weight loss. Combining an optimal ratio of three premium grade proteins, It is ideal for anyone looking for high quality supplementation to help achieve their weight loss goals.

Diet Meal Replacement Extreme boasts everything you could possibly ask for in a meal replacement shake, and then some. Made from our very finest whey protein blend, it contains an optimal mix of fast and slow absorbing proteins to support muscle growth and repair. Every calorie has been squeezed and only the necessary made the final cut, providing the essential fuel you need to achieve your goals for just 209 calories per taste bud exhilarating shake. Better still, our new and improved formula now contains a new super dense Vitamin and Mineral Blend packing more punch per gram to help you fight fatigue and keep your body performing at its very best.

Diet Vegan Protein combines the very finest natural vegan protein sources and widely acclaimed extracts, such as Green Tea and Garcinia Cambogia, in one delicious shake. Sourced from premium grade plant proteins, it is ideal for anyone following a vegan calorie-controlled diet. Diet Vegan Protein provides 22g of protein, 1g of fat, and 0.3g of sugar per serving and is available in a range of natural flavours.

Diet Whey Complex Advanced is the most forward thinking fat loss protein shake on the market today. It is unparalleled in terms of quality and formulation and it is ideal for anyone looking to reduce their body fat or lose weight.

Skinny Protein is an incredible tasting diet protein shake that is high in protein. Skinny Protein offers a convenient 30 day plan in a range of delicious natural flavours. With just 96 calories and under 1g of sugar in each shake, Skinny Protein is perfect for anybody wanting to reach their weight loss goals and live a healthy lifestyle. Plus, order now & receive our 30 Day Mini Fitness Guide worth £19.99 ABSOLUTELY FREE!

Diet Whey Isolate 95, also known as Native Whey, is an ultra pure whey protein isolate renowned for having a very high protein content at 27g per serving, and the lowest sugar and fat content of any protein on the market today. It has been designed specifically for anyone looking to decrease their calorie intake and lose weight. It has less than 1g of fat and less than 1g of carbs per 30g serving and uses advanced membrane technology to create an ultra-pure form of whey protein.