Filter Protein til diæt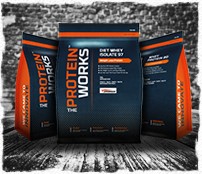 Sektionen med Protein til Diæt på THE PROTEIN WORKS™ hjemmeside er ikke overraskende en af de mest populære. Det skyldes vores bredt anerkendte naturlige aromaer og farver, hvilket betyder, at det at være på diæt, ikke længere er en hård opgave. Nej, nu er god smag tilbage på menuen med færre kalorier, kulhydrat og fedt. Alt sammen takket være Diet Vallekompleks, Diet Avanceret Vallekompleks og Diet Vallekompleks Extreme.
Hvert TPW™ Protein til Diæt findes i en række fantastiske smagsvarianter fra Chocolate Silk til Vanilla Creme, og er beriget med videnskabeligt opbakkede ingredienser. Disse inkluderer den særlige fedtsyre CLA, kvalitets grøn te ekstrakt såvel som en ernæringsmæssig avanceret profil af makronæringsstoffer. Hver diæt shakes episke smag ligger på et niveau kun matchet af deres fantastiske ernæringsmæssige indhold.
En sidste ting at have i baghovedet, er, at de fleste Proteinformler til Diæt er tykkere i teksturen sammenlignet med vores Rent Diet Valleisolat 97. Dette er fordi, at de kvalitets produkter, der udgør valleproteinisolat, er blevet beriget med flere ingredienser, der mere intensivt understøtter diæt. Mange folk kan rigtig godt lide dette, men det er en god ide at have in mente, når du blander din Protein shake til Diæt.
Diet Meal Replacement is a high protein, nutrient dense, meal replacement shake specifically designed to contribute to weight loss. It combines the very latest sports nutrition research and our taste-busting natural flavours into one best-selling protein shake. It's unique multi-protein source formula includes premium whey protein, milk protein and Prolibra®.

Diet Whey Isolate 95, also known as Native Whey, is an ultra pure whey protein isolate renowned for having a very high protein content at 27g per serving, and the lowest sugar and fat content of any protein on the market today. It has been designed specifically for anyone looking to decrease their calorie intake and lose weight. It has less than 1g of fat and less than 1g of carbs per 30g serving and uses advanced membrane technology to create an ultra-pure form of whey protein.