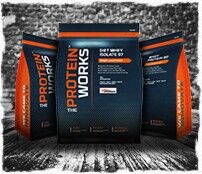 Hos THE PROTEIN WORKS™ tilslutter vi os det gamle ordsprog om, at "morgenmad er dagens vigtigste måltid". Det er derfor, at vi har skabt en sektion med Morgenprotein her på hjemmesiden. Her finder du vores bredt anerkendte Breakfast Fuel formel, som er blevet specielt udviklet til at give din krop alt det, den behøver for at starte din dag på en god måde uanset dine personlige træningsmål.
Dette inkluderer et basisprodukt med en proteinformel indeholdende flere proteinkilder og med timet frigivelse. Dette sikrer, at du forbliver mæt indtil som minimum frokost. Dets indehold af hurtigt absorberende protein betyder desuden, at du bryder fasten fra din søvn så hurtigt og effektivt som muligt. Profilen for makronæringsstoffer er fuldendt med sundt fedt og kulhydrater med lavt glykæmisk indeks for at give en langsomt og vedvarende frigivelse af energi igennem dagen.
Som alle produkter i sortimentet på THE PROTEIN WORKS™ hjemmeside, forsætter sektionen for Morgenprotein med at vokse og tilbyde flere og flere produkter. Som vi altid siger, så skal du vide, at døren til TPW™ laboratoriet altid er åbent, så hvis du skulle have en ide som du ønsker tilføjet til sortimentet af Morgenprotein, så lad os endelig høre fra dig på Twitter, Facebook, Google Plus eller Instagram.
Read more