Måltidserstatninger til diæt
(2)
Filter Måltidserstatninger til diæt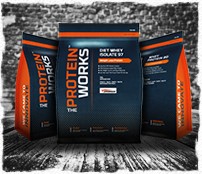 TPW™ Måltidserstatninger til Diæt har været sød musik i mange folk på diæts ører, såvel som maver. Det skyldes, at det er en omfattende måltidserstatnings shake, der er egnet for enhver diæt. Med et højt proteinindhold og et lavt indhold af kulhydrat og sukker er dette et sikkert produkt i skabene hos folk, der søger at tabe sig i vægt.
Hver shake af Måltidserstatning til Diæt er selvfølgelig lavet med på berømte naturlige aromaer og farver. Det betyder, at du får en videnskabeligt opbakket måltidserstatnings shake, der ikke alene hjælper dig med at nå dine ernærings- og træningsmål, men som også smager helt fantastisk.
Vores Måltidserstatning til Diæt er tilgængelig i en række af smagsvarianter inklusiv Banana Smooth, Vanilla Crème and Millionaires Shortbread, men vi søger hele tiden at udvide "menuen". Så hvis du har en god ide til en smag, eller blot ønsker en Måltidserstatning til Diæt i en af vores andre smagsvarianter, så gå på de sociale medier og lad os vide det. Som vi altid siger, så er vores dør til vores TPW™ Lab altid åben.
We set out to not only re-write the rules of food and fitness with this incredible shake, but to build a Vegan Meal Replacement Shake that would become a formidable force of nature. 6 months of planning down and over 100 taste tests complete & here we stand, loving this shake from head to toe because of its uncompromising nutritional profile. Packed with over 18.6g of 5 different sources of plant protein and fortified with our full vitamin and mineral blend (notably calcium, potassium, zinc and of course Vitamin B12), we then then topped it off with 100% premium, taste-bud-busting flavours. The final result, we confidently, proudly and unapologetically say that this Vegan Meal Replacement is unrivalled by anything else on the market.

Diet Meal Replacement is a high protein, nutrient dense, meal replacement shake specifically designed to contribute to weight loss. Our team of TPW Gurus have fused the latest sports science research with our tastebud tingling flavours into an insane tasting protein shake. Delivering 25g of protein with our bespoke multivitamin blend and a host of diet heroes to give you the upper hand in your weight loss journey. Our new best ever tasting formula is now available with Flavour-Boost technology. Please note this new formula is not suitable for Coeliac's.