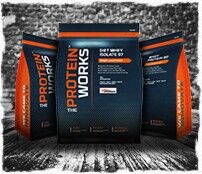 Proteinformler anvendes normalt af sportsfolk, som ønsker mere end én proteinpulverkilde i deres proteinshake. Det skyldes, at forskellige proteiner har vist sig at have forskellige egenskaber og fordele. Så ved en videnskabeligt underbygget kombination af forskellige proteinformer i én og samme proteinshake, får du på effektiv vis adskillige ernæringsmæssige fordele samtidigt. Således er alle proteinformler fra THE PROTEIN WORKS™ blevet omhyggeligt udviklet med videnskabelig underbygning. Resultatet er nøje specialfremstillede proteinformler, udviklet til at opfylde specifikke mål som f.eks. fedttab, mager muskelmasse og udholdenhedspræstation.
Alle vores formler er af højeste kvalitet, smager fantastisk og blandes utroligt nemt, taget deres næringsrige ingredienser i betragtning. Og som altid fås de i adskillige naturlige smagsvarianter og størrelser, og så er de selvfølgelig lavet af vores bedst sælgende valleprotein, valleproteinisolat og kaseinpulver af højeste kvalitet.
Vi udvikler, sammensætter og producerer proteinformler af højeste kvalitet in-house. Vi er enormt passionerede og forpligter os til altid at tilbyde den højeste kvalitet og det største udvalg af proteinshakes til uovertruffen værdi for pengene. Og endnu vigtigere; vi bruger KUN naturlige smags- og farvestoffer i alle vores proteinshakes og BRUGER IKKE fortykningsmiddel eller fyldstoffer.
Vores banebrydende sortiment af proteinformler omfatter proteinshakes til fedttab som f.eks. Diet vallekompleks og Diet avanceret valle. Vi har også den bedst sælgende Diet måltidserstatning. Ligeledes, hvis du ønsker at opnå mere mager muskelmasse eller en six pack, anbefaler vi TPW™ 100 % valle og The Works All in One Protein, som hjælper med at opnå virkelige resultater kombineret med din træningsplan. Det gør vi, fordi - udover at indeholde en videnskabeligt sammensat proteinblanding - indeholder formler som The Works All in One Protein også gennemforskede aminosyrer og ekstrakter som f.eks. THE PROTEIN WORKS™ ren kreatinpulver.
Vi ønsker at opretholde den høje kvalitet af vores proteinshakes og give dig ro i sindet. Derfor tilbyder vi LIVSTIDSGARANTI og forsikrer, at vi aldrig nogensinde vil bruge fortykningsmiddel eller fyldstoffer i vores shakes, og at vi altid vil bruge naturlige farve- og smagsstoffer. De naturlige ingredienser er ikke kun bedre for din krop, men giver også din proteindrik en mere naturlig smag. Vi får udarbejdet uafhængige analysecertifikater på alle vores produkter, det vil sige uafhængig verificering af kvaliteten af hvert eneste parti valle, vi producerer. I bund og grund ved du altid, hvad der kommer i din TPW™-proteinshake.
Read more