Filter Proteinformler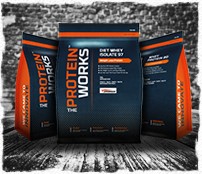 Proteinformler anvendes normalt af sportsfolk, som ønsker mere end én proteinpulverkilde i deres proteinshake. Det skyldes, at forskellige proteiner har vist sig at have forskellige egenskaber og fordele. Så ved en videnskabeligt underbygget kombination af forskellige proteinformer i én og samme proteinshake, får du på effektiv vis adskillige ernæringsmæssige fordele samtidigt. Således er alle proteinformler fra THE PROTEIN WORKS™ blevet omhyggeligt udviklet med videnskabelig underbygning. Resultatet er nøje specialfremstillede proteinformler, udviklet til at opfylde specifikke mål som f.eks. fedttab, mager muskelmasse og udholdenhedspræstation.
Alle vores formler er af højeste kvalitet, smager fantastisk og blandes utroligt nemt, taget deres næringsrige ingredienser i betragtning. Og som altid fås de i adskillige naturlige smagsvarianter og størrelser, og så er de selvfølgelig lavet af vores bedst sælgende valleprotein, valleproteinisolat og kaseinpulver af højeste kvalitet.
Vi udvikler, sammensætter og producerer proteinformler af højeste kvalitet in-house. Vi er enormt passionerede og forpligter os til altid at tilbyde den højeste kvalitet og det største udvalg af proteinshakes til uovertruffen værdi for pengene. Og endnu vigtigere; vi bruger KUN naturlige smags- og farvestoffer i alle vores proteinshakes og BRUGER IKKE fortykningsmiddel eller fyldstoffer.
Vores banebrydende sortiment af proteinformler omfatter proteinshakes til fedttab som f.eks. Diet vallekompleks og Diet avanceret valle. Vi har også den bedst sælgende Diet måltidserstatning. Ligeledes, hvis du ønsker at opnå mere mager muskelmasse eller en six pack, anbefaler vi TPW™ 100 % valle og The Works All in One Protein, som hjælper med at opnå virkelige resultater kombineret med din træningsplan. Det gør vi, fordi - udover at indeholde en videnskabeligt sammensat proteinblanding - indeholder formler som The Works All in One Protein også gennemforskede aminosyrer og ekstrakter som f.eks. THE PROTEIN WORKS™ ren kreatinpulver.
Vi ønsker at opretholde den høje kvalitet af vores proteinshakes og give dig ro i sindet. Derfor tilbyder vi LIVSTIDSGARANTI og forsikrer, at vi aldrig nogensinde vil bruge fortykningsmiddel eller fyldstoffer i vores shakes, og at vi altid vil bruge naturlige farve- og smagsstoffer. De naturlige ingredienser er ikke kun bedre for din krop, men giver også din proteindrik en mere naturlig smag. Vi får udarbejdet uafhængige analysecertifikater på alle vores produkter, det vil sige uafhængig verificering af kvaliteten af hvert eneste parti valle, vi producerer. I bund og grund ved du altid, hvad der kommer i din TPW™-proteinshake.
Whey Protein 360 is a premium protein shake that breaks new ground in protein formulation and flavour. It has been specifically designed to work with almost any fitness or body goal as its high in protein and low in sugar. Whey Protein 360 is ultra pure, natural and made with the very finest protein sources. Looking for more? Then check out our

Whey Protein 360 Extreme

, our most innovative protein shake to date!

Diet Meal Replacement Extreme boasts everything you could possibly ask for in a meal replacement shake, and then some. Made from our very finest whey protein blend, it contains an optimal mix of fast and slow absorbing proteins to support muscle growth and repair. Every calorie has been squeezed and only the necessary made the final cut, providing the essential fuel you need to achieve your goals for just 209 calories per taste bud exhilarating shake. Better still, our new and improved formula now contains a new super dense Vitamin and Mineral Blend packing more punch per gram to help you fight fatigue and keep your body performing at its very best. Our new best ever tasting formula is now available with Flavour-Boost technology. Please note this new formula is not suitable for Coeliac's.

Diet Meal Replacement is a high protein, nutrient dense, meal replacement shake specifically designed to contribute to weight loss. Our team of TPW Gurus have fused the latest sports science research with our tastebud tingling flavours into an insane tasting protein shake. Delivering 25g of protein with our bespoke multivitamin blend and a host of diet heroes to give you the upper hand in your weight loss journey. Our new best ever tasting formula is now available with Flavour-Boost technology. Please note this new formula is not suitable for Coeliac's.

Extreme isn't just a label, it's a philosophy. Nine months in the making and we're proud to say, this is way more than a shake, it's a new wave of vegan nutrition,created to be among the world's most nutrient-dense, vitamin-packed vegan protein shakes. We have sourced the very best vegan-friendly protein powder from every corner of the globe & fused them with over 20 different vitamins and minerals. Low in fat and packing more than 25g of protein per serving, Vegan Extreme is revolutionising plant-based protein shakes.

Diet Whey Complex Extreme is low calorie, low fat and low sugar protein shake packed full of 100% premium flavours. It is the ultimate in weight loss shakes, with a whopping 22g of protein in every shake, it is perfect for anyone wanting to add a delicious and nutritious diet shake into their routine. For a great complementary fat-burner, we recommend our legendary

Thermopro

tablets.

TPW™ 100% Whey Extreme is unrivalled in terms of protein, vitamin and amino density. Along with our exclusive TPW protein blend, iBCAA and premium flavours, we have also infused 100% Whey Extreme with a nutrient packed vitamin blend, containing over 13 vitamins and mineral in every shake! With this incredible nutritional profile and epic taste, TPW 100% Whey Extreme has broken new ground in ultra pure, lean protein shakes.

Raw Vegan Protein is a unique blend of 5 premium plant proteins, making it the definitive dairy-free, vegan-friendly protein shake. Low in fat and sugar and packing more than 25g of protein per serving, It is ideal for those looking for a premium non-dairy protein source. Available in a range of incredible flavours.

Diet Whey Complex is a unique formulation of the finest quality ingredients designed to promote weight loss. Combining an optimal ratio of three premium grade proteins, It is ideal for anyone looking for high quality supplementation to help achieve their weight loss goals.

Total Mass Matrix Extreme contains a cutting-edge tri-protein blend that delivers up to 54g of protein and up to a colossal 974 calories per serving. Its Extreme formulation sets a new standard in next level mass gainers through the inclusion of a potent vitamin and mineral blend, glutamine and 5g of creatine. Used in conjunction with a training program, our most comprehensive gainer is designed to promote an increase in muscle mass and fuel your body through the most intense of workouts.

Total Mass Matrix sets a new benchmark in mass weight gainers. Its supercharged calorie dense formula is designed for anyone looking to bulk up and increase muscle mass. The TPW™ Nutrition Team have used an optimal 2:1 carb to protein ratio which delivers over 496 calories per serving, plus 30g of premium grade protein. It is the ideal high calorie shake to help support your weight and mass gain goals, without adding unwanted fat.

Bedtime Fuel from The Protein Works™ is a multi-protein formula designed to offer a slow and sustained release of nutrients. It is specifically designed to be taken before bed to aid muscular growth and repair.

Diet Vegan Protein combines the very finest natural vegan protein sources and widely acclaimed extracts, such as Green Tea and Garcinia Cambogia, in one delicious shake. Sourced from premium grade plant proteins, it is ideal for anyone following a vegan calorie-controlled diet. Diet Vegan Protein provides 22g of protein, 1g of fat, and 0.3g of sugar per serving and is available in a range of premium flavours.

Muscle Protein is a high protein, all-in-one protein shake for anybody looking to build and maintain muscle. Formulated with the finest whey protein, ultra pure creatine and our unique vitamin blend, Muscle Protein delivers over 35g of protein in every shake. It also comes in a range of insane tasting flavours, and if you order now you'll receive our 30 Day Mini Fitness Guide worth £19.99 ABSOLUTELY FREE!

Skinny Protein is an incredible tasting diet protein shake that is high in protein. Skinny Protein offers a convenient 30 day plan in a range of delicious flavours. With just 96 calories and under 1g of sugar in each shake, Skinny Protein is perfect for anybody wanting to reach their weight loss goals and live a healthy lifestyle. Plus, order now & receive our 30 Day Mini Fitness Guide worth £19.99 ABSOLUTELY FREE!

All in One Protein The Works™ is a cutting-edge, all in one protein formula designed to aid muscle building. It boasts a blend of premium grade whey protein concentrate and whey protein isolate, optimal dosages of creatine, leucine and a 'TPW™ Dual Phase Carb System'.

TPW™ Recovery Protein is a scientifically designed formula that provides the body with the nutrients needed immediately after training to help the muscles recover and rebuild.

Breakfast Fuel Protein Shake is the ultimate morning protein shake specifically designed to restart and fuel your body at the start of the day. The bedrock of this shake is a cutting-edge timed-release protein blend to provide a tapered delivery of amino acids to the body throughout the day. In addition, we've incorporated a Vitamin Blend to make this incredible breakfast shake like no other.

We set out to not only re-write the rules of food and fitness with this incredible shake, but to build a Vegan Meal Replacement Shake that would become a formidable force of nature. 6 months of planning down and over 100 taste tests complete & here we stand, loving this shake from head to toe because of its uncompromising nutritional profile. Packed with over 18.6g of 5 different sources of plant protein and fortified with our full vitamin and mineral blend (notably calcium, potassium, zinc and of course Vitamin B12), we then then topped it off with 100% premium, taste-bud-busting flavours. The final result, we confidently, proudly and unapologetically say that this Vegan Meal Replacement is unrivalled by anything else on the market.

Weighing in at over 500 kcals & 39g of protein per serving, our Vegan Mass Gainer shake has been designed to promote an increase in muscle mass and improve intense physical performance. Used in conjunction with hard training, its complete amino acid profile provides the building blocks necessary for muscle repair. The innovative carbohydrate blend also helps fuel your body, whether it's in the gym or on the field of play. As with all TPW products, this gainer formula uses only premium grade ingredients, in this case sustainably sourced from plant-based proteins, whole foods and natural sweetness extracted from stevia.

100% Micellar Casein is considered the perfect shake for those who need a slow releasing protein to take before bed for those needing a slow sustained release of aminos to the muscles during sleep. 100% Micellar Casein has a smooth silky texture and can be added to shakes, smoothies, oats and home baking!