Filter Proteinformler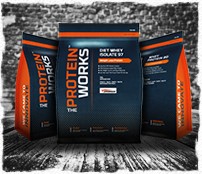 Proteinformler anvendes normalt af sportsfolk, som ønsker mere end én proteinpulverkilde i deres proteinshake. Det skyldes, at forskellige proteiner har vist sig at have forskellige egenskaber og fordele. Så ved en videnskabeligt underbygget kombination af forskellige proteinformer i én og samme proteinshake, får du på effektiv vis adskillige ernæringsmæssige fordele samtidigt. Således er alle proteinformler fra THE PROTEIN WORKS™ blevet omhyggeligt udviklet med videnskabelig underbygning. Resultatet er nøje specialfremstillede proteinformler, udviklet til at opfylde specifikke mål som f.eks. fedttab, mager muskelmasse og udholdenhedspræstation.
Alle vores formler er af højeste kvalitet, smager fantastisk og blandes utroligt nemt, taget deres næringsrige ingredienser i betragtning. Og som altid fås de i adskillige naturlige smagsvarianter og størrelser, og så er de selvfølgelig lavet af vores bedst sælgende valleprotein, valleproteinisolat og kaseinpulver af højeste kvalitet.
Vi udvikler, sammensætter og producerer proteinformler af højeste kvalitet in-house. Vi er enormt passionerede og forpligter os til altid at tilbyde den højeste kvalitet og det største udvalg af proteinshakes til uovertruffen værdi for pengene. Og endnu vigtigere; vi bruger KUN naturlige smags- og farvestoffer i alle vores proteinshakes og BRUGER IKKE fortykningsmiddel eller fyldstoffer.
Vores banebrydende sortiment af proteinformler omfatter proteinshakes til fedttab som f.eks. Diet vallekompleks og Diet avanceret valle. Vi har også den bedst sælgende Diet måltidserstatning. Ligeledes, hvis du ønsker at opnå mere mager muskelmasse eller en six pack, anbefaler vi TPW™ 100 % valle og The Works All in One Protein, som hjælper med at opnå virkelige resultater kombineret med din træningsplan. Det gør vi, fordi - udover at indeholde en videnskabeligt sammensat proteinblanding - indeholder formler som The Works All in One Protein også gennemforskede aminosyrer og ekstrakter som f.eks. THE PROTEIN WORKS™ ren kreatinpulver.
Vi ønsker at opretholde den høje kvalitet af vores proteinshakes og give dig ro i sindet. Derfor tilbyder vi LIVSTIDSGARANTI og forsikrer, at vi aldrig nogensinde vil bruge fortykningsmiddel eller fyldstoffer i vores shakes, og at vi altid vil bruge naturlige farve- og smagsstoffer. De naturlige ingredienser er ikke kun bedre for din krop, men giver også din proteindrik en mere naturlig smag. Vi får udarbejdet uafhængige analysecertifikater på alle vores produkter, det vil sige uafhængig verificering af kvaliteten af hvert eneste parti valle, vi producerer. I bund og grund ved du altid, hvad der kommer i din TPW™-proteinshake.
Whey Protein 360 is a premium protein shake that breaks new ground in protein formulation and flavour. It has been specifically designed to work with almost any fitness or body goal as its high in protein and low in sugar. Whey Protein 360 is ultra pure, natural and made with the very finest protein sources. We guarantee you won't find a better tasting protein shake on the planet.

Total Mass Matrix sets a new benchmark in mass weight gainers. Its supercharged calorie dense formula is designed for anyone looking to bulk up and increase muscle mass. The TPW™ Nutrition Team have used an optimal 2:1 carb to protein ratio which delivers over 490 calories per serving, plus over 30g of premium grade protein. It is the ideal high calorie shake to help support your weight and mass gain goals, without adding unwanted fat.

Diet Meal Replacement is a high protein, nutrient dense, meal replacement shake specifically designed to contribute to weight loss. It combines the very latest sports nutrition research and our taste-busting natural flavours into one best-selling protein shake. It's unique multi-protein source formula includes premium whey protein, milk protein and Prolibra®.

Total Mass Matrix Extreme is the most calorie and nutrient dense mass gainer formula to leave the TPW™ Laboratory. Containing a tri-protein blend that delivers over 60g of protein and over 1,000 calories per serving, it has been designed to contribute to a growth in muscle mass.

TPW™ 100% Whey Advanced is an innovative, amino dense, premium whey protein blend designed and produced exclusively by THE PROTEIN WORKS™. Made from whey protein concentrate, whey protein isolate and hydrolysed whey protein, it delivers a controlled tapered release of protein.

All in One Protein The Works™ is a cutting-edge, all in one protein formula designed to aid muscle building. It boasts a blend of premium grade whey protein concentrate and whey protein isolate, optimal dosages of creatine, leucine and a 'TPW™ Dual Phase Carb System'.

Vegan Super Blend completely reinvents protein shakes for the active vegan. Combining the purest vegan ingredients in the TPW™ product portfolio, each shake is made by taking 3 of the world's best plant proteins and blending them with ancient grains, spirulina and sweet potato powder.

Whey Protein Smoothie is another unique and exclusive innovation from TPW™. A nutrient packed high protein shake, supercharged with organic bee pollen and real natural fruit pieces to give you that true smoothie taste sensation.

Diet Whey Isolate 95, also known as Native Whey, is an ultra pure whey protein isolate renowned for having a very high protein content at 27g per serving, and the lowest sugar and fat content of any protein on the market today. It has been designed specifically for anyone looking to decrease their calorie intake and lose weight. It has less than 1g of fat and less than 1g of carbs per 30g serving and uses advanced membrane technology to create an ultra-pure form of whey protein.