Filter Proteinbar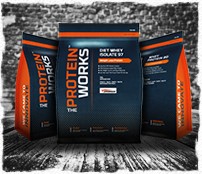 Teknologien bag Proteinbarer er forblevet relativt uændret i mange år. Mange proteinbarer på markedet er til lige så stor træning for dine kæber som for noget som helst andet på det krop. Men dette ændrede sig, da TPW™'s udviklingsteam gjorde det til deres mission at skabe europas første bar lavet på valleisolat. Sådan blev Valle og Havreknas Proteinbaren født og den brød lynhurtigt alle salgsrekorder i sektoren for proteinbarer. Med et højt proteinindhold og en fantastisk kilde til lavglykæmisk kulhydrat, kommer det ikke som noget chok for nogen, at tusindvis af skabe rundt om i Storbritannien blev fyldt op på bare et døgn efter lanceringsdagen.
Dette banede derefter vejen for TPW™ Proteinbageriet. En specialbygget facilitet der tillod os at skabe et helt sortiment af produkter, som markedet til dato kun havde turde drømme om. Protein Havrebar Luxe, Protein Grazers™ og Protein Nutties™ fulgte trop, og cementerede vores position som foregangsmænd for innovation og teknologi inden for proteinbarer. Og hvad endnu bedre er, at TPW™ forskerne siger, at de kun først lige er startet!
Vi kan ikke understrege det enorme potentiale og de mange muligheder TPW™ Proteinbageriet repræsenterer. Der er praktisk talt ikke nogle grænser for, hvad vi kan, og vil producere. Så hvis du har en ide til en proteinbar, men fandt at intet brand inden for sportsernæring, har kunnet lave den, så tænk engang igen og gå på de sociale medier, og lad os vide hvilken idé du har. Vi elsker at tale med kunder om sportsernæring og mulighederne inden for proteinbarer er et af vores yndlings emner.
The highly anticipated launch of VEGAN CRAVERS had the fires of our renowned Protein Bakery burning brighter than ever. Challenged to make the world's best tasting Vegan Protein Bar, our crack team ate their way through hundreds of snacks & bars from around the planet. They laughed in the face of mediocrity and then did what they do best and made something completely unique. Vegan Cravers are hand crafted vegan masterpieces. Made from three plant-based proteins, natural flavours and a bit of TPW™ magic, every single square packs over 14g of protein, plus is high in fibre and low in sugar. Each indulgent flavour will have you craving for more.

Soft baked. Incredible tasting. Low in Sugar. High in protein. And it's a Brownie, not possible right? Wrong. These Protein Brownies are a true Protein Bakery legend, now re-imagined in a brand-new recipe. Devastatingly great nutritionals and so cheeky in flavour they wink at the sight of a taste-bud, they're simply our most audacious Brownies to date. Unrivalled was the word we pinned to our innovations board when we tasked our nutritionists & bakers to re-imagine our classic snack. Over 100 taste tests down, we can puff chests & ruffle feathers whilst shouting about stats like; less then a gram of sugar, over 10g of protein and officially high in fibre. If you don't know about these already, it's time you joined the club…

We call it the Truffle Shuffle… High in protein, high in fibre, low in sugar. Simply sublime.You may hear some other words muttered as a Protein Truffle is devoured… Sumptuous, incredible, unreal. We've heard them on repeat as our original Protein Truffles underwent over 100 taste tests in their full re-invention & reformulation. The outcome? Well, the Protein Truffle is now even more tasty, even more flavoursome & still packed with nutritional prowess that puts it in a league of its own. It's not just the Truffle that has upped its game, we're also buzzing about the new vessel that it will arrive to you in! It isn't an ordinary box… we like to think of it as a ring side coach, we'll say no more than that, the rest is a surprise.

The Protein Nutty™ is what happens when you combine a Nut Butter obsession with a culinary genius and a sports scientist. The Result? Well you get the ultimate tasting, energy boosting bite. Now newly re-imagined, these fresh protein bakes have passed our taste bud profiling tests and are officially tastier and more flavoursome than their legendary predecessors. Not possible, right? We didn't think so either, but our artisan bakers had other ideas. Combining tropical flavours such as goji berries and desiccated coconut with our finest Whey Protein they've created an insane flavour sensation to go with its nutritional might! Freshly baked, prepped and packed in our Protein Bakery, these are bullet proof nutritional powerhouses.