Filter Valleproteinpulver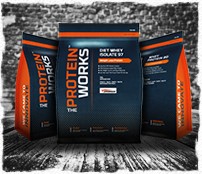 Valleproteinpulver er vurderet som det mest anvendte tilskud inden for sportsernæring. Produktet er ofte sat i forbindelse med styrke, hastighed og power atleter, men valleprotein anvendes i stigende grad også i sportsgrene med fokus på udholdenhed. Dette fordi, at protein igennem tusindvis af forskningsbaserede studier og selvstændig forskning har vist sig at kunne bidrage med både muskelvækst og –vedligeholdelse. Det er derfor, at atleter overalt i verden har skabene fuld af proteinpulver.
Men hvad endnu mere interessant er, hvordan valleproteinpulver bliver mere og mere mainstream. Dette skyldes, at flere og flere eksperter anbefaler, at man lader det indgå som en fast del af en sund kost. Det er delvist fordi, at forskning fra den europæiske fødevareautoritet EFSA har vist, at protein har mange flere fordele end blot muskelvækst. Faktisk har protein vist sig også at bidrage til vedligeholdelsen af normale knogler. Det er blot en af årsagerne til, at valleprotein ikke længere er forbeholdt atleter, men også anbefalelsesværdigt for mennesker, der ønsker at forfølge en sund livsstil i al almindelighed.
Proteinpulver fra THE PROTEIN WORKS™ er vurderet som det allerbedste inden for sportsernæring i dag. TPW™ valleproteinpulver er måske den mest berømte. Den er kun lavet på naturlige smags-og farvestoffer og indeholder ingen fortykningsmidler og fyldstoffer overhovedet. Hvad endnu bedre er, at dette løfte om kun at anvende naturlig smag og farve gælder for hele TPW™ sortimentet. Fra valleprotein isolat til kreatin.
THE PROTEIN WORKS™ er kendt for at have et stort sortiment af proteinpulver. Hvilket af og til kan gøre det svært at vælge den helt rigtige til lige netop din protein shaker. Men du skal vide, at ernæringseksperterne hos TPW™ altid er tilgængelige til at hjælpe dig så meget som muligt. Hvad enten der er igennem THE LOCKER ROOM™, Twitter, Facebook eller i vores unikke Online Chat på hjemmesiden. Vi vil hjertens gerne hjælpe dig, hvor vi kan.
Til forskel fra alle andre brands der tilbyder proteintilskud på markedet i dag, er vi åbne og transparente omkring præcis hvilken protein og hvor meget af det, der er i hvert enkelt proteintilskud. Klik blot på Protein Indsigt ikonet på produktsiderne for at finde ud af mere. Med TPW™ er kvaliteten ikke alene sikret, vi har tilmed lave priser for at sikre dig højest mulig værdi for pengene hver gang.
Slutteligt, når det kommer til vores proteinpulver, stræber vi altid efter at give vores kunder den ultimative sindsro. Derfor tilbyder vi, som de første i branchen, Livstidsgaranti. Det er meget simpelt. Hvis du af en eller anden årsag ikke er tilfreds med produkterne, skal vi nok sørge for, at du får det erstattet. Det er fordi, at vi ved, at ernæring skal personliggøres. Så hvis en proteinpulver ikke helt passer dine smagsløg eller dine mål har ændret sig, vil vi i samarbejde med dig finde den rigtige til dig.
Diet Whey Isolate 97 is the purest whey protein isolate, renowned for having the highest protein content and lowest carbohydrate and fat content of any protein in sports nutrition today. It is designed specifically for anyone dieting or looking to decrease their calorie intake, but what's more, it's a very rare breed of protein shake... Why? Well, it also stands proud and boasts a completely lactose free nutritional profile. It's the only Whey Shake at TPW Towers to lay claim to such an awesome feat, and so bang for buck is one of the best value whey protein isolate shakes on the market today... period!

Diet Meal Replacement is a high protein, nutrient dense, meal replacement shake specifically designed to contribute to weight loss. It combines the very latest sports nutrition research and our taste-busting natural flavours into one best-selling protein shake. It's unique multi-protein source formula includes premium whey protein, milk protein and Prolibra®.

Whey Protein 360 is a premium protein shake that breaks new ground in protein formulation and flavour. It has been specifically designed to work with almost any fitness or body goal as its high in protein and low in sugar. Whey Protein 360 is ultra pure, natural and made with the very finest protein sources. We guarantee you won't find a better tasting protein shake on the planet.

TPW™ 100% Whey Advanced is an innovative, amino dense, premium whey protein blend designed and produced exclusively by THE PROTEIN WORKS™. Made from whey protein concentrate, whey protein isolate and hydrolysed whey protein, it delivers a controlled tapered release of protein.

Whey Protein 80 is our award-winning whey protein concentrate. Winner of the highly coveted "Best Protein Award" in the FSN Product Awards, TPW™ whey protein is known for its exceptional purity, contains no thickeners and is available in a wide range of exclusive natural flavours.

Diet Whey Isolate 95, also known as Native Whey, is an ultra pure whey protein isolate renowned for having a very high protein content at 27g per serving, and the lowest sugar and fat content of any protein on the market today. It has been designed specifically for anyone looking to decrease their calorie intake and lose weight. It has less than 1g of fat and less than 1g of carbs per 30g serving and uses advanced membrane technology to create an ultra-pure form of whey protein.

Naked Diet Whey Protein 90 is an ultra pure, 100% natural whey protein isolate, exclusively engineered using natural flavourings, colours and Stevia which is a plant derived zero calorie sweetener.