Filter Valleprotein til diæt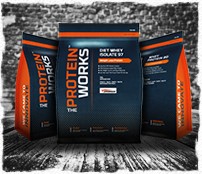 Protein shakes til diæt er traditionelt anvendt af folk, der ønsker et supplement til deres vægttab. Mange fra THE PROTEIN WORKS™ fællesskabet bruger som regel en ensidig proteinkilde, som er lav på kalorier og kulhydrat som eksempelvis valleisolat. Men mindst lige så mange favoriserer en mere omfattende formel lavet af proteinpulver med flere ingredienser. Som Diæt Valle Kompleks der indeholder det hyppigt forskede CLA og en kvalitetsrig Grøn Te kilde. Hos THE PROTEIN WORKS™ dækker vi alle behov. Vi har enhver tænkelig protein shake, så der findes en, der passer lige netop ind i din kost.
Særligt i sortimentet af Diæt Valleprotein på THE PROTEIN WORKS™ hjemmeside finder du kvalitetsrige ensidige proteinkilder til diæt. Den type proteinpulver der har gennemgået en avanceret mikrofiltreringsteknologi sikrer færre kulhydrater, kalorier og laktose. Det der er tilbage efter denne proces, er en utrolig ren form for valleprotein, som det ses i vores Diæt Valleisolat 97 og Rent Diæt Valleisolat 97. Sagt på en mere simpel måde. Disse er avancerede og videnskabeligt behandlede udgaver af den valleprotein, som vi blev kendte for. Det er bare en slankere søster (eller bror) med et lavt kalorieindhold.
Det er også vigtigt at understrege, at vi selv innoverer, formulerer og producerer alle vores produkter in-house. Det betyder, at vores sortiment af Valleprotein til Diæt er produceret ud fra de præcist samme høje standarder som vores bedst sælgende Peanut Butter og innovative Proteinbarer. Vi er dybt passionerede omkring det at tilbyde den højeste kvalitet for pengene og det bredeste produktsortiment til uovertruffen værdi for pengene. Det er lige præcis derfor, at vores diæt shakes fejres i medierne af folk fra fitness- og ernæringsverdenen.
Vi er det første brand inden for sportsernæring til at give dig en forsikring om, at vi aldrig kunne finde på at bruge fortykningsmidler og fyldstoffer i vores shakes, såvel som at vi altid bruger helt og aldeles naturlige farve- og smagsstoffer. Brugen af naturlige ingredienser er ikke kun bedre for din krop, men giver også et mere naturligt smagende proteindrik. Vi laver uafhængige analysecertifikater på hvert eneste produkt, som giver en selvstændig kvalitetssikring på hvert eneste parti vi producerer. På den måde ved du altid lige præcis hvad, der kommer i din protein shake.
Diet Meal Replacement is a high protein, nutrient dense, meal replacement shake designed to contribute to weight loss. At only 213 calories per shake, packed with 25g of protein and slow digesting carbohydrates. This combination will increase the feeling of fullness but keep your calories low in the process. The key to dietary success is sticking to it. Which is why all our shakes taste amazing. Smooth, delicious and designed to keep you going. With added cutting edge ingredients it's a perfect accompaniment to your weight loss journey.

Diet Whey Complex Extreme is a high protein, low calorie shake. It has no added sugar, is low in fat and supercharged with active ingredients. As always with TPW™, you're guaranteed the very best tasting flavours on the planet today. It is the ultimate in weight loss shakes with a market-leading 22g of protein in every serving. Diet Whey Complex Extreme is perfect for anyone wanting to add a delicious and nutritious diet protein shake to their routine. Our team of nutritionists highly recommend combining Diet Whey Complex with our cutting-edge supplement

Thermopro

in order to achieve optimal results.

Diet Meal Replacement Extreme is the ultimate meal replacement shake. This advanced formula is high in protein, low in calories and packed full of vitamin and minerals. A cutting edge combination of both slow and rapidly digesting protein, low GI carbohydrates and high fibre. Diet meal replacement extreme will help you lose weight, maintain muscle mass and keep hunger at bay for longer. Consistency is key when trying to lose weight, this is why we prioritise taste and consistency. With a complete range of flavour options, we are confident this is an accomplice for your weight-loss journey. Our new best ever tasting formula is now available with Flavour-Boost technology. Please note this new formula is not suitable for Coeliac's.

Diet Whey Complex is a unique formulation of the finest quality ingredients designed to promote weight loss. Combining an optimal ratio of three premium grade proteins, It is ideal for anyone looking for high quality supplementation to help achieve their weight loss goals.

Diet Whey Isolate 90 contains an insane 23g of protein per 25 gram serving. This premium grade whey has the most complete amino acid profile, boasting the ever essential 3g of leucine in every scoop. Protein Isolate 90 is undoubtedly the ultimate whey protein - scientifically proven to be rapidly absorbed and utilised by the body. The purity means you get less than 1g of carbs and only 92 calories per serving. Making it an incredibly lean way of increasing your protein intake without the addition of extra calories (two important aspects of weight control).

Skinny Protein is an incredible tasting diet protein shake that is high in protein. Skinny Protein offers a convenient 30 day plan in a range of delicious flavours. With just 96 calories and under 1g of sugar in each shake, Skinny Protein is perfect for anybody wanting to reach their weight loss goals and live a healthy lifestyle. Plus, order now & receive our 30 Day Mini Fitness Guide worth £19.99 ABSOLUTELY FREE!

Diet Whey Isolate 95, also known as Native Whey, is an ultra pure whey protein isolate renowned for having a very high protein content at 27g per serving, and the lowest sugar and fat content of any protein on the market today. It has been designed specifically for anyone looking to decrease their calorie intake and lose weight. It has less than 1g of fat and less than 1g of carbs per 30g serving and uses advanced membrane technology to create an ultra-pure form of whey protein.