Valleprotein Til Diæt
(7)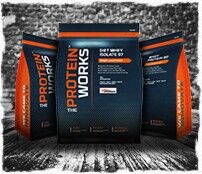 Protein shakes til diæt er traditionelt anvendt af folk, der ønsker et supplement til deres vægttab. Mange fra THE PROTEIN WORKS™ fællesskabet bruger som regel en ensidig proteinkilde, som er lav på kalorier og kulhydrat som eksempelvis valleisolat. Men mindst lige så mange favoriserer en mere omfattende formel lavet af proteinpulver med flere ingredienser. Som Diæt Valle Kompleks der indeholder det hyppigt forskede CLA og en kvalitetsrig Grøn Te kilde. Hos THE PROTEIN WORKS™ dækker vi alle behov. Vi har enhver tænkelig protein shake, så der findes en, der passer lige netop ind i din kost.
Særligt i sortimentet af Diæt Valleprotein på THE PROTEIN WORKS™ hjemmeside finder du kvalitetsrige ensidige proteinkilder til diæt. Den type proteinpulver der har gennemgået en avanceret mikrofiltreringsteknologi sikrer færre kulhydrater, kalorier og laktose. Det der er tilbage efter denne proces, er en utrolig ren form for valleprotein, som det ses i vores Diæt Valleisolat 97 og Rent Diæt Valleisolat 97. Sagt på en mere simpel måde. Disse er avancerede og videnskabeligt behandlede udgaver af den valleprotein, som vi blev kendte for. Det er bare en slankere søster (eller bror) med et lavt kalorieindhold.
Det er også vigtigt at understrege, at vi selv innoverer, formulerer og producerer alle vores produkter in-house. Det betyder, at vores sortiment af Valleprotein til Diæt er produceret ud fra de præcist samme høje standarder som vores bedst sælgende Peanut Butter og innovative Proteinbarer. Vi er dybt passionerede omkring det at tilbyde den højeste kvalitet for pengene og det bredeste produktsortiment til uovertruffen værdi for pengene. Det er lige præcis derfor, at vores diæt shakes fejres i medierne af folk fra fitness- og ernæringsverdenen.
Vi er det første brand inden for sportsernæring til at give dig en forsikring om, at vi aldrig kunne finde på at bruge fortykningsmidler og fyldstoffer i vores shakes, såvel som at vi altid bruger helt og aldeles naturlige farve- og smagsstoffer. Brugen af naturlige ingredienser er ikke kun bedre for din krop, men giver også et mere naturligt smagende proteindrik. Vi laver uafhængige analysecertifikater på hvert eneste produkt, som giver en selvstændig kvalitetssikring på hvert eneste parti vi producerer. På den måde ved du altid lige præcis hvad, der kommer i din protein shake.
Read more