Filter Naturligt Protein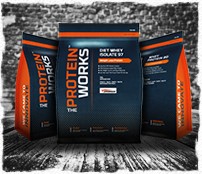 TPW™'s Naturligt Protein har været en fast del af sortimentet hos THE PROTEIN WORKS™ lige siden, vi startede i 2012. Det startede med europas første 100% naturlige valleprotein Rent Valleprotein 80 og siden da, er sortimentet blevet udvidet med Rent Valleprotein 90 og Rent Diæt Valleisolat 97. Alle sammen lanceret i en kollektion af naturlige smagsvarianter, som er blevet rost til skyerne af ernæringseksperter og i den almene presse.
Men hvorfor er TPW™'s sortiment af Naturligt Protein så populært? Svaret er ganske enkelt. Vi var det første brand i Storbritannien inden for sportsernæring til kun at anvende 100% naturlig smag og farve i alle vores produkter. Ikke nok med det besluttede vi os for at gå skridtet videre, og har siden da også været de første til at anvende Stevia i vores sortiment af Rent Protein. Det skabte de mest rene og naturlige shakes nogensinde set på markedet for sportsernæring.
Stevia Ekstrakt er dybest set et sødemiddel med 0 kalorier og kulhydrat udvundet af Steviaplantens blade, der vokser i Sydamerika. Det er vores 'hemmelige ingrediens' i vores sortiment af naturligt protein. De fleste anvender disse produkter på grund af deres renhed, men da vores naturlige protein produkter har et glykæmisk indeks på 0, er de også meget anvendt blandt folk, der ønsker at tabe sig. Særligt populær er Rent Diæt Valleisolat 97, da den er blevet mikrofiltreret, så den indeholder færre kulhydrater, kalorier og mindre laktose.
Naked Whey Protein 80 is the ideal whey protein shake for anyone looking for an exceptionally high quality protein source to aid muscle growth and repair, with the assurance that it contains absolutely no artificial additives of any kind.

Naked Diet Whey Protein 90 is an ultra pure, 100% natural whey protein isolate, exclusively engineered using premium flavourings, colours and Stevia which is a plant derived zero calorie sweetener.

With only the best sources of vegan protein and over 24g of protein per serving - this vegan shake is a powerhouse. Not only have we have infused it with a vitamin and mineral blend to further enhance the benefits of this shake. It's naturally sweetened to ensure this is the purest vegan protein shake you can buy. With amazing flavours exclusive to this range - you'd be silly not to try it.

Vegan Meal Replacement is high in protein and nutrient dense. It's a meal replacement shake designed to contribute to weight loss. At only 221 calories per shake and packed with 18.6 of protein from 5 different sources. Our shake will increase the feeling of fullness but keep your calories low in the process. Stereotypes of vegan diets being protein and vitamin deficient are a thing of a past. It's Fortified with our full vitamin and mineral blend (notably calcium, potassium, zinc and of course Vitamin B12). Topped off with 100% premium, taste-bud-busting flavours.

Vegan Protein is made by vegan nutritionists for vegans. Its 100% natural, plant based recipe uses only the finest pure ingredients. Our best-selling vegan protein shake offers an earth-friendly, zero cruelty option for vegans. Unlike other vegan shakes, Vegan Protein contains FIVE different protein sources - hemp, brown rice, sunflower, soy and pea. Each protein has its own unique nutritional profile, meaning you benefit from a more complete nutrient intake. It contains no added sugar, is low in fat and has 25g of plant-based protein per serving. It is dairy-free, lactose-free, gluten free, wheat free and is available in a range of delicious flavours.

Diet Vegan Protein combines the very finest natural vegan protein sources and widely acclaimed extracts, such as Green Tea and Garcinia Cambogia, in one delicious shake. Sourced from premium grade plant proteins, it is ideal for anyone following a vegan calorie-controlled diet. Diet Vegan Protein provides 22g of protein, 1g of fat, and 0.3g of sugar per serving and is available in a range of premium flavours.

Egg Protein from The Protein Works™ is a high protein source made from 100% pure egg whites. It is inherently low in fat and carbohydrates and has an excellent amino acid profile. Most importantly, Egg Protein is lactose free making it ideal for anyone with a lactose intolerance.