Filter Protein Shakes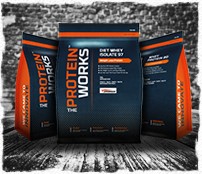 Protein shakes fra THE PROTEIN WORKS™ indeholder de ypperste proteinpulvere, der findes på markedet i dag. Vi er specialister i valleproteinshakes af høj kvalitet med fantastisk smag i mange forskellige smagsvarianter og størrelser. Vi udvikler, sammensætter og producerer proteinshakes af højeste kvalitet in-house. Vi er enormt passionerede og forpligter os til altid at tilbyde den højeste kvalitet og det største udvalg af proteinshakes til uovertruffen værdi for pengene. Og endnu vigtigere; vi bruger KUN naturlige smags- og farvestoffer i alle vores proteinshakes og BRUGER IKKE fortykningsmiddel eller fyldstoffer.
Vores store udvalg af proteinshakes indeholder proteiner i mange varianter. Hvad angår det mest populære produkt, valleproteinpulver, så er alt det grundlæggende dækket ind. Fra den bedst sælgende Valleprotein 80, en valleprotein-shake af høj kvalitet lavet af koncentrat til den ultra-rene valleproteinisolat, kendt under navnet Valleprotein 90. 90 % proteinindhold fra valle og utroligt fedt- og kulhydratfattig. Vi har også kaseinprotein og æggeprotein-formler, som giver langsommere næringsstoffrigivelse. Og vores mælkefrie produkter omfatter Soyaprotein 90, Brune ris-protein 80 og Ærteprotein 80.
Proteinshakes udgør et fantastisk godt supplement til en proterinrig kost. Mere specifikt fastslår den Internationale Olympiske Komités konsensus om sportsernæring, at "Styrke- og hastighedsatleter kræver 1,7 gram protein pr. kilo kropsvægt om dagen". Derfor er protein et af de tre makronæringsstoffer, kroppen har brug for. Fedt og kulhydrater er de andre to. Men det er protein, som hjælper med at reparere vores muskler og øge deres størrelse. Og så er protein afgørende i alle processerne, der foregår i kroppen. Det omfatter immunsystemet, stofskiftet og transport af næringsstoffer.
Men hvis dit mål er at øge din muskelmasse, hvad skal du så komme i din proteinshaker? Typisk anbefaler de fleste eksperter valleproteinkoncentrat, fordi det anses for at være yderst rent. At det er rent betyder, at proteinindholdet er højt, mens kulhydrat- og kalorieindholdet er lavt. Derved giver du din krop al den protein, den skal bruge til at reparere musklerne og øge deres størrelse, uden ekstra kalorier. Alternativt til idrætsudøvere, som kun ønsker ren og skær kraft og størrelse, findes der en gainer til vægtforøgelse: Total masseformel, en kalorie- og næringsrig formel. Den er sandsynligvis bedre egnet til idrætsudøvere, som ikke tænker på mager muskelmasse og kun ønsker at øge deres størrelse og styrke deres muskler.
Der er lavet mange undersøgelser om proteins effekt på fedttab. Og specifikt har man påvist, at valleisolatshakes har en "termisk effekt". Det vil sige, at valleisolatshakes faktisk kræver kalorier at fordøje. Og det er derfor, at mange vælger at supplere en proteinrig kost med valleproteinisolat. Det giver dig en længerevarende mæthedsfornemmelse og accelererer samtidigt kalorieforbrændingen - hovedsagligt via fordøjelsen.
Vi ønsker at opretholde den høje kvalitet af vores proteinshakes og give dig ro i sindet. Derfor stiller vi 100 % garanti for, at vi aldrig nogensinde vil bruge fortykningsmiddel eller fyldstoffer i vores shakes, og at vi altid vil bruge naturlige farve- og smagsstoffer. De naturlige ingredienser er ikke kun bedre for din krop, men giver også din proteindrik en mere naturlig smag. Vi får udarbejdet uafhængige analysecertifikater på alle vores produkter, det vil sige uafhængig verificering af kvaliteten af hvert eneste parti valle, vi producerer.
Dertil kommer, at vi - i modsætning til alle andre proteintilskudsmærker på markedet - er åbne og gennemsigtige med hensyn til, hvilken type protein, og hvor meget protein, der er i hvert af vores proteinprodukter. Du skal bare klikke på Proteininfo-ikonet for at læse mere på de enkelte produktsider. Foruden kvalitetssikring tilbyder TPW™ dig også lave priser, så du altid får fortræffelig værdi for pengene.
Diet Whey Isolate 97 is the purest whey protein isolate, renowned for having the highest protein content and lowest carbohydrate and fat content of any protein in sports nutrition today. It is designed specifically for anyone dieting or looking to decrease their calorie intake, but what's more, it's a very rare breed of protein shake... Why? Well, it also stands proud and boasts a completely lactose free nutritional profile. It's the only Whey Shake at TPW Towers to lay claim to such an awesome feat, and so bang for buck is one of the best value whey protein isolate shakes on the market today... period!

Whey Protein 360 is a premium protein shake that breaks new ground in protein formulation and flavour. It has been specifically designed to work with almost any fitness or body goal as its high in protein and low in sugar. Whey Protein 360 is ultra pure, natural and made with the very finest protein sources. We guarantee you won't find a better tasting protein shake on the planet.

Diet Meal Replacement is a high protein, nutrient dense, meal replacement shake specifically designed to contribute to weight loss. It combines the very latest sports nutrition research and our taste-busting natural flavours into one best-selling protein shake. It's unique multi-protein source formula includes premium whey protein, milk protein and Prolibra®.

TPW™ 100% Whey Advanced is an innovative, amino dense, premium whey protein blend designed and produced exclusively by THE PROTEIN WORKS™. Made from whey protein concentrate, whey protein isolate and hydrolysed whey protein, it delivers a controlled tapered release of protein.

Diet Whey Isolate 95, also known as Native Whey, is an ultra pure whey protein isolate renowned for having a very high protein content at 27g per serving, and the lowest sugar and fat content of any protein on the market today. It has been designed specifically for anyone looking to decrease their calorie intake and lose weight. It has less than 1g of fat and less than 1g of carbs per 30g serving and uses advanced membrane technology to create an ultra-pure form of whey protein.

Whey Protein 80 is our award-winning whey protein concentrate. Winner of the highly coveted "Best Protein Award" in the FSN Product Awards, TPW™ whey protein is known for its exceptional purity, contains no thickeners and is available in a wide range of exclusive natural flavours.

Naked Diet Whey Protein 90 is an ultra pure, 100% natural whey protein isolate, exclusively engineered using natural flavourings, colours and Stevia which is a plant derived zero calorie sweetener.

Whey Protein Smoothie is another unique and exclusive innovation from TPW™. A nutrient packed high protein shake, supercharged with organic bee pollen and real natural fruit pieces to give you that true smoothie taste sensation.

Vegan Super Blend completely reinvents protein shakes for the active vegan. Combining the purest vegan ingredients in the TPW™ product portfolio, each shake is made by taking 3 of the world's best plant proteins and blending them with ancient grains, spirulina and sweet potato powder.

Total Mass Matrix Extreme is the most calorie and nutrient dense mass gainer formula to leave the TPW™ Laboratory. Containing a tri-protein blend that delivers over 60g of protein and over 1,000 calories per serving, it has been designed to contribute to a growth in muscle mass.