Filter Bestsellere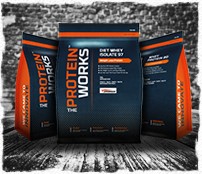 THE PROTEIN WORKS™ er kendt for at have et af de mest vidtrækkende udvalg i sportsernæring. Det, der begyndte med vores prisbelønnede valleprotein, er nu vokset til at omfatte alt lige fra næringsrig Super Greens, kraftfulde thermogenics og videnskabeligt sammensatte preworkout produkter. Vi har oven i købet Storbritanniens første Protein Bakery™, som sender nye produkter ud med lynets hast. Ved vi også godt, at det nogle gange kan være en udfordring at finde rundt på vores hjemmeside, især for nybegyndere inden for sportsernæring. Vi oprettede derfor en sektion ved navn Bestsellere.
Den er logisk og pænt opdelt i lister med vores bestsellere - med ét klik kan du scrolle gennem vores valleproteiner, preworkout produkter, BCAA'er, kreatinprodukter og meget mere. Det er det nemmeste, når du handler på THE PROTEIN WORKS™. Selvfølgelig kan du finde mange ernæringsmæssige perler rundt omkring på stedet. Men hvis du på noget tidspunkt skulle komme i tvivl, kan du gå ind på Bestsellere.
Og endelig plejer vi at sige, at døren til TPW™-tårnet altid er åben. Hvis du har et bestemt produkt, du mener burde være herinde, må du meget gerne fortælle os det. Brug Twitter, Facebook, Instagram eller et andet medie - vi vil altid gerne høre fra dig. Eller måske synes du, vi kunne gøre navigationen på hjemmesiden lidt bedre for dig og resten af TPW™-fællesskabet. I så fald vil vi også gerne høre fra dig.
Endless™ is the most advanced nootropic on the market today. We've taken our sports nutrition performance expertise and applied it to the most important game-changer of all - the brain. Supercharged with the very latest cutting-edge, science-backed ingredients, Endless™ formulation promotes mental performance, reduces tiredness and fatigue, increases alertness and helps maintain neurotransmission. Unlock your true potential and gain that all-important psychological edge with the ultimate in brain food. It comes with zero crash, zero sugar and zero calories. Welcome to Endless™ - you can thank us later.

With only the best sources of vegan protein and over 24g of protein per serving - this vegan shake is a powerhouse. Not only have we have infused it with a vitamin and mineral blend to further enhance the benefits of this shake. It's naturally sweetened to ensure this is the purest vegan protein shake you can buy. With amazing flavours exclusive to this range - you'd be silly not to try it.

Red-Cell™ uses a scientific breakthrough in capsule technology to create an unique sports supplement for anyone looking to take their performance to the next level. It is also ideal for anyone on a calorie-controlled diet focused on improving their body goals. Featuring ground-breaking dual release technology which includes a potent thermogenic core encased in premium CLA (Conjugated Linoleic Acid). This unique supplement contains Green Coffee Extract, Caffeine, Vitamin B6, Cayenne Extract and much more. This dual phasing formula is ideal as a pre-workout or as part of a weight loss programme. For a low-fat protein shake, we highly recommend our top-selling

Diet Whey Complex

.

Thermopro is a potent performance formula packed with 15 of the most tried and tested extracts, amino acids, vitamins and minerals. Supplied in a convenient capsule format, it is popular as a pre-workout supplement, designed to optimise performance by reducing tiredness and fatigue, supporting energy production and mental performance. It is also ideal for anyone on a calorie controlled diet. For the best results, we recommend combining with our best-selling

CLA Softgels

.

Vegan Protein is made by vegan nutritionists for vegans. Its 100% natural, plant based recipe uses only the finest pure ingredients. Our best-selling vegan protein shake offers an earth-friendly, zero cruelty option for vegans. Unlike other vegan shakes, Vegan Protein contains FIVE different protein sources - hemp, brown rice, sunflower, soy and pea. Each protein has its own unique nutritional profile, meaning you benefit from a more complete nutrient intake. It contains no added sugar, is low in fat and has 25g of plant-based protein per serving. It is dairy-free, lactose-free, gluten free, wheat free and is available in a range of delicious flavours.

Vegan Meal Replacement is high in protein and nutrient dense. It's a meal replacement shake designed to contribute to weight loss. At only 221 calories per shake and packed with 18.6 of protein from 5 different sources. Our shake will increase the feeling of fullness but keep your calories low in the process. Stereotypes of vegan diets being protein and vitamin deficient are a thing of a past. It's Fortified with our full vitamin and mineral blend (notably calcium, potassium, zinc and of course Vitamin B12). Topped off with 100% premium, taste-bud-busting flavours.

Soy Protein Isolate 90 is a 100% plant-based protein shake. It is high in protein, low in fat and has no added sugar. As all TPW™ products, it comes in a range of the best tasting flavours on the planet. Soy protein is the closest of the vegetable proteins that most resembles the amino acid profile of dairy proteins, such as milk and whey. It is therefore a very popular non-dairy alternative protein for anyone looking to reduce their dairy intake or on a dairy-free diet. It has over 25g of protein per 30g serving, as little as 109 calories and practically zero fat. Soy Protein Isolate 90 is also very popular for anyone on a vegan or vegetarian diet.

Diet Vegan Protein combines the very finest natural vegan protein sources and widely acclaimed extracts, such as Green Tea and Garcinia Cambogia, in one delicious shake. Sourced from premium grade plant proteins, it is ideal for anyone following a vegan calorie-controlled diet. Diet Vegan Protein provides 22g of protein, 1g of fat, and 0.3g of sugar per serving and is available in a range of premium flavours.

Performance Caffeine provides the ever popular preworkout caffeine in a convenient tablet format. Caffeine is one of the world's most well researched ingredients in the history of sports nutrition and has long been used by athletes as a preworkout booster.

Genesis Pre Workout™ is a high potency formula that challenges current pre workout sports nutrition boundaries and thinking. The formula is based solely on cutting-edge ingredients and incorporates the very latest manufacturing techniques.

Creatine Extreme takes creatine to the absolute cutting-edge of sports nutrition. Delivering a massive 7g of creatine per serving, Creatine Extreme incorporates a unique blend of Creatine Monohydrate, Creatine Gluconate, Tri-Creatine Malate, Creatine Ethyl Ester and Creatine HCL. Also, we've added the optimal dosage of beta-alanine 2.2g, Taurine & AAKG. This is not you're average creatine powder!

Pre-Works™ represents a new zenith in preworkout science, incorporating in excess of a staggering 27g of active ingredients per serving. A scientifically driven ground-breaking formulation, it is designed for anyone looking to supercharge their workout and achieve optimal results. It is densely packed with over 20 of the most researched single extract ingredients on the market today and comes in a range of insane tasting flavours. It is a favourite at TPW™ Towers for anyone in need of a serious boost.

Raze-Burn™ is the culmination of well over a year of planning, having received 1000s of requests for a thermogenic pre-workout, we couldn't let you folks down could we? So we took one of our bestselling pre-workouts and rebuilt it into a true innovation, deserving of the TPW™ official seal of approval. Raze-Burn™ delivers on two fronts; explosive energy followed by a team of nutritional heroes: Green Tea Extract, Conjugated Linoleic Acid, Caffeine and L-Tyrosine. These potent ingredients all combine to help you maximize your body composition goals. Finally, this ground-breaking formula is enriched with our unique Vitamin & Mineral Blend and Flavour Boost™ technology.

Grab a spoon, resistance is futile. Rawtella is the nuttiest of creations since we first opened our Nuttery in 2013. Whether you're spreading it on pancakes, bagels, wonuts or cronuts, Rawtella is the nut based sensation your tastebuds deserves. Made from the finest of hazelnuts and finished with a splash of coconut oil and cocoa powder, Rawtella is the 100% natural fan favourite for our Vegan Tribe.

Cashew Butter from TPW™ is an ultra-pure nut butter that contains absolutely no added sugar or salt, just loads of premium cashews and bags of flavour. Widely known for being peanut butter's "creamier cousin", it is a rich natural source of fibre and protein.

We call it The Craving Killer! A deft name for something that's so super healthy yet awesomely powerful at helping a sweet tooth stay on the right side of the tracks. Our Cacao Almond Nut Butter is an indulgent, chocolatey beast made with only 100% natural ingredients. A true nutty pleasure with the unique ability to be both indulgent and healthy, it has a rich and luxurious taste and texture & is a perfect source of good fats, fibre and superhero type energy! It's been a journey in the making as we've sourced natural ingredients from around the globe to bring a new wave of nut butter greatness to our TPW™ Tribe.

Superfood Bites are a nutrient-packed snack, designed to give you a natural boost of energy, protein and fibre with no hidden nasties, any time of the day. Made right here in the UK, we use pure date paste, the finest nuts, fruits and seeds, and of course, premium superfood ingredients. Each serving contains as little as 0.6g of saturated fat and 4.3g of carbs. Superfood Bites are made using a cold-pressed technique to ensure the nutritional benefits of the key ingredients are locked in, and not heat treated. We have an ever-increasing range of lip-smacking flavours to keep you coming back for more, so dig in today!

TPW Zero Syrups™ are irresistible, zero calorie syrups infused with premium flavourings. These delicious syrups contain zero calories, zero carbohydrates, zero fats and zero sugars and can be used to flavour absolutely anything with virtually no impact on your foods nutritional profile.