Filter Bestsellere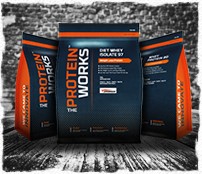 THE PROTEIN WORKS™ er kendt for at have et af de mest vidtrækkende udvalg i sportsernæring. Det, der begyndte med vores prisbelønnede valleprotein, er nu vokset til at omfatte alt lige fra næringsrig Super Greens, kraftfulde thermogenics og videnskabeligt sammensatte preworkout produkter. Vi har oven i købet Storbritanniens første Protein Bakery™, som sender nye produkter ud med lynets hast. Ved vi også godt, at det nogle gange kan være en udfordring at finde rundt på vores hjemmeside, især for nybegyndere inden for sportsernæring. Vi oprettede derfor en sektion ved navn Bestsellere.
Den er logisk og pænt opdelt i lister med vores bestsellere - med ét klik kan du scrolle gennem vores valleproteiner, preworkout produkter, BCAA'er, kreatinprodukter og meget mere. Det er det nemmeste, når du handler på THE PROTEIN WORKS™. Selvfølgelig kan du finde mange ernæringsmæssige perler rundt omkring på stedet. Men hvis du på noget tidspunkt skulle komme i tvivl, kan du gå ind på Bestsellere.
Og endelig plejer vi at sige, at døren til TPW™-tårnet altid er åben. Hvis du har et bestemt produkt, du mener burde være herinde, må du meget gerne fortælle os det. Brug Twitter, Facebook, Instagram eller et andet medie - vi vil altid gerne høre fra dig. Eller måske synes du, vi kunne gøre navigationen på hjemmesiden lidt bedre for dig og resten af TPW™-fællesskabet. I så fald vil vi også gerne høre fra dig.
Winner of the coveted "Best Protein Award", Whey Protein 80 is the gold standard in premium protein shakes, made simply with 100% pure whey protein concentrate. A single serving contains an amazing 82% protein in its natural state, plus a complete amino acid profile to help build muscle - protein contributes to muscle mass growth. Whey Protein 80 is available in a range of mouth-watering flavours, meaning you can satisfy your sweet tooth cravings and get a high quality protein boost at the same time. It is also low in fat and calories.

Red-Cell™ is ideal for anyone on a calorie-controlled diet looking to improve their body goals. Featuring ground-breaking dual release technology which includes a potent thermogenic core encased in premium CLA (Conjugated Linoleic Acid). This unique supplement contains Green Coffee Extract, Caffeine, Vitamin B6, Cayenne Extract and much more. Its dual phasing formula is ideal as a pre-workout or as part of a weight loss programme.

Whey Protein 360 is a premium protein shake that breaks new ground in protein formulation and flavour. It has been specifically designed to work with almost any fitness or body goal as its high in protein and low in sugar. Whey Protein 360 is ultra pure, natural and made with the very finest protein sources. Looking for more? Then check out our

Whey Protein 360 Extreme

, our most innovative protein shake to date!

Extreme isn't just a label, it's a philosophy. Nine months in the making and we're proud to say, this is way more than a shake, it's a new wave of vegan nutrition,created to be among the world's most nutrient-dense, vitamin-packed vegan protein shakes. We have sourced the very best vegan-friendly protein powder from every corner of the globe & fused them with over 20 different vitamins and minerals. Low in fat and packing more than 25g of protein per serving, Vegan Extreme is revolutionising plant-based protein shakes.

Diet Meal Replacement Extreme boasts everything you could possibly ask for in a meal replacement shake, and then some. Made from our very finest whey protein blend, it contains an optimal mix of fast and slow absorbing proteins to support muscle growth and repair. Every calorie has been squeezed and only the necessary made the final cut, providing the essential fuel you need to achieve your goals for just 209 calories per taste bud exhilarating shake. Better still, our new and improved formula now contains a new super dense Vitamin and Mineral Blend packing more punch per gram to help you fight fatigue and keep your body performing at its very best. Our new best ever tasting formula is now available with Flavour-Boost technology. Please note this new formula is not suitable for Coeliac's.

Whey Protein 360 Extreme elevates your protein shake experience to a whole new level. Setting a new gold standard in protein shake taste and efficacy, you won't find a better shake in sports nutrition today. Made with a multi-phased protein system sourced from premium grade protein, Whey Protein 360 Extreme also includes Digezyme® to aid digestion and macronutrient absorption.

Thermopro is a potent performance formula in a convenient capsule format. It is popular as a pre-workout supplement, designed to optimise performance by reducing tiredness and fatigue, supporting energy production and mental performance. For the best results, we recommend combining with

CLA

Diet Meal Replacement is a high protein, nutrient dense, meal replacement shake specifically designed to contribute to weight loss. Our team of TPW Gurus have fused the latest sports science research with our tastebud tingling flavours into an insane tasting protein shake. Delivering 25g of protein with our bespoke multivitamin blend and a host of diet heroes to give you the upper hand in your weight loss journey. Our new best ever tasting formula is now available with Flavour-Boost technology. Please note this new formula is not suitable for Coeliac's.

Total Mass Matrix Extreme contains a cutting-edge tri-protein blend that delivers over 60g of protein and a colossal 1,000 plus calories per serving. Its Extreme formulation sets a new standard in next level mass gainers through the inclusion of a potent vitamin and mineral blend, glutamine and 5g of creatine. Used in conjunction with a training program, our most comprehensive gainer is designed to promote an increase in muscle mass and fuel your body through the most intense of workouts

Raw Vegan Protein is a unique blend of 5 premium plant proteins, making it the definitive dairy-free, vegan-friendly protein shake. Low in fat and sugar and packing more than 25g of protein per serving, It is ideal for those looking for a premium non-dairy protein source. Available in a range of incredible flavours.

Introducing the very latest in premium protein snacking, Loaded Legends take a bow. A ground-breaking quadruple layered high protein bar that fuses baking genius with sports nutrition science. Your taste buds better get strapped in for the soft nougat, deep crunch and decadent chocolate flavours. Yes it's high protein, yes it's high fibre and yes it's low sugar. These bars offer an incredible macro-nutrient profile and come in a range of ridiculous flavours. There's a clear line that divides the great and the legendary, and you're about to cross it!

Get ready to experience a nut butter fest like no other. Whether you're spreading, stacking or straight up snacking, you need Loaded Nuts™ in your life. It's pure indulgence without the guilt. Rich in protein, palm oil FREE and high in healthy fats, it is nutritionally on the money. Each creation in this range is totally unique, combining tempting naughty chunks with taste bud bursting flavours. We dare you to only take one spoonful - in fact, we double dare you!

Diet Whey Protein Isolate 90 is the ultimate premium grade whey protein. Uncontested in the purity department it boasts some seriously impressive credentials that are catered for anyone attempting to shift the scale in the right direction or improve overall lifestyle. This is the ideal product for increasing protein intake without the addition of extra calories (two important aspects of weight control). Containing an astounding 22g of protein per 25g serving and less than 1g of carbs and fats, if you're looking for quality to satisfy your taste buds, this is the product to be added to your daily routine

Total Mass Matrix sets a new benchmark in mass weight gainers. Its supercharged calorie dense formula is designed for anyone looking to bulk up and increase muscle mass. The TPW™ Nutrition Team have used an optimal 2:1 carb to protein ratio which delivers over 490 calories per serving, plus over 30g of premium grade protein. It is the ideal high calorie shake to help support your weight and mass gain goals, without adding unwanted fat.

Soft baked. Incredible tasting. Low in Sugar. High in protein. And it's a Brownie, not possible right? Wrong. These Protein Brownies are a true Protein Bakery legend, now re-imagined in a brand-new recipe. Devastatingly great nutritionals and so cheeky in flavour they wink at the sight of a taste-bud, they're simply our most audacious Brownies to date. Unrivalled was the word we pinned to our innovations board when we tasked our nutritionists & bakers to re-imagine our classic snack. Over 100 taste tests down, we can puff chests & ruffle feathers whilst shouting about stats like; less then a gram of sugar, over 10g of protein and officially high in fibre. If you don't know about these already, it's time you joined the club…

We set out to not only re-write the rules of food and fitness with this incredible shake, but to build a Vegan Meal Replacement Shake that would become a formidable force of nature. 6 months of planning down and over 100 taste tests complete & here we stand, loving this shake from head to toe because of its uncompromising nutritional profile. Packed with over 18.6g of 5 different sources of plant protein and fortified with our full vitamin and mineral blend (notably calcium, potassium, zinc and of course Vitamin B12), we then then topped it off with 100% premium, taste-bud-busting flavours. The final result, we confidently, proudly and unapologetically say that this Vegan Meal Replacement is unrivalled by anything else on the market.

Diet Whey Complex is a unique formulation of the finest quality ingredients designed to promote weight loss. Combining an optimal ratio of three premium grade proteins, It is ideal for anyone looking for high quality supplementation to help achieve their weight loss goals.

Soy Protein Isolate 90 is a complete vegetable protein source. It is the closest of the vegetable proteins that most resembles the amino acid profile of dairy proteins such as milk and whey and is therefore a very popular non-dairy alternative protein.

Diet Vegan Protein combines the very finest natural vegan protein sources and widely acclaimed extracts, such as Green Tea and Garcinia Cambogia, in one delicious shake. Sourced from premium grade plant proteins, it is ideal for anyone following a vegan calorie-controlled diet. Diet Vegan Protein provides 22g of protein, 1g of fat, and 0.3g of sugar per serving and is available in a range of premium flavours.

Naked Whey Protein 80 is the ideal whey protein shake for anyone looking for an exceptionally high quality protein source to aid muscle growth and repair, with the assurance that it contains absolutely no artificial additives of any kind.