Filter Best Sellers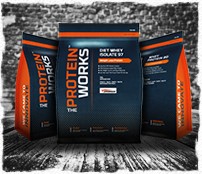 THE PROTEIN WORKS™ er kendt for at have et af de mest vidtrækkende udvalg i sportsernæring. Det, der begyndte med vores prisbelønnede valleprotein, er nu vokset til at omfatte alt lige fra næringsrig Super Greens, kraftfulde thermogenics og videnskabeligt sammensatte preworkout produkter. Vi har oven i købet Storbritanniens første Protein Bakery™, som sender nye produkter ud med lynets hast. Ved vi også godt, at det nogle gange kan være en udfordring at finde rundt på vores hjemmeside, især for nybegyndere inden for sportsernæring. Vi oprettede derfor en sektion ved navn Bestsellere.
Den er logisk og pænt opdelt i lister med vores bestsellere - med ét klik kan du scrolle gennem vores valleproteiner, preworkout produkter, BCAA'er, kreatinprodukter og meget mere. Det er det nemmeste, når du handler på THE PROTEIN WORKS™. Selvfølgelig kan du finde mange ernæringsmæssige perler rundt omkring på stedet. Men hvis du på noget tidspunkt skulle komme i tvivl, kan du gå ind på Bestsellere.
Og endelig plejer vi at sige, at døren til TPW™-tårnet altid er åben. Hvis du har et bestemt produkt, du mener burde være herinde, må du meget gerne fortælle os det. Brug Twitter, Facebook, Instagram eller et andet medie - vi vil altid gerne høre fra dig. Eller måske synes du, vi kunne gøre navigationen på hjemmesiden lidt bedre for dig og resten af TPW™-fællesskabet. I så fald vil vi også gerne høre fra dig.
The highly anticipated launch of VEGAN CRAVERS had the fires of our renowned Protein Bakery burning brighter than ever. Challenged to make the world's best tasting Vegan Protein Bar, our crack team ate their way through hundreds of snacks & bars from around the planet. They laughed in the face of mediocrity and then did what they do best and made something completely unique. Vegan Cravers are hand crafted vegan masterpieces. Made from three plant-based proteins, natural flavours and a bit of TPW™ magic, every single square packs over 14g of protein, plus is high in fibre and low in sugar. Each indulgent flavour will have you craving for more.

The Protein Nutty™ is what happens when you combine a Nut Butter obsession with a culinary genius and a sports scientist. The Result? Well you get the ultimate tasting, energy boosting bite. Now newly re-imagined, these fresh protein bakes have passed our taste bud profiling tests and are officially tastier and more flavoursome than their legendary predecessors. Not possible, right? We didn't think so either, but our artisan bakers had other ideas. Combining tropical flavours such as goji berries and desiccated coconut with our finest Whey Protein they've created an insane flavour sensation to go with its nutritional might! Freshly baked, prepped and packed in our Protein Bakery, these are bullet proof nutritional powerhouses.

Soft baked. Incredible tasting. Low in Sugar. High in protein. And it's a Brownie, not possible right? Wrong. These Protein Brownies are a true Protein Bakery legend, now re-imagined in a brand-new recipe. Devastatingly great nutritionals and so cheeky in flavour they wink at the sight of a taste-bud, they're simply our most audacious Brownies to date. Unrivalled was the word we pinned to our innovations board when we tasked our nutritionists & bakers to re-imagine our classic snack. Over 100 taste tests down, we can puff chests & ruffle feathers whilst shouting about stats like; less then a gram of sugar, over 10g of protein and officially high in fibre. If you don't know about these already, it's time you joined the club…

Diet Meal Replacement is a high protein, nutrient dense, meal replacement shake specifically designed to contribute to weight loss. It combines the very latest sports nutrition research and our taste-busting natural flavours into one best-selling protein shake. It's unique multi-protein source formula includes premium whey protein, milk protein and Prolibra®.

Whey Protein 80 is our award-winning whey protein concentrate. Winner of the highly coveted "Best Protein Award" in the FSN Product Awards, TPW™ whey protein is known for its exceptional purity, contains no thickeners and is available in a wide range of exclusive natural flavours.

Whey Protein Smoothie is another unique and exclusive innovation from TPW™. A nutrient packed high protein shake, supercharged with organic bee pollen and real natural fruit pieces to give you that true smoothie taste sensation.

Diet Whey Isolate 95, also known as Native Whey, is an ultra pure whey protein isolate renowned for having a very high protein content at 27g per serving, and the lowest sugar and fat content of any protein on the market today. It has been designed specifically for anyone looking to decrease their calorie intake and lose weight. It has less than 1g of fat and less than 1g of carbs per 30g serving and uses advanced membrane technology to create an ultra-pure form of whey protein.