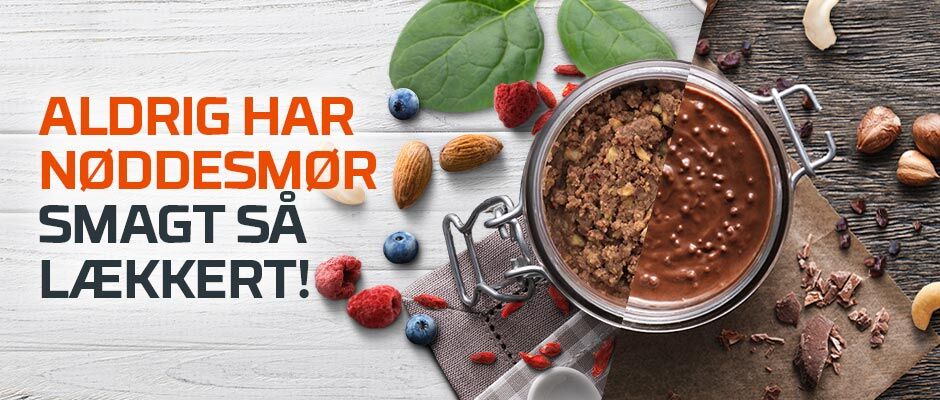 Tidligere på året annoncerede vi lanceringen af vores 185 kvadratmeter store in-house nøddesmørsproduktionsfaciliteter bedre kendt som The Nuttery. Siden da, har vores frisklavede nøddesmør skabt røre inden for verdenen af sunde fødevarer med deres 100% naturlige smag og farve, rene ingredienser og episk næringsprofil der er fuldstændig uovertruffen af nogen som helst andre indenfor branchen.
For at akkompagnere vores sortiment af Luxe nøddesmør, 100% nøddesmør samt vores rekordbrydende chokolade og hasselnødsspread, Rawtella, kommer her to splinternye nøddekreationer. Den ene er en krukke fuld af alt det gode fra lækre superfoods og den anden er den mest luksuriøse og selvforkælende nøddesmør du nogensinde vil smage...
Introduktionstilbud - 20% Med Rabatkoden:
Nøddesmør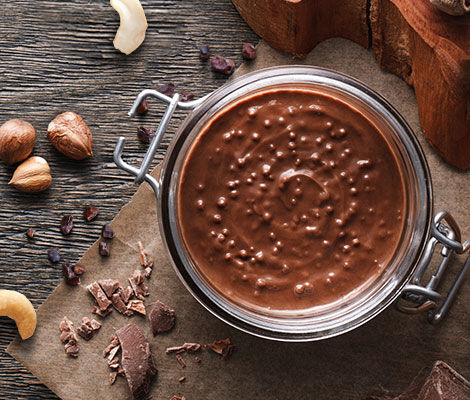 Chokolade Nøddesmør
Chokolade Nøddesmør er en rig smagstilsat nøddesmør der er blevet unik kreeret af traditionelle chocolatiers og ledende ernæringseksperter. En fusion af cashews og hasselnødder med raw Indonesisk chokolade og økologiske kakaonibs som sammen skaber det ultimativt bløde og luksuriøse smørepålæg.
+ En overbærende, helt naturlig nøddesmør
+ Indeholder rent indonesisk chokolade
+ Rig på det sunde sacha inchi oile
+ Pakket med cashew- og hasselnødder

Superfood Nøddesmør
Superfood Nøddesmør er en af verdens mest næringstætte nøddesmør. Hver bøtte er avet af en blanding af mandler, cashews og økologisk jomfru kokosolie og over 23 forskellige superfoods og pakket med vitaminer, mineraler og sunde fedtstoffer.
+ Et superfoodbaseret mandelsmør
+ Indeholder 23 næringstætte superfoods
+ 100% naturlig & pakket med vitaminer
+ Lavet med økologisk jomfru kokosolie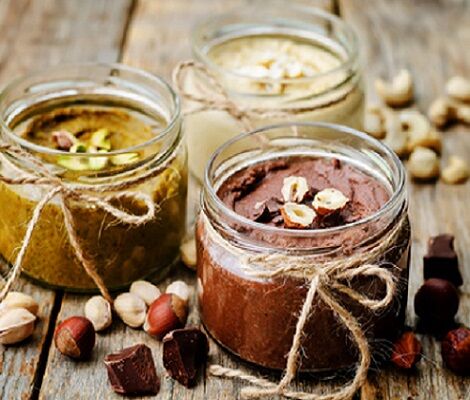 Sinden lanceringen af The Nuttery™ earlier this year, our unrivalled nut butter range has taken the health food world by storm and caused a frenzy in TPW™ HQ. Check out the rest of our range here:
Luxe Sortimentet
Peanut & cashewsmør lavet af de fineste naturlige ingredienser, med smagskombinationer der får dine smagsløg til at danse af glæde.
100% Nøddesmør
Ultra rent, lavet af 100% naturligt ristede nødder med absolut ingen tilsatte ingredienser.
Rawtella
En af verdens sundeste chokoladesmørepålæg. Håndlavet i TPW™ Nuttery af ledende ernæringseksperter og traditionelle chocolatiers.