Filter Vægttab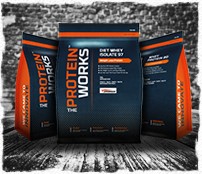 Processen med at tabe fedt kræver, at man følger både en streng træningsplan og en veludarbejdet kostplan, men en række undersøgelser har nu vist, at der herudover findes ingredienser, som kan øge den fedtmængde, du er i stand til at tabe, endnu mere. Baseret på velfunderet videnskabelig forskning har vi fra THE PROTEIN WORKS™ fundet frem til disse ingredienser og udviklet dem til en produktserie, som både kan forebygge fedtlagring og øge mængden af fedt, din krop er i stand til at forbrænde under motion.
Velvidende at kroppen taber fedt på forskellige måder, kan disse produkter hjælpe med at sænke din fedtprocent vha. forskellige mekanismer, så du kan finde den produktserie, der passer dig bedst. Dette sortiment indeholder ren koffein, som har vist sig at booste stofskiftet og styrke miljøet i den arbejdende muskel på positiv vis under motion og derved øge den fedtmængde, du kan forbrænde under træning. CLA, som har vist sig at modvirke fedtlagring og øge fedtforbrændingen. Acetyl L-carnitin, som har vist sig at hjælpe kroppen med at forbruge fedt som brændstof. Og en meget mager proteinkilde i form af Valleprotein 90, som er en fortræffelig proteinrig, low carb måltidserstatning.
Og til allersidst er vi hos THE PROTEIN WORKS™ stolte af, at vi er gennemsigtige og ærlige og giver dig en komplet udspecificering af næringsindholdet i alle vores tilskud. I så høj grad, at vi faktisk viser det åbenlyst på vores webside, så du kan se, præcis hvilke ingredienser og mængderne af dem, der er i hvert tilskud, f.eks. vores bestseller thermogenic blanding THERMOPRO. Det er i modsætning til andre sportsernæringsmærker, som nogle gange bruger udtryk som "egen blanding" på deres produktetiketter. Men her forsøger vi hos TPW™ at holde vores løfte over for dig om at give dig REN sportsernæring, og vi ser ærlig produktmærkning som en integreret del af det.
Diet Meal Replacement is a high protein, nutrient dense, meal replacement shake specifically designed to contribute to weight loss. Our team of TPW Gurus have fused the latest sports science research with our tastebud tingling flavours into an insane tasting protein shake. Delivering 25g of protein with our bespoke multivitamin blend and a host of diet heroes to give you the upper hand in your weight loss journey. Our new best ever tasting formula is now available with Flavour-Boost technology. Please note this new formula is not suitable for Coeliac's.

Diet Meal Replacement Extreme boasts everything you could possibly ask for in a meal replacement shake, and then some. Made from our very finest whey protein blend, it contains an optimal mix of fast and slow absorbing proteins to support muscle growth and repair. Every calorie has been squeezed and only the necessary made the final cut, providing the essential fuel you need to achieve your goals for just 209 calories per taste bud exhilarating shake. Better still, our new and improved formula now contains a new super dense Vitamin and Mineral Blend packing more punch per gram to help you fight fatigue and keep your body performing at its very best. Our new best ever tasting formula is now available with Flavour-Boost technology. Please note this new formula is not suitable for Coeliac's.

Whey Protein 360 is a premium protein shake that breaks new ground in protein formulation and flavour. It has been specifically designed to work with almost any fitness or body goal as its high in protein and low in sugar. Whey Protein 360 is ultra pure, natural and made with the very finest protein sources. Looking for more? Then check out our

Whey Protein 360 Extreme

, our most innovative protein shake to date!

We set out to not only re-write the rules of food and fitness with this incredible shake, but to build a Vegan Meal Replacement Shake that would become a formidable force of nature. 6 months of planning down and over 100 taste tests complete & here we stand, loving this shake from head to toe because of its uncompromising nutritional profile. Packed with over 18.6g of 5 different sources of plant protein and fortified with our full vitamin and mineral blend (notably calcium, potassium, zinc and of course Vitamin B12), we then then topped it off with 100% premium, taste-bud-busting flavours. The final result, we confidently, proudly and unapologetically say that this Vegan Meal Replacement is unrivalled by anything else on the market.

Thermopro is a potent performance formula in a convenient capsule format. It is popular as a pre-workout supplement, designed to optimise performance by reducing tiredness and fatigue, supporting energy production and mental performance. For the best results, we recommend combining with CLA

Diet Whey Complex is a unique formulation of the finest quality ingredients designed to promote weight loss. Combining an optimal ratio of three premium grade proteins, It is ideal for anyone looking for high quality supplementation to help achieve their weight loss goals.

Whey Protein 360 Extreme elevates your protein shake experience to a whole new level. Setting a new gold standard in protein shake taste and efficacy, you won't find a better shake in sports nutrition today. Made with a multi-phased protein system sourced from premium grade protein, Whey Protein 360 Extreme also includes Digezyme® to aid digestion and macronutrient absorption.

Diet Vegan Protein combines the very finest natural vegan protein sources and widely acclaimed extracts, such as Green Tea and Garcinia Cambogia, in one delicious shake. Sourced from premium grade plant proteins, it is ideal for anyone following a vegan calorie-controlled diet. Diet Vegan Protein provides 22g of protein, 1g of fat, and 0.3g of sugar per serving and is available in a range of premium flavours.

Soy Protein Isolate 90 is a complete vegetable protein source. It is the closest of the vegetable proteins that most resembles the amino acid profile of dairy proteins such as milk and whey and is therefore a very popular non-dairy alternative protein.

Diet Whey Complex Extreme is low calorie, low fat and low sugar protein shake packed full of 100% premium flavours. It is the ultimate in weight loss shakes, with a whopping 22g of protein in every shake, it is perfect for anyone wanting to add a delicious and nutritious diet shake into their routine. For a great complementary fat-burner, we recommend our legendary

Thermopro

tablets.

Peanut Butter from The Protein Works™ is ultra pure, made simply from 100% natural roasted peanuts. Unlike standard brands ours contains absolutely no added sugar or salt.

Diet Super Greens is the super powered green shake you'll find in every gym bag. It's nutrient dense core is packed with a handpicked selection of some of the earth's most bio-available foods, followed by no less than 7 active ingredients. That's all well and good, but how does it taste? Well let's just say that once we added our Flavour-Boost™ Technology to this insane shake that it created a new level of flavour that surpassed even our own expectations.

Diet Whey Isolate 95, also known as Native Whey, is an ultra pure whey protein isolate renowned for having a very high protein content at 27g per serving, and the lowest sugar and fat content of any protein on the market today. It has been designed specifically for anyone looking to decrease their calorie intake and lose weight. It has less than 1g of fat and less than 1g of carbs per 30g serving and uses advanced membrane technology to create an ultra-pure form of whey protein.

Performance Multivitamin is a blend of the finest vitamins and minerals to support the body's immunity and overall well-being. Performance Multivitamin is specifically designed for anyone who has an active lifestyle or trains to a high level of intensity on a regular basis. You can put those vitamins to work right away when used in conjunction with

Total Mass Matrix

or

Total Mass Matrix Extreme

.

Diet Protein Pancakes are the leaner, diet-friendly counterpart to our best-selling Protein Pancake Mix. High in protein and flavoured to ensure they're low in sugar, each Diet Protein Pancake is then fused with research-backed ingredients.

BCAA Ultra 5:1:1 is engineered using the finest branched chain amino acids on the market today. Whilst most BCAA supplements on the market contain Leucine, Isoleucine and Valine in a 2:1:1 ratio, the ground-breaking BCAA Ultra 5:1:1 is formulated with a far higher ratio of Leucine.

Diet Whey Protein Isolate 90 is the ultimate premium grade whey protein. Uncontested in the purity department it boasts some seriously impressive credentials that are catered for anyone attempting to shift the scale in the right direction or improve overall lifestyle. This is the ideal product for increasing protein intake without the addition of extra calories (two important aspects of weight control). Containing an astounding 22g of protein per 25g serving and less than 1g of carbs and fats, if you're looking for quality to satisfy your taste buds, this is the product to be added to your daily routine

Performance Caffeine provides the ever popular preworkout caffeine in a convenient tablet format. Caffeine is one of the world's most well researched ingredients in the history of sports nutrition and has long been used by athletes as a preworkout booster.

The Big Z Hot Chocolate protein drink from THE PROTEIN WORKS™ is a great tasting, high protein hot chocolate malted shake. With over 22g of protein per serving, it is the ideal bedtime drink, packed full of nutrients sourced from premium grade Micellar Casein and Whey Protein Concentrate. This unique high protein, low sugar shake is designed to support your muscle recovery whilst you sleep.