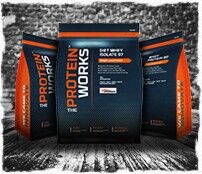 Processen med at tabe fedt kræver, at man følger både en streng træningsplan og en veludarbejdet kostplan, men en række undersøgelser har nu vist, at der herudover findes ingredienser, som kan øge den fedtmængde, du er i stand til at tabe, endnu mere. Baseret på velfunderet videnskabelig forskning har vi fra THE PROTEIN WORKS™ fundet frem til disse ingredienser og udviklet dem til en produktserie, som både kan forebygge fedtlagring og øge mængden af fedt, din krop er i stand til at forbrænde under motion.
Velvidende at kroppen taber fedt på forskellige måder, kan disse produkter hjælpe med at sænke din fedtprocent vha. forskellige mekanismer, så du kan finde den produktserie, der passer dig bedst. Dette sortiment indeholder ren koffein, som har vist sig at booste stofskiftet og styrke miljøet i den arbejdende muskel på positiv vis under motion og derved øge den fedtmængde, du kan forbrænde under træning. CLA, som har vist sig at modvirke fedtlagring og øge fedtforbrændingen. Acetyl L-carnitin, som har vist sig at hjælpe kroppen med at forbruge fedt som brændstof. Og en meget mager proteinkilde i form af Valleprotein 90, som er en fortræffelig proteinrig, low carb måltidserstatning.
Og til allersidst er vi hos THE PROTEIN WORKS™ stolte af, at vi er gennemsigtige og ærlige og giver dig en komplet udspecificering af næringsindholdet i alle vores tilskud. I så høj grad, at vi faktisk viser det åbenlyst på vores webside, så du kan se, præcis hvilke ingredienser og mængderne af dem, der er i hvert tilskud, f.eks. vores bestseller thermogenic blanding THERMOPRO. Det er i modsætning til andre sportsernæringsmærker, som nogle gange bruger udtryk som "egen blanding" på deres produktetiketter. Men her forsøger vi hos TPW™ at holde vores løfte over for dig om at give dig REN sportsernæring, og vi ser ærlig produktmærkning som en integreret del af det.
Read more