Filter Udholdenhed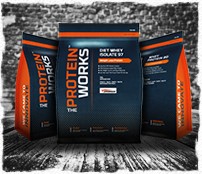 Med hjælp fra elite udholdenhedsløbere har vi hos TPW™ udviklet et sortiment af produkter, som er specifikt beregnet til at øge din udholdenhed og præstation. Da vi ved, at udholdenhedstræning og konkurrencesport opfattes som de mest krævende sportsgrene for hjerte og kredsløb og kroppens aerobe system, har vi fundet to forskellige kulhydratformer, du har brug for til carb-loading, samt videnskabeligt underbyggede aminosyrer, som har vist sig at hjælpe med at forbedre sportsudøveres udholdenhedsevne.
Undersøgelser viser, at udholdenhedsatleter kræver flere kulhydrater end andre typer atleter. Det skyldes, at kulhydrater som bekendt er kroppens primære brændstofkilde. Derfor har vi fundet forskellige kulhydrater: Fra langsomt virkende, med lavt glykemisk indeks, som forsyner dig med langsomt frigivende energi. Til hurtigtvirkende kulhydrater med højt glykemisk indeks, som giver et hurtigt energiboost.
Og for at fremme restitueringen efter hård udholdenhedstræning, har vi også udviklet et sortiment af proteinshakes. Forskning på McMaster University i Ontario, Canada har vist, at udholdenhedsatleter har brug for lige så meget protein som styrkebaserede atleter for at modvirke overtræning. Baseret herpå har vores formler med protein og kulhydrat i det rigtige forhold vist sig at give optimal restituering.
Og endelig er vi hos THE PROTEIN WORKS™klar over, at ernæringen på eliteniveau kan være den afgørende faktor for at vinde eller tabe. Derfor arbejder vi intenst på at tilbyde dig de bedste tilskud til udholdenhedstræning på markedet og anvender kun de ypperste ingredienser. Det er en integreret del af vores løfte om kun at tilbyde REN sportsernæring. I sidste ende betyder det, at alle sportsudøvere, som bruger TPW™-tilskud, kan være sikre på, at ingredienserne er 100 % nødvendige for kroppen, og at de ikke indeholder nogen kunstige søgestoffer, fortykningsmidler eller fyldstoffer.
All in One Protein The Works™ is a cutting-edge, all in one protein formula designed to aid muscle building. It boasts a blend of premium grade whey protein concentrate and whey protein isolate, optimal dosages of creatine, leucine and a 'TPW™ Dual Phase Carb System'.

Whey Protein 360 is a premium protein shake that breaks new ground in protein formulation and flavour. It has been specifically designed to work with almost any fitness or body goal as its high in protein and low in sugar. Whey Protein 360 is ultra pure, natural and made with the very finest protein sources. We guarantee you won't find a better tasting protein shake on the planet.

Whey Protein 80 is our award-winning whey protein concentrate. Winner of the highly coveted "Best Protein Award" in the FSN Product Awards, TPW™ whey protein is known for its exceptional purity, contains no thickeners and is available in a wide range of exclusive natural flavours.

Red-Cell™ has been scientifically formulated by the multi-award winning team at TPW™ to help re-define training goals. Using break-through dual release technology, Red-Cell™ possesses an outer and inner core designed to efficiently deliver its key ingredients into the body for optimal results.