Filter Udholdenhed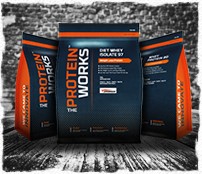 Med hjælp fra elite udholdenhedsløbere har vi hos TPW™ udviklet et sortiment af produkter, som er specifikt beregnet til at øge din udholdenhed og præstation. Da vi ved, at udholdenhedstræning og konkurrencesport opfattes som de mest krævende sportsgrene for hjerte og kredsløb og kroppens aerobe system, har vi fundet to forskellige kulhydratformer, du har brug for til carb-loading, samt videnskabeligt underbyggede aminosyrer, som har vist sig at hjælpe med at forbedre sportsudøveres udholdenhedsevne.
Undersøgelser viser, at udholdenhedsatleter kræver flere kulhydrater end andre typer atleter. Det skyldes, at kulhydrater som bekendt er kroppens primære brændstofkilde. Derfor har vi fundet forskellige kulhydrater: Fra langsomt virkende, med lavt glykemisk indeks, som forsyner dig med langsomt frigivende energi. Til hurtigtvirkende kulhydrater med højt glykemisk indeks, som giver et hurtigt energiboost.
Og for at fremme restitueringen efter hård udholdenhedstræning, har vi også udviklet et sortiment af proteinshakes. Forskning på McMaster University i Ontario, Canada har vist, at udholdenhedsatleter har brug for lige så meget protein som styrkebaserede atleter for at modvirke overtræning. Baseret herpå har vores formler med protein og kulhydrat i det rigtige forhold vist sig at give optimal restituering.
Og endelig er vi hos THE PROTEIN WORKS™klar over, at ernæringen på eliteniveau kan være den afgørende faktor for at vinde eller tabe. Derfor arbejder vi intenst på at tilbyde dig de bedste tilskud til udholdenhedstræning på markedet og anvender kun de ypperste ingredienser. Det er en integreret del af vores løfte om kun at tilbyde REN sportsernæring. I sidste ende betyder det, at alle sportsudøvere, som bruger TPW™-tilskud, kan være sikre på, at ingredienserne er 100 % nødvendige for kroppen, og at de ikke indeholder nogen kunstige søgestoffer, fortykningsmidler eller fyldstoffer.
Thermopro is a potent performance formula in a convenient capsule format. It is popular as a pre-workout supplement, designed to optimise performance by reducing tiredness and fatigue, supporting energy production and mental performance. For the best results, we recommend combining with

CLA

Raze-Burn™ is the culmination of well over a year of planning, having received 1000s of requests for a thermogenic pre-workout, we couldn't let you folks down could we? So we took one of our bestselling pre-workouts and rebuilt it into a true innovation, deserving of the TPW™ official seal of approval. Raze-Burn™ delivers on two fronts; explosive energy followed by a team of thermogenic heroes: Green Tea Extract, Conjugated Linoleic Acid, Caffeine and L-Tyrosine. These potent ingredients all combine to help you maximize your body composition goals. Finally, this ground-breaking formula is enriched with our unique Vitamin & Mineral Blend and Flavour Boost™ technology.

Performance Caffeine provides the ever popular preworkout caffeine in a convenient tablet format. Caffeine is one of the world's most well researched ingredients in the history of sports nutrition and has long been used by athletes as a preworkout booster.

Genesis Pre Workout™ is a high potency formula that challenges current pre workout sports nutrition boundaries and thinking. The formula is based solely on cutting-edge ingredients and incorporates the very latest manufacturing techniques.

Pre-Works™ represents a new zenith in preworkout science, incorporating in excess of a staggering 27,000mg of active ingredients per serving. A scientifically driven ground-breaking formulation, it is designed for anyone looking to supercharge their workout and achieve optimal results. It is densely packed with over 20 of the most researched single extract ingredients on the market today and comes in a range of insane tasting natural flavours. It is a favourite at TPW™ Towers for anyone in need of a serious boost.

All in One Protein The Works™ is a cutting-edge, all in one protein formula designed to aid muscle building. It boasts a blend of premium grade whey protein concentrate and whey protein isolate, optimal dosages of creatine, leucine and a 'TPW™ Dual Phase Carb System'.

Pure Fine Instant Oats from THE PROTEIN WORKS™ are 100% natural fine ground Scottish oats. They are a quality food source of low GI carbohydrates, high in soluble fibre and contain other vital nutrients such as zinc, vitamin E, calcium and iron. All of which help support general health.

Ultra Carb from The Protein Works™ is a simple yet scientifically driven carbohydrate formula, engineered using dextrose, maltodextrin and 1000mg of glycine. It has been designed to promote pure lean muscle growth and help support muscle repair and recovery post training.

All in One The Works™ Advanced is a cutting-edge all in one protein blend, engineered in-house to our very own exacting formulation. It has been developed to provide the essential nutrients required for high quality lean muscle development.

Whey Protein 360 is a premium protein shake that breaks new ground in protein formulation and flavour. It has been specifically designed to work with almost any fitness or body goal as its high in protein and low in sugar. Whey Protein 360 is ultra pure, natural and made with the very finest protein sources. We guarantee you won't find a better tasting protein shake on the planet.

TPW™ Maltodextrin is a complex carbohydrate that is rapidly absorbed by the body to provide an immediate release of energy. It has been carefully selected for its premium quality and is guaranteed to be 100% pure.

Diet Whey Protein Isolate 90 is the ultimate in ultra pure, premium grade whey protein isolate. Low in fat and lactose, it has one of the highest protein contents of any whey protein powder. Diet Whey 90 boasts over 22g of protein in a single 25g serving and is ideal for anyone looking to diet.

Whey Protein 80 is our award-winning whey protein concentrate. Winner of the highly coveted "Best Protein Award" in the FSN Product Awards, TPW™ whey protein is available in a wide range of exclusive natural flavours and is known for its exceptional purity.

Natural Cashews from The Protein Works™ are recommended by nutritionists as a healthy snack. High in protein, fibre and healthy unsaturated fats they're also very nutrient dense and provide a whole list of other health benefits.

Natural Almonds from The Protein Works™ are renowned for having one of the highest quality and highest absorbable protein contents of any nut. This combined with its numerous health benefits makes them the ideal snack for athletes, gym goers and those just wanting to eat healthy.

Natural Brazil Nuts from The Protein Works™ are an excellent source of protein, fibre and healthy unsaturated fats are also made from 100% natural brazil nuts with absolutely nothing added or taken away.

Red-Cell™ is ideal for anyone on a calorie-controlled diet looking to improve their body goals. Featuring ground-breaking dual release technology which includes a potent thermogenic core encased in premium CLA (Conjugated Linoleic Acid). This unique supplement contains Green Coffee Extract, Caffeine, Vitamin B6, Cayenne Extract and much more. Its dual phasing formula is ideal as a pre-workout or as part of a weight loss programme.

TPW™ Recovery Protein is a scientifically designed formula that provides the body with the nutrients needed immediately after training to help the muscles recover and rebuild.