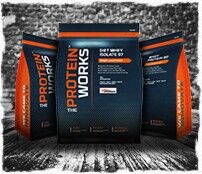 Med hjælp fra elite udholdenhedsløbere har vi hos TPW™ udviklet et sortiment af produkter, som er specifikt beregnet til at øge din udholdenhed og præstation. Da vi ved, at udholdenhedstræning og konkurrencesport opfattes som de mest krævende sportsgrene for hjerte og kredsløb og kroppens aerobe system, har vi fundet to forskellige kulhydratformer, du har brug for til carb-loading, samt videnskabeligt underbyggede aminosyrer, som har vist sig at hjælpe med at forbedre sportsudøveres udholdenhedsevne.
Undersøgelser viser, at udholdenhedsatleter kræver flere kulhydrater end andre typer atleter. Det skyldes, at kulhydrater som bekendt er kroppens primære brændstofkilde. Derfor har vi fundet forskellige kulhydrater: Fra langsomt virkende, med lavt glykemisk indeks, som forsyner dig med langsomt frigivende energi. Til hurtigtvirkende kulhydrater med højt glykemisk indeks, som giver et hurtigt energiboost.
Og for at fremme restitueringen efter hård udholdenhedstræning, har vi også udviklet et sortiment af proteinshakes. Forskning på McMaster University i Ontario, Canada har vist, at udholdenhedsatleter har brug for lige så meget protein som styrkebaserede atleter for at modvirke overtræning. Baseret herpå har vores formler med protein og kulhydrat i det rigtige forhold vist sig at give optimal restituering.
Og endelig er vi hos THE PROTEIN WORKS™klar over, at ernæringen på eliteniveau kan være den afgørende faktor for at vinde eller tabe. Derfor arbejder vi intenst på at tilbyde dig de bedste tilskud til udholdenhedstræning på markedet og anvender kun de ypperste ingredienser. Det er en integreret del af vores løfte om kun at tilbyde REN sportsernæring. I sidste ende betyder det, at alle sportsudøvere, som bruger TPW™-tilskud, kan være sikre på, at ingredienserne er 100 % nødvendige for kroppen, og at de ikke indeholder nogen kunstige søgestoffer, fortykningsmidler eller fyldstoffer.
Read more