Filter Muskelmasse & styrke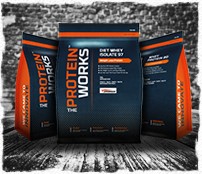 Her hos THE PROTEIN WORKS™ har vi et udvalg af tilskud, som er helliget til at opbygge masse og styrke. Og i et bud på at lave markedets bedste formler til vægtforøgelse, har vi indkøbt de ypperste ingredienser og sammensat forskellige kalorierige formler, vi har udviklet til at hjælpe sportsfolk med at blive større og virkelig tilføje masse.
At få større muskler og opbygge muskelmasse kræver, at du indtager flere kalorier, end du kan forbrænde samtidig med en tung, styrkebaseret træningsrutine. Derfor har vi hos TPW™ udviklet et sortiment af tilskud, som indeholder de kalorier, du behøver for at få større muskler. Det indeholder herudover ingredienser som kreatin monohydrat, som er videnskabeligt dokumenteret til at hjælpe med at øge dine musklers styrke i træningssalen.
Og de THE PROTEIN WORKS™-tilskud, du ser i denne sektion er ideelle til styrkeatleter, som ønsker at øge muskelmasse og kraft og få et sportstrænet udseende. Men er ligeledes beregnet til dig, som ønsker at få større muskler og er helt perfekte til dig, som ønsker at vokse hurtigt.
Mange formler til vægtforøgelse, der findes på markedet er fyldt med forskellige sukkerarter, fyldstoffer og fortykningsmidler. Men du kan være sikker på, at alle formler til vægtforøgelse fra THE PROTEIN WORKS™ er blevet udviklet med omhu i følge den absolut højeste standard. Vi er faktisk så sikre på vores formler til vægtforøgelse, at vi giver dig en udførlig oversigt over næringsindholdet i hver af dem. Du kan få vist dette med et klik på Proteininfo-ikonet på de enkelte produktsider for at se de forskellige ingredienser, den pågældende formel består af. Ingen andre sportsernæringsfirmaer giver deres kunder så mange detaljer, men alligevel garanterer vi her hos TPW™, at vi holder vores løfte om at give dig REN sportsernæring.
Total Mass Matrix Extreme is the most calorie and nutrient dense mass gainer formula to leave the TPW™ Laboratory. Containing a tri-protein blend that delivers over 60g of protein and over 1,000 calories per serving, it has been designed to contribute to a growth in muscle mass.

Total Mass Matrix sets a new benchmark in mass weight gainers. Its supercharged calorie dense formula is designed for anyone looking to bulk up and increase muscle mass. The TPW™ Nutrition Team have used an optimal 2:1 carb to protein ratio which delivers over 490 calories per serving, plus over 30g of premium grade protein. It is the ideal high calorie shake to help support your weight and mass gain goals, without adding unwanted fat.

The Protein Nutty™ is what happens when you combine a Nut Butter obsession with a culinary genius and a sports scientist. The Result? Well you get the ultimate tasting, energy boosting bite. Now newly re-imagined, these fresh protein bakes have passed our taste bud profiling tests and are officially tastier and more flavoursome than their legendary predecessors. Not possible, right? We didn't think so either, but our artisan bakers had other ideas. Combining tropical flavours such as goji berries and desiccated coconut with our finest Whey Protein they've created an insane flavour sensation to go with its nutritional might! Freshly baked, prepped and packed in our Protein Bakery, these are bullet proof nutritional powerhouses.

Whey Protein 360 is a premium protein shake that breaks new ground in protein formulation and flavour. It has been specifically designed to work with almost any fitness or body goal as its high in protein and low in sugar. Whey Protein 360 is ultra pure, natural and made with the very finest protein sources. We guarantee you won't find a better tasting protein shake on the planet.

TPW™ 100% Whey Advanced is an innovative, amino dense, premium whey protein blend designed and produced exclusively by THE PROTEIN WORKS™. Made from whey protein concentrate, whey protein isolate and hydrolysed whey protein, it delivers a controlled tapered release of protein.

Muscle Super Greens contains 13 of the most nutrient rich foods and highly bio-available ingredients known to Planet Earth. Heard of Spirulina, Kelp and Organic Alfalfa Powder? Well these are just a few of the chosen 13 to make it in Muscle Super Green's DNA. But what makes this super powered shake a true legend is the way our nutritionists have fine-tuned this green machine in to a shake designed to help you on your way to five a day. Intricately laced with a legion of muscle building must-haves, you'll find 3g of Creapure®, our finest creatine along with 5g iBCAA in every serving. All designed to provide your muscles with the vital energy and amino acids they need to perform, repair and grow.

Pre-Works™ represents a new zenith in preworkout science, incorporating in excess of a staggering 27,000mg of active ingredients per serving. A scientifically driven ground-breaking formulation, it is designed for anyone looking to supercharge their workout and achieve optimal results. It is densely packed with over 20 of the most researched single extract ingredients on the market today and comes in a range of insane tasting natural flavours. It is a favourite at TPW™ Towers for anyone in need of a serious boost.

BCAA Complex contains a market leading potent blend of Branched Chain Amino Acids in the optimal ratio of 2:1:1. Known as the building blocks of protein, Leucine, Isoleucine and Valine have been scientifically formulated to provide a balanced ratio. Our best-selling BCAA supplement is ideal for anybody with lean muscle, mass and power or even dieting goals. We recommend combining with a regular training programme and balanced diet.

Whey Protein 80 is our award-winning whey protein concentrate. Winner of the highly coveted "Best Protein Award" in the FSN Product Awards, TPW™ whey protein is known for its exceptional purity, contains no thickeners and is available in a wide range of exclusive natural flavours.

All in One Protein The Works™ is a cutting-edge, all in one protein formula designed to aid muscle building. It boasts a blend of premium grade whey protein concentrate and whey protein isolate, optimal dosages of creatine, leucine and a 'TPW™ Dual Phase Carb System'.