Filter Lean muskelmasse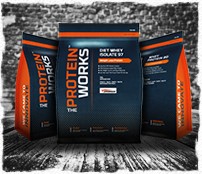 At opbygge mager muskelmasse uden at tilføje uønsket kropsfedt kræver både en velsammensat træningsrutine og en nøje udarbejdet kostplan. Men en række undersøgelser viser, at bestemte tilskud er i stand til at styrke miljøet i musklerne på positiv vis og derved øge deres størrelse. Vi her hos THE PROTEIN WORKS™ har fundet frem til disse tilskud og har udviklet et sortiment af tabletter, pulver og blandinger, som hjælper dig med at nå dine træningsmål for mager muskelmasse.
Vi er klar over, at for at øge den magre muskelmasse, har du brug for bestemte tilskud, der er udviklet til at øge dine musklers styrke i træningssalen og fremme deres restituering og vækst bagefter. Derfor har vi fundet det ypperste kreatin monohydrat i form af Creapure®. Lavet i AlzChem i Tyskland, Creapure®-fremstillet monohydrat er alment anerkendt som det reneste og mest kvalitetsstærke mikroniserede kreatin monohydrat, der findes. Desuden er vores iBCAA-produkt med forgrenede aminosyrer (branch chain amino acid), en forbedring af markedets gængse BCAA-produkter. I vores produkt er aminosyrerne nemlig blevet instantieret, hvilket betyder, at de har en hurtigere optagelseshastighed og leveres meget hurtigere ud til musklerne.
Sidst, men bestemt ikke mindst, for enhver som ønsker at øge deres magre muskelmasse, ved vi, at man skal spise næringsrige fødevarer, som er fri for enhver form for urenheder. Heldigvis leveres alle TPW™-produkter med en garanti for, at der ikke er brugt nogen fyldstoffer eller fortykningsmidler i fremstillingen af dem. Du kan således være sikker på, at alle ingredienserne i tilskuddene, du køber på TPW™, er rene og 100 % vigtige for din krop og muskler. Andre firmaer kan ikke give dig denne garanti for RENE produkter, og i nogle tilfælde produceres billigt fremstillet kreatin med et for stort saltindhold. Det kan resultere i udpræget væskeophobning, som igen har en negativ effekt på din magre muskelmasses fremtoning, og ligner faktisk fedt.
Whey Protein 360 is a premium protein shake that breaks new ground in protein formulation and flavour. It has been specifically designed to work with almost any fitness or body goal as its high in protein and low in sugar. Whey Protein 360 is ultra pure, natural and made with the very finest protein sources. Looking for more? Then check out our

Whey Protein 360 Extreme

, our most innovative protein shake to date!

Winner of the coveted "Best Protein Award", Whey Protein 80 is the gold standard in premium protein shakes, made simply with 100% pure whey protein concentrate. A single serving contains an amazing 82% protein in its natural state, plus a complete amino acid profile to help build muscle - protein contributes to muscle mass growth. Whey Protein 80 is available in a range of mouth-watering flavours, meaning you can satisfy your sweet tooth cravings and get a high quality protein boost at the same time. It is also low in fat and calories.

Whey Protein 360 Extreme elevates your protein shake experience to a whole new level. Setting a new gold standard in protein shake taste and efficacy, you won't find a better shake in sports nutrition today. Made with a multi-phased protein system sourced from premium grade protein, Whey Protein 360 Extreme also includes Digezyme® to aid digestion and macronutrient absorption.

Creatine Mono Creapure® is the genuine finest grade creatine monohydrate produced by Alzchem®. It is widely recognised as the purest and highest quality micronized creatine on the market today. Its micronized particles offer several benefits, not least faster absorption & digestion by the body.

Diet Whey Complex Extreme is low calorie, low fat and low sugar protein shake packed full of 100% premium flavours. It is the ultimate in weight loss shakes, with a whopping 22g of protein in every shake, it is perfect for anyone wanting to add a delicious and nutritious diet shake into their routine. For a great complementary fat-burner, we recommend our legendary

Thermopro

tablets.

TPW™ Creatine Monohydrate is simply the finest quality creatine on the market today. Made from 100% pure creatine, nothing has been added or taken away during the production process. It is 100% '200 mesh', meaning it has an ultra small particle size to ensure fast absorption by the body.

Whey Protein 360 is a premium protein shake that breaks new ground in protein formulation and flavour. It has been specifically designed to work with almost any fitness or body goal as its high in protein and low in sugar. Whey Protein 360 is ultra pure, natural and made with the very finest protein sources. We guarantee you won't find a better tasting protein shake on the planet.

Red-Cell™ is ideal for anyone on a calorie-controlled diet looking to improve their body goals. Featuring ground-breaking dual release technology which includes a potent thermogenic core encased in premium CLA (Conjugated Linoleic Acid). This unique supplement contains Green Coffee Extract, Caffeine, Vitamin B6, Cayenne Extract and much more. Its dual phasing formula is ideal as a pre-workout or as part of a weight loss programme.

Pre-Works™ represents a new zenith in preworkout science, incorporating in excess of a staggering 27g of active ingredients per serving. A scientifically driven ground-breaking formulation, it is designed for anyone looking to supercharge their workout and achieve optimal results. It is densely packed with over 20 of the most researched single extract ingredients on the market today and comes in a range of insane tasting flavours. It is a favourite at TPW™ Towers for anyone in need of a serious boost.

Genesis Pre Workout™ is a high potency formula that challenges current pre workout sports nutrition boundaries and thinking. The formula is based solely on cutting-edge ingredients and incorporates the very latest manufacturing techniques.

Thermopro is a potent performance formula in a convenient capsule format. It is popular as a pre-workout supplement, designed to optimise performance by reducing tiredness and fatigue, supporting energy production and mental performance. For the best results, we recommend combining with CLA

BCAA otherwise known as Instantised Branch Chain Amino Acids is a premium amino acid supplement. IBCAA contains an optimal blend of the three amino acids, leucine, isoleucine and valine in a 2:1:1 ratio. TPW™ BCAA is available in unique flavoured options, as well as the standard unflavoured.

BCAA Extreme is the latest jewel in our amino crown here at TPW. We've created an epic amino acid powder to help you get the most out of your intense workouts! The combination of an optimal BCAA ratio and our refreshing flavours not only creates the ultimate fatigue fighting formula but brings you summer in a TPW shaker.

The mighty minds at TPW™ have collided with those at ROCKET FUEL® to create something special. Infused with premium ROCKET FUEL® coffee, guarana & green coffee bean extract, they taste incredible and are ideal any time of day to help boost your protein intake with a twist.

Creatine Extreme takes the world's most popular strength supplement creatine to the absolute cutting-edge of sports nutrition. Delivering a massive 7g of creatine per serving, Creatine Extreme incorporates a unique, multi-functional five Creatine Super Blend.

Put simply Vegan Omega 3:6:9 Ahiflower® Oil has changed the way people supplement with healthy omega fatty acids. So incredibly pure, it's an amazing addition to our vegan range and anyone's diet.

BCAA Ultra 5:1:1 is engineered using the finest branched chain amino acids on the market today. Whilst most BCAA supplements on the market contain Leucine, Isoleucine and Valine in a 2:1:1 ratio, the ground-breaking BCAA Ultra 5:1:1 is formulated with a far higher ratio of Leucine.