Filter Lean muskelmasse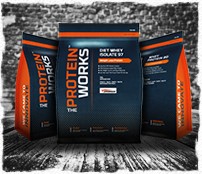 At opbygge mager muskelmasse uden at tilføje uønsket kropsfedt kræver både en velsammensat træningsrutine og en nøje udarbejdet kostplan. Men en række undersøgelser viser, at bestemte tilskud er i stand til at styrke miljøet i musklerne på positiv vis og derved øge deres størrelse. Vi her hos THE PROTEIN WORKS™ har fundet frem til disse tilskud og har udviklet et sortiment af tabletter, pulver og blandinger, som hjælper dig med at nå dine træningsmål for mager muskelmasse.
Vi er klar over, at for at øge den magre muskelmasse, har du brug for bestemte tilskud, der er udviklet til at øge dine musklers styrke i træningssalen og fremme deres restituering og vækst bagefter. Derfor har vi fundet det ypperste kreatin monohydrat i form af Creapure®. Lavet i AlzChem i Tyskland, Creapure®-fremstillet monohydrat er alment anerkendt som det reneste og mest kvalitetsstærke mikroniserede kreatin monohydrat, der findes. Desuden er vores iBCAA-produkt med forgrenede aminosyrer (branch chain amino acid), en forbedring af markedets gængse BCAA-produkter. I vores produkt er aminosyrerne nemlig blevet instantieret, hvilket betyder, at de har en hurtigere optagelseshastighed og leveres meget hurtigere ud til musklerne.
Sidst, men bestemt ikke mindst, for enhver som ønsker at øge deres magre muskelmasse, ved vi, at man skal spise næringsrige fødevarer, som er fri for enhver form for urenheder. Heldigvis leveres alle TPW™-produkter med en garanti for, at der ikke er brugt nogen fyldstoffer eller fortykningsmidler i fremstillingen af dem. Du kan således være sikker på, at alle ingredienserne i tilskuddene, du køber på TPW™, er rene og 100 % vigtige for din krop og muskler. Andre firmaer kan ikke give dig denne garanti for RENE produkter, og i nogle tilfælde produceres billigt fremstillet kreatin med et for stort saltindhold. Det kan resultere i udpræget væskeophobning, som igen har en negativ effekt på din magre muskelmasses fremtoning, og ligner faktisk fedt.
Diet Whey Isolate 97 is the purest whey protein isolate, renowned for having the highest protein content and lowest carbohydrate and fat content of any protein in sports nutrition today. It is designed specifically for anyone dieting or looking to decrease their calorie intake, but what's more, it's a very rare breed of protein shake... Why? Well, it also stands proud and boasts a completely lactose free nutritional profile. It's the only Whey Shake at TPW Towers to lay claim to such an awesome feat, and so bang for buck is one of the best value whey protein isolate shakes on the market today... period!

Whey Protein 360 is a premium protein shake that breaks new ground in protein formulation and flavour. It has been specifically designed to work with almost any fitness or body goal as its high in protein and low in sugar. Whey Protein 360 is ultra pure, natural and made with the very finest protein sources. We guarantee you won't find a better tasting protein shake on the planet.

Diet Whey Isolate 95, also known as Native Whey, is an ultra pure whey protein isolate renowned for having a very high protein content at 27g per serving, and the lowest sugar and fat content of any protein on the market today. It has been designed specifically for anyone looking to decrease their calorie intake and lose weight. It has less than 1g of fat and less than 1g of carbs per 30g serving and uses advanced membrane technology to create an ultra-pure form of whey protein.

Whey Protein 80 is our award-winning whey protein concentrate. Winner of the highly coveted "Best Protein Award" in the FSN Product Awards, TPW™ whey protein is known for its exceptional purity, contains no thickeners and is available in a wide range of exclusive natural flavours.

Diet Meal Replacement is a high protein, nutrient dense, meal replacement shake specifically designed to contribute to weight loss. It combines the very latest sports nutrition research and our taste-busting natural flavours into one best-selling protein shake. It's unique multi-protein source formula includes premium whey protein, milk protein and Prolibra®.

BCAA Complex contains a market leading potent blend of Branched Chain Amino Acids in the optimal ratio of 2:1:1. Known as the building blocks of protein, Leucine, Isoleucine and Valine have been scientifically formulated to provide a balanced ratio. Our best-selling BCAA supplement is ideal for anybody with lean muscle, mass and power or even dieting goals. We recommend combining with a regular training programme and balanced diet.

TPW™ 100% Whey Advanced is an innovative, amino dense, premium whey protein blend designed and produced exclusively by THE PROTEIN WORKS™. Made from whey protein concentrate, whey protein isolate and hydrolysed whey protein, it delivers a controlled tapered release of protein.

Red-Cell™ is ideal for anyone on a calorie-controlled diet looking to improve their body goals. Featuring ground-breaking dual release technology which includes a potent thermogenic core encased in premium CLA (Conjugated Linoleic Acid). This unique supplement contains Green Coffee Extract, Caffeine, Vitamin B6, Cayenne Extract and much more. Its dual phasing formula is ideal as a pre-workout or as part of a weight loss programme.