Filter Post-workout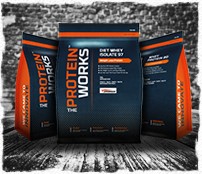 Undersøgelser viser, at din ernæring efter træningen har stor indflydelse på den muskelmængde, du er i stand til at opbygge samt på din restitueringstiden. Derfor har vi hos TPW™ nøje udvalgt de allerbedste ingredienser, du bruge i din efter-træningsshake for at kick-starte restituering og maksimere dine træningsresultater.
Eksperterne mener, at restituering efter træningen er så essentiel, at hvis den springes over, kan den positive virkning af træningen gå tabt. Det vigtigste er at få næringsstoffer ud til musklerne så hurtigt som muligt, så din krop kan begynde at reparere sig selv. Derfor har vi hos TPW™ fundet frem til den ypperste valleprotein, da den er et af de hurtigst absorberende proteiner, der findes. Derefter har vi fundet frem til den allerbedste og reneste form af dextrose, maltodextrin og voksmajsstivelse, 3 hurtigt virkende kulhydrater, som er ideelle til genopfyldning af musklens glykogen-niveau og booster insulinsekretionen for at kick-starte restitueringsprocessen. Derefter fandt vi en række aminosyrer, vitaminer og mineraler, som har en videnskabeligt dokumenteret virkning på restituering og udviklede dem til produkter bestående af én kilde, der fås i tablet- eller pulverform eller synergetiske formler, som indeholder en blanding af forskellige ingredienser. Men ligesom vi bringer dig det, eksperterne mener, er det essentielle inden for efter-træningsernæring, giver vi dig meget mere og sørger hele tiden for at udvide vores udvalg, så du får flere valgmuligheder.
Desuden er det den periode, som følger umiddelbart efter din træning, hvor dine muskler er udhungrede, hvilket sætter din krop i sit mest modtagelige stadie, et faktum vi hos THE PROTEIN WORKS™ mere opmærksomme på en nogen andre. Derfor stræber vi efter at tilbyde vores kunder den bedste efter-træningsernæring og bruger derfor kun de reneste ingredienser og producerer in-house. Det garanterer, at vores produkter er fri for fortykningsmidler eller fyldstoffer, samt at de kun indeholder naturlige farve- og smagsstoffer. Det betyder igen, at din krop kun modtager de næringsstoffer, den behøver efter træningen og absolut intet andet kunstigt, eller noget, den ikke har brug for.
TPW™ 100% Whey Advanced is an innovative, amino dense, premium whey protein blend designed and produced exclusively by THE PROTEIN WORKS™. Made from whey protein concentrate, whey protein isolate and hydrolysed whey protein, it delivers a controlled tapered release of protein.

TPW™ Calcium Caseinate packs 27g of the finest protein per serving in one thick creamy shake. The very latest micro-filter technology is used to provide a product of unparalleled quality. Calcium Caseinate is popular with a wide range of athletes looking to improve their body composition. We recommend taking it post workout or late at night for optimal results.

Extreme isn't just a label, it's a philosophy. Nine months in the making and we're proud to say, this is way more than a shake, it's a new wave of Vegan nutrition. Created to be among the world's most nutrient-dense, vitamin-packed Vegan protein shakes this plant based beast was a massive undertaking we know, but sourcing the very best vegan-friendly protein powder from every corner of the globe & fusing them with over 20 different vitamins and minerals, we did it. Low in fat & packing more than 25g of protein per serving, Vegan Extreme is our plant-based pride and joy.

Protein Crunkie™ has landed, and with it, a new legacy awaits. Like the Swiss Army Knife of Nutrition, this high protein, energy-yielding pocket pal is fully equipped to be your go-to energy bar whatever the goal, time of day, or craving. Protein Crunkies™ provide you with all the essential fuel you need, anytime, anywhere. It's packed with the finest low GI, slow-release oats which deliver a high fibre kick of quality, energy exploding carbohydrates. Protein? Well, we're the experts so of course we packed it in! This high protein bar is infused with pure plant-based protein isolate to help support your muscle growth & repair. Finally, with minuscule fat & sugar content, this bar is ready to rumble any time you are… minus the guilt and plus an extra helping of true grit. For the 12 Bar pack see here

Protein Crunkies

Whey Protein 360 is a premium protein shake that breaks new ground in protein formulation and flavour. It has been specifically designed to work with almost any fitness or body goal as its high in protein and low in sugar. Whey Protein 360 is ultra pure, natural and made with the very finest protein sources. We guarantee you won't find a better tasting protein shake on the planet.

Put simply Vegan Omega 3:6:9 Ahiflower® Oil has changed the way people supplement with healthy omega fatty acids. So incredibly pure, it's an amazing addition to our vegan range and anyone's diet.

TPW™ 100% Whey Extreme is unrivalled in terms of protein, vitamin and amino density. Along with our exclusive TPW protein blend, iBCAA and all-natural flavours, we have also infused 100% Whey Extreme with a nutrient packed vitamin blend, containing over 13 vitamins and mineral in every shake! With this incredible nutritional profile and epic taste, TPW 100% Whey Extreme has broken new ground in ultra pure, lean protein shakes.

BCAA otherwise known as Instantised Branch Chain Amino Acids is a premium amino acid supplement. IBCAA contains an optimal blend of the three amino acids, leucine, isoleucine and valine in a 2:1:1 ratio. TPW™ BCAA is available in unique natural flavoured options, as well as the standard unflavoured.

Creatine Extreme takes the world's most popular strength supplement creatine to the absolute cutting-edge of sports nutrition. Delivering a massive 7g of creatine per serving, Creatine Extreme incorporates a unique, multi-functional five Creatine Super Blend.

TPW™ Recovery Protein is a scientifically designed formula that provides the body with the nutrients needed immediately after training to help the muscles recover and rebuild.

BCAA Ultra 5:1:1 is engineered using the finest branched chain amino acids on the market today. Whilst most BCAA supplements on the market contain Leucine, Isoleucine and Valine in a 2:1:1 ratio, the ground-breaking BCAA Ultra 5:1:1 is formulated with a far higher ratio of Leucine.

TPW™ Creatine Monohydrate is simply the finest quality creatine on the market today. Made from 100% pure creatine, nothing has been added or taken away during the production process. It is 100% '200 mesh', meaning it has an ultra small particle size to ensure fast absorption by the body.

Whey Protein 80 is our award-winning whey protein concentrate. Winner of the highly coveted "Best Protein Award" in the FSN Product Awards, TPW™ whey protein is available in a wide range of exclusive natural flavours and is known for its exceptional purity.

BCAA Complex contains a market leading potent blend of Branched Chain Amino Acids in the optimal ratio of 2:1:1. Known as the building blocks of protein, Leucine, Isoleucine and Valine have been scientifically formulated to provide a balanced ratio. Our best-selling BCAA supplement is ideal for anybody with lean muscle, mass and power or even dieting goals. We recommend combining with a regular training programme and balanced diet.

Leucine powder from The Protein Works™ is a premium grade amino acid scientifically shown to trigger new muscle growth. Sports scientists have found adding leucine powder to any protein shake dramatically increases its muscle building potential whether post workout or as a meal replacement.

BCAA Extreme is the latest jewel in our amino crown here at TPW. We've created an epic amino acid powder to help you get the most out of your intense workouts! The combination of an optimal BCAA ratio and our all-natural refreshing flavours not only creates the ultimate fatigue fighting formula but brings you summer in a TPW shaker.