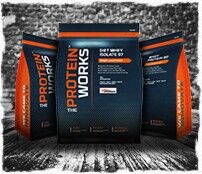 Forskning viser, at vores morgenernæring kan have en enorm indvirkning på vores fysiske og mentale ydeevne resten af dagen. Vi her hos THE PROTEIN WORKS™ ved dette og ved også, at morgenmaden er det vigtigste måltid på dagen. Det har fået os til at udvikle en produktserie specifik til morgenen, så du enten vælger et tilskud til din sædvanlige morgenmad og derved højner næringsindholdet. Eller sammensætter en morgenshake, udelukkende baseret på produkterne i denne serie. Uanset, hvordan du ønsker at begynde din dag, så har vi nogle tilskud, som kan hjælpe dig.
Ser vi specifikt på nogle af ingredienserne, så har vi for det første et udvalg af blandinger med langsomt virkende protein, som giver dig en kontrolleret frigivelse af aminosyrer i løbet af hele dagen. Alternativt har vi nogle hurtigt absorberende proteiner. De er i stand til at levere aminosyrer til musklerne, som har "sultet", mens du sov. På samme måde har vi kulhydrater med lavt glykemisk indeks, som sørger for langsom kontrolleret frigivelse af energi i løbet af dagen eller kulhydrater med højt glykemisk indeks, som optages hurtigt og genopretter musklens glykogen-niveau, som kan være faldet under nattesøvnen. Foruden makronæringsstoffer tilbyder TPW™ også individuelle aminosyrer, vitaminer, mineraler og ekstrakter, da det også har vist sig, at disse forbedrer både de fysiske og de kognitive funktioner ved indtagelse om morgenen.
Så uanset, om du kun har brug for en dækkende multivitamin for at booste næringsindholdet i din sædvanlige morgenmad, eller du vil sammensætte den perfekte morgenshake, synes vi, du skal tage et kig på produkterne i denne afdeling og finde det, der er bedst for netop dig.
Read more