Filter Morgen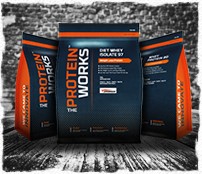 Forskning viser, at vores morgenernæring kan have en enorm indvirkning på vores fysiske og mentale ydeevne resten af dagen. Vi her hos THE PROTEIN WORKS™ ved dette og ved også, at morgenmaden er det vigtigste måltid på dagen. Det har fået os til at udvikle en produktserie specifik til morgenen, så du enten vælger et tilskud til din sædvanlige morgenmad og derved højner næringsindholdet. Eller sammensætter en morgenshake, udelukkende baseret på produkterne i denne serie. Uanset, hvordan du ønsker at begynde din dag, så har vi nogle tilskud, som kan hjælpe dig.
Ser vi specifikt på nogle af ingredienserne, så har vi for det første et udvalg af blandinger med langsomt virkende protein, som giver dig en kontrolleret frigivelse af aminosyrer i løbet af hele dagen. Alternativt har vi nogle hurtigt absorberende proteiner. De er i stand til at levere aminosyrer til musklerne, som har "sultet", mens du sov. På samme måde har vi kulhydrater med lavt glykemisk indeks, som sørger for langsom kontrolleret frigivelse af energi i løbet af dagen eller kulhydrater med højt glykemisk indeks, som optages hurtigt og genopretter musklens glykogen-niveau, som kan være faldet under nattesøvnen. Foruden makronæringsstoffer tilbyder TPW™ også individuelle aminosyrer, vitaminer, mineraler og ekstrakter, da det også har vist sig, at disse forbedrer både de fysiske og de kognitive funktioner ved indtagelse om morgenen.
Så uanset, om du kun har brug for en dækkende multivitamin for at booste næringsindholdet i din sædvanlige morgenmad, eller du vil sammensætte den perfekte morgenshake, synes vi, du skal tage et kig på produkterne i denne afdeling og finde det, der er bedst for netop dig.
Breakfast Fuel Protein Shake is the ultimate morning protein shake specifically designed to restart and fuel your body at the start of the day. It incorporates a timed-release protein blend giving a tapered delivery of amino acids to the body throughout the day.

Extreme isn't just a label, it's a philosophy. Nine months in the making and we're proud to say, this is way more than a shake, it's a new wave of Vegan nutrition. Created to be among the world's most nutrient-dense, vitamin-packed Vegan protein shakes this plant based beast was a massive undertaking we know, but sourcing the very best vegan-friendly protein powder from every corner of the globe & fusing them with over 20 different vitamins and minerals, we did it. Low in fat & packing more than 25g of protein per serving, Vegan Extreme is our plant-based pride and joy.

Whey Protein 360 is a premium protein shake that breaks new ground in protein formulation and flavour. It has been specifically designed to work with almost any fitness or body goal as its high in protein and low in sugar. Whey Protein 360 is ultra pure, natural and made with the very finest protein sources. We guarantee you won't find a better tasting protein shake on the planet.

Put simply Vegan Omega 3:6:9 Ahiflower® Oil has changed the way people supplement with healthy omega fatty acids. So incredibly pure, it's an amazing addition to our vegan range and anyone's diet.

Protein Crunkie™ has landed, and with it, a new legacy awaits. Like the Swiss Army Knife of Nutrition, this high protein, energy-yielding pocket pal is fully equipped to be your go-to energy bar whatever the goal, time of day, or craving. Protein Crunkies™ provide you with all the essential fuel you need, anytime, anywhere. It's packed with the finest low GI, slow-release oats which deliver a high fibre kick of quality, energy exploding carbohydrates. Protein? Well, we're the experts so of course we packed it in! This high protein bar is infused with pure plant-based protein isolate to help support your muscle growth & repair. Finally, with minuscule fat & sugar content, this bar is ready to rumble any time you are… minus the guilt and plus an extra helping of true grit. For the 12 Bar pack see here

Protein Crunkies

Protein Porridge Pots from The Protein Works™ are a ground-breaking innovation that re-defines the classic porridge. Protein Porridge is packed with over 22g of premium grade multi-sourced protein to provide a tapered release.

Pure Fine Instant Oats from THE PROTEIN WORKS™ are 100% natural fine ground Scottish oats. They are a quality food source of low GI carbohydrates, high in soluble fibre and contain other vital nutrients such as zinc, vitamin E, calcium and iron. All of which help support general health.

Protein Pancake Mix is a high protein, low GI, great tasting snack. It includes a tri-protein blend of whey, milk and egg protein, Pure Fine Oats, Medium Chain Triglycerides and Stevia. They make a great breakfast or snack choice, providing a slow, sustained release of energy.

BCAA Ultra 5:1:1 is engineered using the finest branched chain amino acids on the market today. Whilst most BCAA supplements on the market contain Leucine, Isoleucine and Valine in a 2:1:1 ratio, the ground-breaking BCAA Ultra 5:1:1 is formulated with a far higher ratio of Leucine.

Diet Super Greens is the super powered green shake you'll find in every gym bag. It's nutrient dense core is packed with a handpicked selection of some of the earth's most bio-available foods, followed by no less than 7 active ingredients. That's all well and good, but how does it taste? Well let's just say that once we added our Flavour-Boost™ Technology to this insane shake that it created a new level of flavour that surpassed even our own expectations.

Super Greens is the ultimate all-in-one answer for anyone looking to get the vital nutrients and vitamins your body needs to function at a superior level. Made up of the world's finest food sources, this super powered shake is your one stop shop for all things green and lean. From Kelp to Organic Alfalfa Powder, our team of nutritional wizards have travelled far and wide to unearth the world's most powerful food sources and combine them into one shake bursting with natural goodness. Lucky for you we didn't stop there though, we then took our new Super Greens formula and enriched it with our bespoke All Natural Flavour-Boost Technology to deliver an unprecedented level of flavour that will truly exercise your taste buds.

Protein Porridge from THE PROTEIN WORKS™ is a ground-breaking innovation that re-defines the classic porridge. Each Protein Porridge serving is packed with over 22g of premium grade multi-sourced protein to provide a tapered release.

BCAA Complex contains a market leading potent blend of Branched Chain Amino Acids in the optimal ratio of 2:1:1. Known as the building blocks of protein, Leucine, Isoleucine and Valine have been scientifically formulated to provide a balanced ratio. Our best-selling BCAA supplement is ideal for anybody with lean muscle, mass and power or even dieting goals. We recommend combining with a regular training programme and balanced diet.

Whey Protein 80 is our award-winning whey protein concentrate. Winner of the highly coveted "Best Protein Award" in the FSN Product Awards, TPW™ whey protein is available in a wide range of exclusive natural flavours and is known for its exceptional purity.

TPW™ Gluten Free Pure Fine Oats provide a healthy source of carbohydrates. They provide a sustained release of energy throughout the day and can help keep body fat low. They are also incredibly versatile and can easily be added to your daily protein shake.

Protein Granola from THE PROTEIN WORKS™ takes the classic granola to a whole new level. Using the very latest protein fusion technology, the TPW™ team have created a unique super-breakfast to help boost your early morning protein intake.