Filter Eftermiddag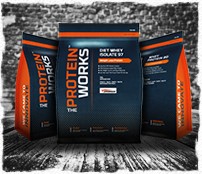 Vi her hos THE PROTEIN WORKS™ ved, at din ernæring i dagtimerne er mindst lige så vigtig som den tid, du tilbringer i træningssalen. Det er fordi din ernæring dagen igennem enten kan bruges til at hjælpe musklerne med at restituere oven på træningen eller til at fylde brændstof på musklerne til træningen senere på dagen. Derfor har vi sammensat et sortiment af tilskud til at tage i løbet af dagen. Vælg den type, som passer bedst til dine ernæringsmæssige behov og træningsmål.
Undersøgelser har vist, at folk, som træner kræver flere næringsstoffer, end dem som ikke træner. Alligevel kan de nogle gange være vanskeligt at indtage den kvalitetsernæring, du har brug for i løbet af dagen, f.eks. fordi det er upraktisk at tilberede et måltid, når du arbejder eller er på farten. Det er ved vi godt hos THE PROTEIN WORKS™, og derfor har vi udviklet et produktsortiment med praktiske, næringsrige varer, som kan være en hjælp for dig. Dette sortiment indeholder blandt andet proteinblandinger fra flere kilder, der fungerer som effektiv måltidserstatning shakes samt langsomt virkende kulhydrater såvel som hurtigt frigivende kulhydrater, der udgør en praktisk energikilde.
Vi er også klar over, at udholdenhedsatleter på eliteplan og bodybuildere kan have brug for ernæringsmæssig støtte i form af ekstra tilskud for at opfylde deres store næringsbehov. Hvad bodybuildere angår så kan dette være mere protein som støtte til deres muskler. Mens udholdenhedsatleter kan have brug for flere kulhydrater i carb-loading-fasen inden en stor konkurrence. Uanset årsagen, er vores mål at tilbyde sportsernæring af den ypperste kvalitet, samtidigt med de mest praktiske næringskilder.
Diet Meal Replacement is a high protein, nutrient dense, meal replacement shake specifically designed to contribute to weight loss. It combines the very latest sports nutrition research and our taste-busting natural flavours into one best-selling protein shake. It's unique multi-protein source formula includes premium whey protein, milk protein and Prolibra®.

Diet Whey Isolate 95, also known as Native Whey, is an ultra pure whey protein isolate renowned for having a very high protein content at 27g per serving, and the lowest sugar and fat content of any protein on the market today. It has been designed specifically for anyone looking to decrease their calorie intake and lose weight. It has less than 1g of fat and less than 1g of carbs per 30g serving and uses advanced membrane technology to create an ultra-pure form of whey protein.

Total Mass Matrix sets a new benchmark in mass weight gainers. Its supercharged calorie dense formula is designed for anyone looking to bulk up and increase muscle mass. The TPW™ Nutrition Team have used an optimal 2:1 carb to protein ratio which delivers over 490 calories per serving, plus over 30g of premium grade protein. It is the ideal high calorie shake to help support your weight and mass gain goals, without adding unwanted fat.

Total Mass Matrix Extreme is the most calorie and nutrient dense mass gainer formula to leave the TPW™ Laboratory. Containing a tri-protein blend that delivers over 60g of protein and over 1,000 calories per serving, it has been designed to contribute to a growth in muscle mass.

All in One Protein The Works™ is a cutting-edge, all in one protein formula designed to aid muscle building. It boasts a blend of premium grade whey protein concentrate and whey protein isolate, optimal dosages of creatine, leucine and a 'TPW™ Dual Phase Carb System'.

BCAA Complex contains a market leading potent blend of Branched Chain Amino Acids in the optimal ratio of 2:1:1. Known as the building blocks of protein, Leucine, Isoleucine and Valine have been scientifically formulated to provide a balanced ratio. Our best-selling BCAA supplement is ideal for anybody with lean muscle, mass and power or even dieting goals. We recommend combining with a regular training programme and balanced diet.

Diet Whey Isolate 97 is the purest whey protein isolate, renowned for having the highest protein content and lowest carbohydrate and fat content of any protein in sports nutrition today. It is designed specifically for anyone dieting or looking to decrease their calorie intake, but what's more, it's a very rare breed of protein shake... Why? Well, it also stands proud and boasts a completely lactose free nutritional profile. It's the only Whey Shake at TPW Towers to lay claim to such an awesome feat, and so bang for buck is one of the best value whey protein isolate shakes on the market today... period!

TPW™ 100% Whey Advanced is an innovative, amino dense, premium whey protein blend designed and produced exclusively by THE PROTEIN WORKS™. Made from whey protein concentrate, whey protein isolate and hydrolysed whey protein, it delivers a controlled tapered release of protein.

Naked Diet Whey Protein 90 is an ultra pure, 100% natural whey protein isolate, exclusively engineered using natural flavourings, colours and Stevia which is a plant derived zero calorie sweetener.