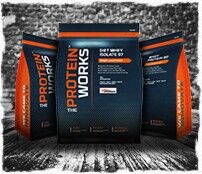 Vi her hos THE PROTEIN WORKS™ ved, at din ernæring i dagtimerne er mindst lige så vigtig som den tid, du tilbringer i træningssalen. Det er fordi din ernæring dagen igennem enten kan bruges til at hjælpe musklerne med at restituere oven på træningen eller til at fylde brændstof på musklerne til træningen senere på dagen. Derfor har vi sammensat et sortiment af tilskud til at tage i løbet af dagen. Vælg den type, som passer bedst til dine ernæringsmæssige behov og træningsmål.
Undersøgelser har vist, at folk, som træner kræver flere næringsstoffer, end dem som ikke træner. Alligevel kan de nogle gange være vanskeligt at indtage den kvalitetsernæring, du har brug for i løbet af dagen, f.eks. fordi det er upraktisk at tilberede et måltid, når du arbejder eller er på farten. Det er ved vi godt hos THE PROTEIN WORKS™, og derfor har vi udviklet et produktsortiment med praktiske, næringsrige varer, som kan være en hjælp for dig. Dette sortiment indeholder blandt andet proteinblandinger fra flere kilder, der fungerer som effektiv måltidserstatning shakes samt langsomt virkende kulhydrater såvel som hurtigt frigivende kulhydrater, der udgør en praktisk energikilde.
Vi er også klar over, at udholdenhedsatleter på eliteplan og bodybuildere kan have brug for ernæringsmæssig støtte i form af ekstra tilskud for at opfylde deres store næringsbehov. Hvad bodybuildere angår så kan dette være mere protein som støtte til deres muskler. Mens udholdenhedsatleter kan have brug for flere kulhydrater i carb-loading-fasen inden en stor konkurrence. Uanset årsagen, er vores mål at tilbyde sportsernæring af den ypperste kvalitet, samtidigt med de mest praktiske næringskilder.
Read more