Filter Aften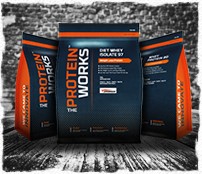 Undersøgelser viser, at vores ernæring i aftentimerne kan have stor indflydelse på, hvordan vores muskler reparerer sig selv og vokser, mens vi sover. Da vi ved dette hos THE PROTEIN WORKS™, har vi udviklet et sortiment med tilskud, som ved indtagelse inden sengetid, kan fremme din natlige restitueringsproces i afgørende grad.
De fleste ved, at personer, som træner kræver mere søvn, end dem som ikke træner. Men det er også veldokumenteret, at visse tilskud forbedrer kvaliteten af en idrætsudøvers søvn. Vi her hos TPW™ er mere opmærksomme på dette end de fleste andre, så vi har fundet de allerbedste tilskud til dig. Det omfatter forskellige slags natteproteiner som kaseinbaserede for at sikre langsom frigivelse af aminosyrer til musklerne i løbet af natten. Plus det enormt populære og grundigt forskede zink- og magnesiumsammensætning ZMA, som har vist sig ikke kun at forbedre kvaliteten af din søvn, men også væksten samlet set.
En anden betydningsfuld faktor, som kun få i sportsernæringsbranchen tager i betragtning er iblanding af sødestoffer og andre kunstige tilsætningsstoffer i proteinblandinger for at give dem smag. Det kan nemlig have en let stimulerende indvirkning på nogle sportsudøvere, hvilket i høj grad kan påvirke deres søvn. Heldigvis for alle TPW™-kunder, indeholder vores proteinformler kun naturlige farve- og smagsstoffer og indeholder ingen fortykningsmidler eller fyldstoffer, som kan forstyrre dit søvnmønster. Således kan du være ganske rolig, da vores langsomt virkende, natteproteinblandinger vil understøtte din træning og restituering, og ikke være til hinder for den.
Bedtime Fuel from The Protein Works™ is a multi-protein formula designed to offer a slow and sustained release of nutrients. It is specifically designed to be taken before bed to aid muscular growth and repair.

Extreme isn't just a label, it's a philosophy. Nine months in the making and we're proud to say, this is way more than a shake, it's a new wave of Vegan nutrition. Created to be among the world's most nutrient-dense, vitamin-packed Vegan protein shakes this plant based beast was a massive undertaking we know, but sourcing the very best vegan-friendly protein powder from every corner of the globe & fusing them with over 20 different vitamins and minerals, we did it. Low in fat & packing more than 25g of protein per serving, Vegan Extreme is our plant-based pride and joy.

Protein Crunkie™ has landed, and with it, a new legacy awaits. Like the Swiss Army Knife of Nutrition, this high protein, energy-yielding pocket pal is fully equipped to be your go-to energy bar whatever the goal, time of day, or craving. Protein Crunkies™ provide you with all the essential fuel you need, anytime, anywhere. It's packed with the finest low GI, slow-release oats which deliver a high fibre kick of quality, energy exploding carbohydrates. Protein? Well, we're the experts so of course we packed it in! This high protein bar is infused with pure plant-based protein isolate to help support your muscle growth & repair. Finally, with minuscule fat & sugar content, this bar is ready to rumble any time you are… minus the guilt and plus an extra helping of true grit. For the 12 Bar pack see here

Protein Crunkies

Put simply Vegan Omega 3:6:9 Ahiflower® Oil has changed the way people supplement with healthy omega fatty acids. So incredibly pure, it's an amazing addition to our vegan range and anyone's diet.

BCAA otherwise known as Instantised Branch Chain Amino Acids is a premium amino acid supplement. IBCAA contains an optimal blend of the three amino acids, leucine, isoleucine and valine in a 2:1:1 ratio. TPW™ BCAA is available in unique natural flavoured options, as well as the standard unflavoured.

The Big Z Hot Chocolate protein drink from THE PROTEIN WORKS™ is a great tasting, high protein hot chocolate malted shake. With over 22g of protein per serving, it is the ideal bedtime drink, packed full of nutrients sourced from premium grade Micellar Casein and Whey Protein Concentrate. This unique high protein, low sugar shake is designed to support your muscle recovery whilst you sleep.

BCAA Ultra 5:1:1 is engineered using the finest branched chain amino acids on the market today. Whilst most BCAA supplements on the market contain Leucine, Isoleucine and Valine in a 2:1:1 ratio, the ground-breaking BCAA Ultra 5:1:1 is formulated with a far higher ratio of Leucine.

BCAA Complex contains a market leading potent blend of Branched Chain Amino Acids in the optimal ratio of 2:1:1. Known as the building blocks of protein, Leucine, Isoleucine and Valine have been scientifically formulated to provide a balanced ratio. Our best-selling BCAA supplement is ideal for anybody with lean muscle, mass and power or even dieting goals. We recommend combining with a regular training programme and balanced diet.

100% Micellar Casein is considered the perfect shake for those who need a slow releasing protein to take before bed for those needing a slow sustained release of aminos to the muscles during sleep. 100% Micellar Casein has a smooth silky texture and can be added to shakes, smoothies, oats and home baking!

TPW™ Calcium Caseinate packs 27g of the finest protein per serving in one thick creamy shake. The very latest micro-filter technology is used to provide a product of unparalleled quality. Calcium Caseinate is popular with a wide range of athletes looking to improve their body composition. We recommend taking it post workout or late at night for optimal results.

BCAA Extreme is the latest jewel in our amino crown here at TPW. We've created an epic amino acid powder to help you get the most out of your intense workouts! The combination of an optimal BCAA ratio and our all-natural refreshing flavours not only creates the ultimate fatigue fighting formula but brings you summer in a TPW shaker.