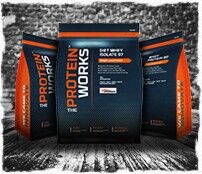 Undersøgelser viser, at vores ernæring i aftentimerne kan have stor indflydelse på, hvordan vores muskler reparerer sig selv og vokser, mens vi sover. Da vi ved dette hos THE PROTEIN WORKS™, har vi udviklet et sortiment med tilskud, som ved indtagelse inden sengetid, kan fremme din natlige restitueringsproces i afgørende grad.
De fleste ved, at personer, som træner kræver mere søvn, end dem som ikke træner. Men det er også veldokumenteret, at visse tilskud forbedrer kvaliteten af en idrætsudøvers søvn. Vi her hos TPW™ er mere opmærksomme på dette end de fleste andre, så vi har fundet de allerbedste tilskud til dig. Det omfatter forskellige slags natteproteiner som kaseinbaserede for at sikre langsom frigivelse af aminosyrer til musklerne i løbet af natten. Plus det enormt populære og grundigt forskede zink- og magnesiumsammensætning ZMA, som har vist sig ikke kun at forbedre kvaliteten af din søvn, men også væksten samlet set.
En anden betydningsfuld faktor, som kun få i sportsernæringsbranchen tager i betragtning er iblanding af sødestoffer og andre kunstige tilsætningsstoffer i proteinblandinger for at give dem smag. Det kan nemlig have en let stimulerende indvirkning på nogle sportsudøvere, hvilket i høj grad kan påvirke deres søvn. Heldigvis for alle TPW™-kunder, indeholder vores proteinformler kun naturlige farve- og smagsstoffer og indeholder ingen fortykningsmidler eller fyldstoffer, som kan forstyrre dit søvnmønster. Således kan du være ganske rolig, da vores langsomt virkende, natteproteinblandinger vil understøtte din træning og restituering, og ikke være til hinder for den.
Read more