Love these spreads, they taste great and are the perfect healthy alternative! - Adam

Drizzleable, dunkable, and straight-up-spoonable, our Protein Spreads take toast to the next level. Packed with premium whey protein to support your fitness goals, they're here to up the spread game, whether you're team chocolate hazelnut or a white chocolate wild card.

We think we've pulled the ultimate culinary hat trick – our Spreads are low sugar, veggie-friendly and irresistibly creamy. Plus, they're palm oil and GMO free, so you can tuck in knowing there's no nasties hiding in your jar. Why stop at toast? Perfect baked into oats for that fudgy filling, slapped on pancake stacks, dolloped onto your protein mug cakes... the options are endless! Breakfast, dessert, snack, or straight from the jar – no judgement here – get ready for the chocolate revolution.

This pack contains:

1 x Choc Hazelnut Protein Spread 250g
1 x White Chocolate Protein Spread 250g
Love these spreads, they taste great and are the perfect healthy alternative! - Adam


Drizzleable, dunkable, and straight-up-spoonable, our Protein Spreads take toast to the next level. Packed with premium whey protein to support your fitness goals, they're here to up the spread game, whether you're team chocolate hazelnut or a white chocolate wild card.

We think we've pulled the ultimate culinary hat trick – our Spreads are low sugar, veggie-friendly and irresistibly creamy. Plus, they're palm oil and GMO free, so you can tuck in knowing there's no nasties hiding in your jar. Why stop at toast? Perfect baked into oats for that fudgy filling, slapped on pancake stacks, dolloped onto your protein mug cakes... the options are endless! Breakfast, dessert, snack, or straight from the jar – no judgement here – get ready for the chocolate revolution.

This pack contains:

1 x Choc Hazelnut Protein Spread 250g
1 x White Chocolate Protein Spread 250g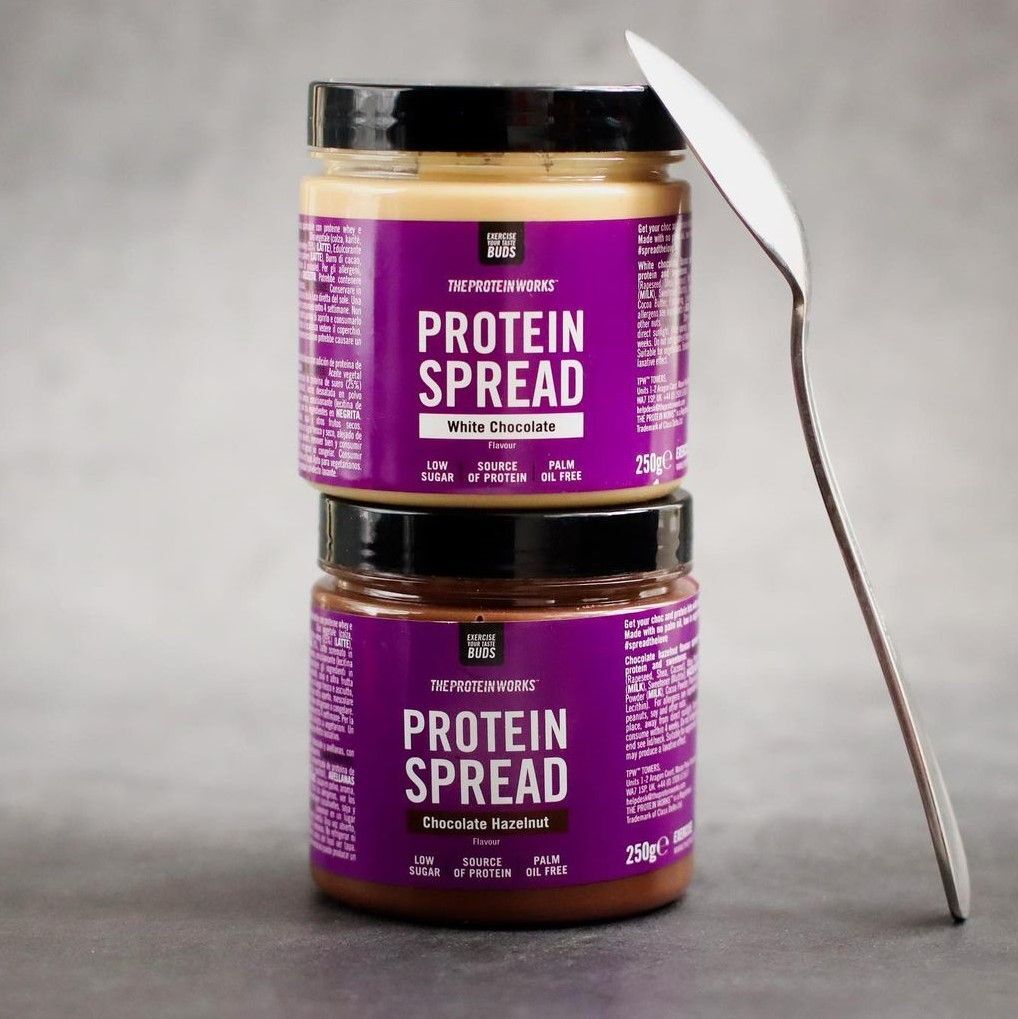 What is Protein Spread?
Our team has worked their magic to deliver a cocoa protein hit that will seriously satisfy your sweet tooth.
Get your knives, spoons, and mixing bowls ready. Line your brownie tins. Prime your toasters. Thick and creamy – and oh-so-chocolatey – we're making sure you get the best of both worlds: more protein, less sugar, and absolutely no palm oil or GMOs. Now that's news worth spreading (see what we did there?).
Zero palm oil
GMO free
20g of protein per 100g serving
Gelatin free & suitable for vegetarians
Minimised environmental impact
92% lower sugar*
81 calories per serving
Perfect for spreading and baking
INSANE taste (a given!)
*Compared to main supermarket brands (Chocolate Hazelnut flavour)
Fuel your fitness and lifestyle goals
With 20% protein per serving, smashing your goals has never been easier (or more delicious!). Whether you're looking to power a killer workout, or just searching for a daily chocolate fix that fits into your lifestyle, Protein Spread is your new cupboard staple.
Each jar is jam-packed with our signature high-quality whey to ensure you're getting a great source of protein – vital for muscle function, growth, and repair – with every serving, and all the flavour TPW is known for. Win-win!
Flavour under the microscope
When it comes to our ingredients, transparency is everything. We want to make sure you know exactly what you're getting. That's why our Spreads are 100% palm oil free, so you know you're making a more sustainable choice.
Our Protein Spreads are also made without GMOs or gelatin. No matter if you're following a vegetarian or low-sugar diet – or simply trying to make more environmentally-conscious food decisions – we've got you covered.
How can I use it?
This is where our Protein Spreads truly shine. They're the definition of versatility. We've worked tirelessly to deliver indulgent, chocolate goodness with a silky-smooth texture, so you can go wild in the kitchen!
Maybe you're a traditionalist: spoon it on your oats, slap it on your bagels. Level up your apple slices. Avocado toast, step aside: sweet sourdough is where it's at (topped with sliced strawberries if you're feeling fancy).
Or, maybe you're a dessert fiend. S'mores, Instagrammable freakshakes, loaded waffles… Need we say more?
Chefs among you, fear not. These mighty Spreads will make your next blondie/brownie/cupcake batch star-baker worthy. Why not pair it with our Protein Mug Cake mix for a sweet-tooth-busting, protein-packed pudding?
(All that said, if you can't resist some right from the jar… your secret's safe with us.)
Læs mere
There are no nutritional values for this product
Protein Spread is incredibly versatile, you can consume it on its own as a tasty treat to curb cravings, add a spoonful to your protein shake for an extra boost, use in recipes or simply spread on just about anything!
Fully Tracked Delivery
Expected delivery from 4 to 6 working days
Courier Partner: FedEx Tracked Delivery
| | |
| --- | --- |
| 0 - 549.99kr | 569kr |
| 550kr+ | FREE! |
Q. What is Protein Spread made from?
A. Protein Spread is made from vegetable oils (Rapeseed, Shea and Coconut Oil) and whey protein. Our Choc Hazelnut flavour uses real hazelnuts and cocoa powder and the White Chocolate flavour uses melted cocoa butter.
Q. When should I eat Protein Spread?
A. Any time of day, just a grab a spoon and get dunking.
Q. Is Protein Spread suitable for Vegetarians or Vegans?
A. Protein Spread is suitable for Vegetarians.
Q. Can I mix my Protein Spread with other things?
A. Yes, 100%. Protein Spread is the perfect partner for any of your favourite snacks be it on.