Peanut Butter - En Alsidig Snack
Peanut butter er et nøddesmørspålæg lavet af jordnødder. Peanut butter er lækkert, ikke særlig dyrt, mættende og endda ret sundt, men folk har en tendens til at ville undgå det grundet et antaget høj fedtindhold. I virkeligheden har peanut butter en utrolig alsidig ernæringsprofil og er populært for folk, der ønsker at tabe fedt. Peanut butter er anset for at være en af naturens bedste kilder til protein, kulhydrat og sunde fedtstoffer. Vi vil i det følgende give en forklaring på, hvorfor peanut butter kan være en sund tilføjelse til din kost.
Peanut Butter Og Vægttab
At kalde peanut butter for en fødevare egnet til diæt, med sine 180-210 kalorier pr portion, kan synes en smule underligt, men peanut butter har en misundelsesværdig kombination af fibre (omkring 2g per 30g) og protein (omkring 8g per 30g). Det er et næringstæt produkt som betyder, at en enkelt skefuld kan hjælpe dig med at få bugt med dine cravings og holde dig mæt i længere tid, hvilket videnskabsfolk estimerer vil hjælpe dig med at spise mindre i det overordnede perspektiv. Og så er der er ikke noget mere lækkert end at spise peanut butter med en ske og selvforkælelse (i moderate mængder) hjælper på den måde folk på diæt med at bekæmpe cravings og holde dem på sporet. TPW Peanut Butter har et højt indhold af mono- og flerumættede fedtstoffer sunde for hjertet, der har vist sig at hjælpe med alt fra hjerte-kar-sundhed til fedttab.
Peanut Butters Næringsindhold
En portion peanut butter indeholder 3 mg af det powerfulde antioxidant vitamin E, 49 mg knogleopbyggende magnesium, 208 mg af de muskelvenlige Kalium, og 0.17 mg immunboostende vitamin B6. Forskning viser, at et indtag af peanuts kan mindske din risiko for hjertesygdomme og diabetes. Det blev vist, at indtagelse ca. 2 spiseskefulde peanut butter mindst 5 dage om ugen kan nedsætte risikoen for at udvikle diabetes med næsten 30%. TPW Peanut Butter er så kalorie- og næringsstoftæt, at det af mange anses for at være den sundeste og mest effektive måde at opnå dette kalorieoverskud på, snarere end at forsøge at skabe et overskud igennem tomme kalorier fra junkfood.
Peanut Butters Sunde Fedtstoffer
Bliv ikke afskrækket af peanut butters høje fedtindhold; de fleste af disse fedtstoffer er mono- og flerumættede fedtstoffer som er sunde for hjertet, som mindsker det "dårlige" LDL-kolesterol og hæver de "gode" HDL kolesterolniveauer. Synergien af begge disse typer af fedt i peanut butter gør, at det et godt fødevarevalg til at regulere dit kolesterol til et sundt niveau.
Peanut Butters Proteinindhold
To spiseskefulde svarer til 7 gram protein. Det er derfor, at peanut butter på brød udgør en super god morgemad eller formiddagssnack. Som en proteinrig fødevare, vil du opleve, at du vil føle dig mæt i længere tid, når du spiser peanut butter. Derudover er proteinet også godt til at opbygge og reparere muskler, hvilket er særligt vigtigt og hensigtsmæssigt for dem at træne regelmæssigt.
Peanut Butter For Et øget Kalorieindtag
Hvis du træner hårdt og følger en diæt med højt kalorieindhold, så er peanut butter helt ideelt for dig. Peanut butter kan give din krop brændstof uden at kompromittere dine makroer. Peanut Butter er en meget omkostningseffektiv snack og er billigere per portion end hytteost, tun, yoghurt naturel og de fleste andre sunde og proteinrige snacks og fødevarer. TPW Peanut Butter er ultra rent og lavet af 100% naturlige ristede jordnødder, og i modsætning til mange standard peanut butters indeholder det absolut intet tilsat sukker eller salt.
Få Lige Nu 3 TPW Produkter For 2 Produkters Pris Gælder Hele Hjemmesiden Klik Her
Tilbuddet gælder til og med søndag d. 10. juli
Tre Episke

peanut Butter

Produkter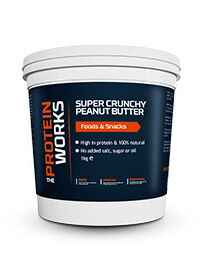 Peanut Butter
Peanut butter i sin klassiske forstand, men i ægte TPW™ kvalitet og 100% naturlig.
Fås i Smooth og Crunchy udgave.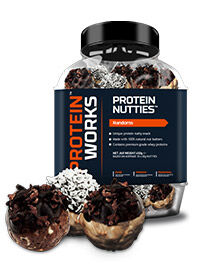 ¨
TPW™ Nutties
En TPW™ snackinnovation lavet i vores proteinbageri af de fineste råvarer.
Perfekt når lækkersulten skal stilles på en sund og nærende måde uden at kompromittere smag og nydelse."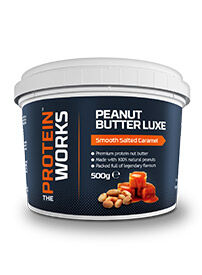 Peanut Butter Luxe
Lækker smagstilsat peanut butter i 6 forskellige og lækre smagsvarianter. Et absolut must have til når de søde cravings kommer snigende.